The apex court also restrained e-commerce websites like Flipkart and Amazon from selling firecrackers which are beyond the permissible limit.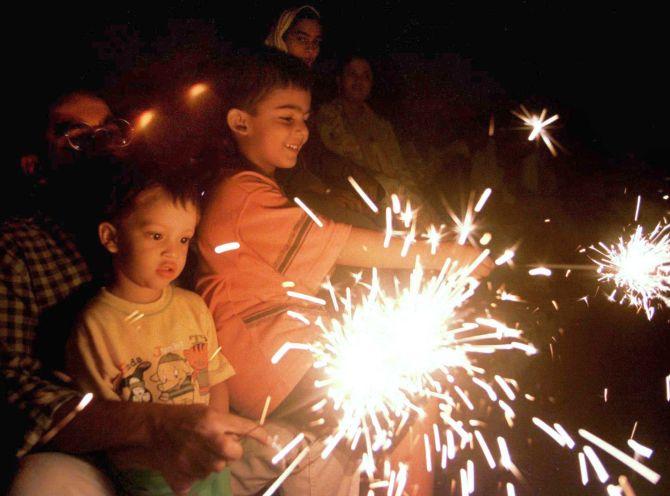 People in the country can burst firecrackers from 8 pm to 10 pm only on Diwali and other festivals, the Supreme Court said on Tuesday, allowing manufacture and sale of just the "green crackers" which have low emission of light, sound and harmful chemicals.
The top court carved out an exception for the Christmas and the New Year eve saying that crackers for these occasions would be burst between 11.55 pm and 12.30 am, since these celebrations start at midnight.
It also banned the manufacture, sale and use of joined firecrackers (series crackers or laris) saying that they cause "huge air, noise and solid waste problems".
The apex court said the noise and smoke emission limits of the crackers will have to be approved by the Petroleum and Explosive Safety Organization, under the Department of Industrial Policy and Promotion, Ministry of Commerce and Industry.
To curb pollution in Delhi-National Capital Region, it directed the Centre, the Delhi government and state governments of NCR to permit community fire-cracking (for Diwali and other festivals), wherever it could be done.
A bench of Justices A K Sikri and Ashok Bhushan said that though burning of crackers during Diwali was not the only reason for worsening air quality, it definitely contributed to air pollution in a significant way.
The bench accepted the suggestions given by the Centre saying the measures strive a nice balance between competing interests of right to livelihood and health and concerned authorities to implement the same with immediate effect.
"The crackers with reduced emission (improved crackers) and green crackers... only would be permitted to be manufactured and sold," it said while banning the production and sale of crackers other than green crackers.
According to the suggestions of Union of India, 'improved crackers' are those which avoid use of ash as desiccant or filler materials in crackers for reduction in particulate mater by 15-20 percent.
It said that the green crackers are those which have low emission sound and light emitting functional crackers with PM reduction by 30-35 percent and significant reduction in nitrogen oxide and sulphar dioxide.
"On Diwali days or on any other festivals like Gurpurab etc, when such fireworks generally take place, it would strictly be from 8 pm till 10 pm only. On Christmas even and New Year eve, when such fireworks start around midnight, i.e. 12 am, it would be from 11:55 pm till 12:30 am only," the court said.
With regard to community fire-cracking in Delhi-NCR, the court said the Centre and state governments of NCR should pre-identify particular area/fields and the exercise should be completed within a week so that public at large is informed about the designated places one week before Diwali.
"The areas designated now for the purpose of Diwali shall be valid for community firecracking on other occasions/festivals as well, as mentioned. Even for marriages and other occasions, sale of improved crackers and green crackers is only permitted," it said, while asking other states to explore the feasibility for community firecracking.
It directed PESO to ensure that only those crackers which have decibel (sound) level within the limits are allowed in the market and to take action by suspending licenses of manufacturers on such violations and disposal of such lots.
The court said as directed earlier, the fire-crackers generating noise level exceeding 125 dB(AI) of 145dB(C) at 4 metres distance from the point of bursting shall be banned.
"PESO will ensure that only those crackers whose decibel (sound) level are within the limits are allowed in the market and will ensure to take action by suspending the licenses of the manufacturers on such violations and disposal of such lots," it said while stressing on creating mass awareness across the country about the harmful effects of firecrackers.
The court also directed PESO to ensure fireworks with permitted chemicals only to be purchased or used during Diwali and all other religious festivals, of any religion and other occasions like marriages.
Restricting e-commerce websites like Flipkart, Amazon and others from accepting any online orders and selling crackers, the bench said that "any such e-commerce companies found selling crackers online will be hauled up for contempt of court and the Court may also pass, in that eventuality, orders of monetary penalties as well".
The apex court directed that the sale of firecrackers shall only be through licensed traders and it shall be ensured that these licensed traders are selling those firecrackers which are permitted by court's order.
It said that those crackers which have already been produced and they do not fulfil the permissible conditions "will not be allowed to be sold in Delhi and NCR".
Directing that PESO to ensure suspension of the licenses of manufacturers of such fireworks items which are beyond permissible conditions, the court said that it would also do the appropriate disposal of such stocks.
The court said the police should ensure that there is no sale of banned firecrackers and in case of any violation, the Station House Officer of concerned police station of the area would be held personally liable and this would amount to committing contempt of the Court.