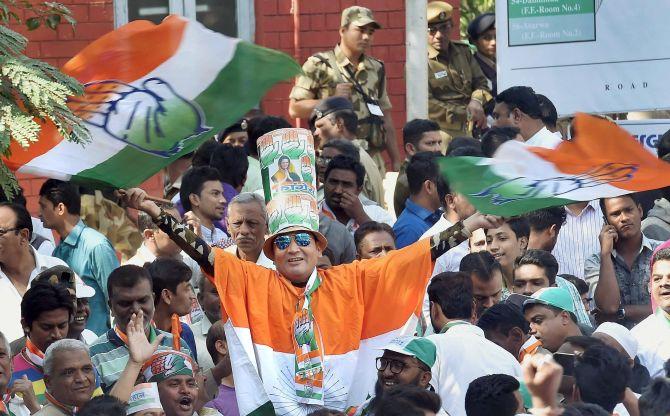 Though the Bharatiya Janata Party on Monday won Gujarat for the sixth successive time, the saffron party was completely routed in two districts of Saurashtra region.
The Congress, which retained Amreli seat, dislodged the BJP from remaining four seats in Amreli district.
Similarly, the Congress maintained its hold on Una constituency and defeated the saffron party from remaining three seats in neighbouring Gir Somnath district.
Out of these nine constituencies in the two districts, seven had been held by the ruling party while the Congress represented Amreli and Una seats.
The Congress on Monday added Somnath, Talala, and Kodinar to its kitty in Gir Somnath district and Dhari, Lathi, Savarkundla and Rajula seats in Amreli district.
Among prominent contestants who lost on Monday was Bavku Undhad of BJP (Amreli) who was humbled by sitting Congress MLA Paresh Dhanani.
Undhad, the sitting MLA from Lathi seat, was fielded against Dhanani on Amreli seat.
In Rajula constituency, Congress' Amrish Der defeated sitting BJP MLA Hira Solanki.
In Lathi, former Congress MP from Amreli, Virji Thummar, trounced BJP's Gopal Vastapara.
Dilip Sanghani, the BJP candidate from Dhari seat, went down fighting against Congress' J V Kakadiya.
Punja Vansh, the sitting Congress MLA from Una, retained his seat by upsetting BJP's Hari Solanki.
Jasha Barad, the sitting BJP MLA and a minister, ceded the Somnath seat to Congress' Vimal Chudasama.
Govind Parmar, the sitting BJP MLA from Talala, bit the dust against Congress' Bhagwan Ahir while Congress' Mohan Vala defeated BJP's Ram Vadher in Kodinar constituency. Saurashtra region covers 11 districts of the state.
BJP wrests Godhra from Congress
The BJP on Monday managed to wrest from the Congress the Godhra seat, which the saffron party had last won in 2002, in a nail-biting contest.
C K Raulji, a Congress rebel who contested elections from the BJP this time, won the election by a thin margin of 258 votes over his nearest rival from the Congress.
The BJP had last won the Godhra seat in 2002.
It was at Godhra where a coach carrying religious activists was torched in February 2002, which had triggered communal violence across the state.
The Congress fielded Rajendra Parmar, a former Janta Dal leader, from the seat this time.
Parmar, who belongs to Bakshi Panch, a dominant OBC community in the town, was in direct contest with the sitting MLA Raulji.
The another crucial candidate in the contest was Jashvantsinh Parmar, a BJP rebel and a doctor by profession.
Like the Congress's candidate, Parmar also hails from the same Bakshi Panch community which has substantial presence in the constituency.
There were also four Muslim candidates in the fray in Godhra, where one fourth of the population is from the community, but all of them lost their deposits.
IMAGE: Congress supporters celebrate the poll results. The Congress improved on its 2012 tally in Gujarat. Photograph: Santosh Hirlekar/PTI Photo