'If the EPS government falls, Sasikala will return. If EPS wins, he will become an indispensable leader and Sasikala will not be able to return.'
T E Narasimhan reports.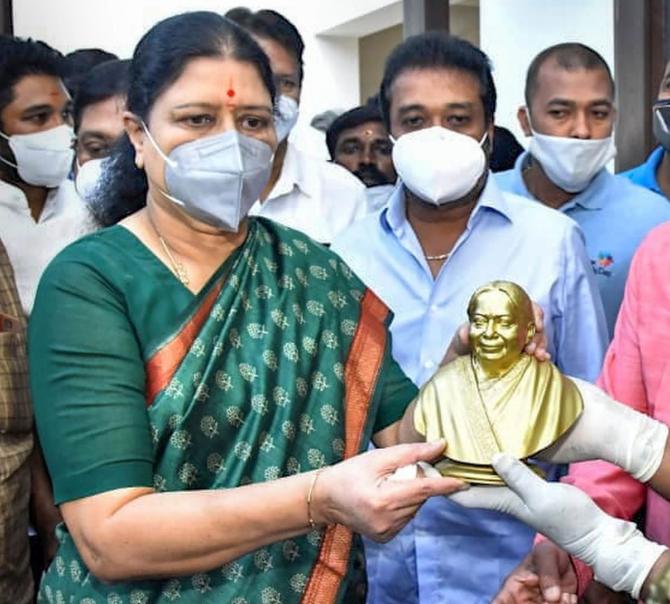 With her announcement of withdrawing from politics, V K Sasikala became the second key figure to bow out of the hurly-burly ahead of the elections in Tamil Nadu on April 6.
Actor Rajinikanth had earlier decided to pull out of the race, citing health reasons.
In Sasikala's case, her political health, not physical well-being, was the reason for this surprise announcement.
Those directly affected by her decision are still struggling to understand what triggered the move and its implications.
First, it is not clear whether Sasikala is quitting politics for good or only temporarily.
Obviously, it'll have implications for the ruling All India Anna Dravida Munnetra Kazhagam, which sacked Sasikala in 2017, and its rival Dravida Munnetra Kazhagam.
Her nephew T T V Dinakaran and his three-year-old party, the Amma Makkal Munnettra Kazagam, will now have to reassess their role.
On February 8, Sasikala returned to Chennai after a four-year imprisonment in a disproportionate wealth case.
Supporters of her faction, led by Dinakaran, organised a road show en route and it took 22 hours for her convoy to reach Chennai from Bengalaru, which otherwise would take 6-7 hours.
Upon her arrival, Sasikala said she would "play an active role in politics".
She held meetings with close aides and some party leaders until February 24.
On March 3, however, she announced she was stepping aside from politics and appealed to all loyalists of Jayalalithaa to unite against "the evil force, that is the DMK".
In her two-page letter, Chinnamma, as Sasikala is fondly called, stated: "I never showed interest in party postings or power. I will stay away from politics and pray to god that Amma's rule continues."
K P Munusamy, deputy coordinator of the AIADMK, said: "Though quitting politics was her personal decision, she wished for the Amma government to return."
Dinakaran, on the other hand, said while his aunt's decision saddened him, it was aimed at uniting Jayalalithaa's loyalists.
He said his party will contest the elections and talks to form an alliance are on.
The question is whether he will get closer to the AIADMK as the BJP desires -- a move that may also safeguard his political career.
The AIADMK, led by Chief Minister E K Palaniswami and Deputy Chief Minister O Paneerselvam, isn't keen on Dinakaran's return.
State Fisheries Minister D Jayakumar said his party had already decided against having any truck with Sasikala and Dinakaran.
He quoted the CM's description of the AMMK as "a pack of foxes", whereas "the AIADMK constitutes of mighty lions".
The M K Stalin-led DMK is also in a shock.
The party was hoping that Sasikala's return would create confusion within the AIADMK, thus helping the DMK.
People close to Sasikala and political experts said her announcement may have hidden agenda.
Sumanth Raman, a political analyst, said Sasikala will stay away from politics until the elections.
"If the EPS government falls, she will return. If EPS wins, he will become an indispensable leader and Sasikala will not be able to return," he said.
He said it was an open secret that the BJP did not want Sasikala to destabilise the AIADMK-BJP alliance.
The AIADMK has allocated 20 seats to the BJP for the ensuing elections, along with the Kanyakumari parliamentary seat.
Raman noted Dinakaran was in New Delhi a few months ago and met senior BJP leaders.
On January 14, S Gurumurthy, who is close to BJP leadership, said the AIADMK should take Sasikala back.
Raman agreed Sasikala's decision will have an impact on the AMMK, considering she was its moral authority.
"It will be difficult for the AMMK to survive without Sasikala," he said, adding chances are that the AMMK's 4-5 per cent potential votes will now go to the EPS faction.
An AIADMK leader close to Sasikala said if the party sweeps the polls, she can take credit for not letting any division in its committed voters.
The other possibility is letting the EPS-OPS and the Dinakaran factions prove their ability in electoral politics.
If they fail, she will be seen as the sole saviour of the AIADMK by the cadre.
"It's a big risk, but if she gets the calculation right, she will return with full power," he said.