The OPS camp believes Sasikala's family still calls the shot in the EPS camp.
Rediff.com's A Ganesh Nadar reports from Chennai.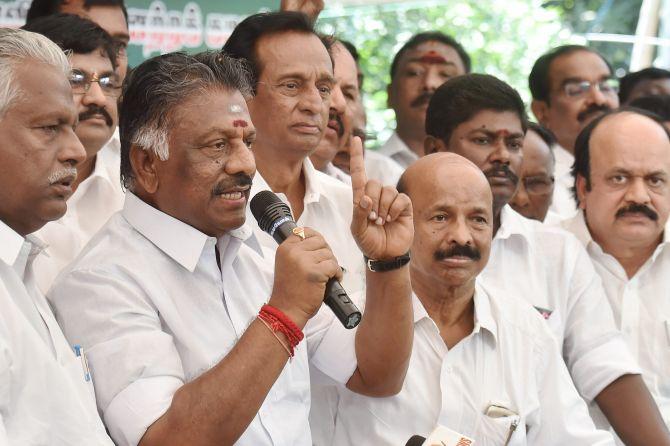 IMAGE: Former Tamil Nadu chief minister O Panneerselvam with his supporters.
The unity moves between the All India Anna Dravida Munnetra Kazhagam factions that have been playing out in Chennai for the last fortnight will challenge P G Wodehouse for its comic element and Dame Agatha Christie for its mystery quotient.
There have been so many twists and turns that if it were charted out on a snakes and ladders board one could easily lose one's way.
Last month, when the faction of Chief Minister Edappadi K Palaniswami (popularly referred to as EPS) threw out V K Sasikala and T T V Dinakaran from the AIADMK, there was euphoria and a firm belief that it was a precursor to a merger with the faction led by former CM O Panneerselvam.
The two sides even appointed seven-member committees to discuss the merger. But nothing came of that as the committees never met.
Why? Because each was waiting for the other to invite them.
"We believed they had cut their ties with the Sasikala family, but later we found it was false news," Ramachandran -- the OPS faction's IT wing secretary (he was the first to be dismissed from the party by Sasikala after he tweeted from the official AIADMK handle that OPS was meditating at Jayalalithaa's samadhi on the night of February 7) -- told Rediff.com
"They (the EPS faction) still maintain strong ties with them (Sasikala's family). They don't do anything without consulting them. They pretended to throw out the two of them, but 28 others from the family are still there in their party," Ramachandran added.
"Namadhu MGR, the party newspaper, is in their hands," Ramachandran pointed out, "and Sasikala's cousin looks after it. Jaya TV is run by them. Among the 33 ministers, there are 10 groups pulling in different directions."
"One still swears by Sasikala, another supports Dinakaran, a third likes Sasikala's brother Divakaran, and a few are guided by Natarajan, her husband. Very few are with the chief minister, EPS," Ramachandran said.
"So who do we hold talks with?" he asked. "That is why we have cooled the efforts of a merger. It is just not happening even though the media writes about it every day."
OPS has in the meanwhile announced a grand alliance -- a Tamil mahagathabandan, so to speak -- of political parties, of which G K Vasan's Tamil Maanila Congress is a part.
The Bharatiya Janata Party will likely be a member of this alliance though its state secretary Karu Nagarajan told Rediff.com, "We are ruling in Delhi, any alliance that we are a part of will be led by us."
OPS has also undertaken a campaign to meet AIADMK cadres in every district. This will bring out into the open who is with him and who is with the EPS camp. Also, it will enthuse party cadres for the coming panchayat elections.
Whenever they are held, the local bodies elections will identify who AIADMK cadres and voters in Tamil Nadu prefer.
"I am fed up with these faction fights," Solomon George, an AIADMK member from Tuticorin, told this correspondent. "When I have work with the OPS faction I approach Shanmuganathan (the former minister who abandoned a bus full of Sasikala's MLAs going to the Koovathur resort on the pretext of using the rest room and later surfaced in the OPS camp). And when I have work with the EPS faction I meet minister Sengottaiyan."
"I don't care whether they come together or not," George added. "My work gets done now and will also get done in the future."
Despite the current nonchalance, AIADMK cadres say, "When the next assembly election takes place, if we don't have the two leaves symbol, the DMK will win easily."
The AIADMK's two leaves electoral symbol has been frozen by the Election Commission pending a discussion on which of the party's two factions deserves it.