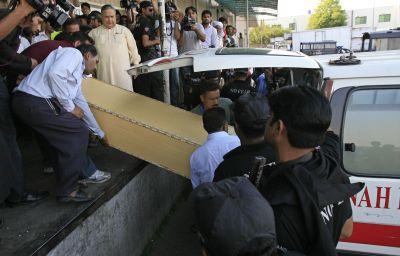 The body of Indian prisoner Sarabjit Singh was on Thursday night brought to Amritsar onboard a special Air India aircraft from Lahore, where he died following a murderous assault in a jail.
It was a grim end to the battle waged by his family to secure his release after he had spent over two decades in Pakistani jails as the plane landed at RajasansiAirport where political leaders, including Punjab Deputy Chief Minister Sukhbir Singh Badal and Minister of State for External Affairs Preneet Kaur, were present to receive the body.
The body is to be taken to GovernmentHospital for autopsy and would be handed over to the family at village Bikhiwind for a state funeral on Friday.
Punjab government has announced a financial assistance of Rs one crore for the family of Sarabjit and declared a three-day state mourning.
Flags will fly half mast on all government buildings and there will be no official ceremonial functions during this period, an official spokesman said.
The body was flown out of the LahoreInternationalAirport after receiving clearance from Pakistani authorities.
Indian High Commission officials had earlier in the day received the body of Sarabjit after an autopsy was performed at the JinnahHospital where he succumbed to his injuries on Thursday at 1:30 am (IST).
Sarabjit, the second Indian prisoner to die in Pakistan's notorious Kot Lakhpat jail in Lahore this year, was brutally attacked on Friday by six fellow inmates when he and other prisoners were brought out of their cells for a break.
Sarabjit died of cardiac arrest after being comatose for nearly a week following the assault.
He was convicted of alleged involvement in bomb attacks in Punjab province that killed 14 people in 1990 and spent about 22 years in Pakistani prisons.
His mercy petitions were rejected by the courts and former President Pervez Musharraf.
The previous Pakistan Peoples Party-led government put off Sarabjit's execution for an indefinite period in 2008.
Sarabjit's family says he was the victim of mistaken identity and had strayed across the border in an inebriated state.
Meanwhile, the second post mortem of Sarabjit's body as per his family's wish to "know the cause behind his death" is being conducted at Patti by a team of six doctors of government-run Amritsar Medical college, officials said.
Sarabjit's body was airlifted from Rajasansi airport by a chopper for Patti, National Commission for SC Vice Chairman Raj Kumar Verka told PTI.
He said the postmortem will be over by 10 pm and after which the body will be taken to Sarabjit's native Bikhiwind village in Tarn Taran district, 10-km away from the Indo-Pak border, by road.
Meanwhile, people from all walks of life turned up to get a glimpse of Sarabjit's body.
The cremation will take place on Friday in the afternoon and will be attended by Union Minister Preneet Kaur, Punjab Chief Minister Parkash Singh Badal, Deputy Chief Minister Sukhbir Singh Badal and several key personalities from all sections of the society.
Photograph: Hospital staff, airline and security officials move the body of Sarabjit Singh from an ambulance to a cargo office at Allama Iqbal International airport, Lahore
Credit: Mani Rana/Reuters