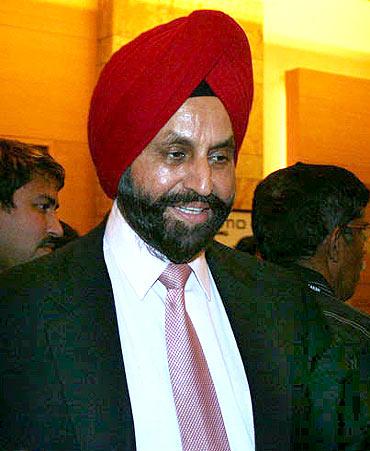 Indian-American hotelier Sant Singh Chatwal on Thursday pleaded guilty at a court in New York to violating federal election laws by using straw donors to secretly funnel money to political campaigns and will pay a million dollars to the US as part of his plea agreement.
"Chatwal admitted that he used straw donors to secretly funnel money to political campaigns so that he could gain access to the politicians, and he coerced another person to hide his crime," said acting US Assistant Attorney General David O'Neil.
Chatwal, 70, had raised at least $100,000 for former secretary of state Hillary Rodham Clinton's 2008 presidential campaign against Barack Obama.
He pleaded guilty in the Eastern District of New York to conspiring to violate the Federal Election Campaign Act (the 'Election Act') by making more than $180,000 in federal campaign donations to three candidates through straw donors who were reimbursed and to witness tampering.
There is no allegation that the candidates participated in, or were aware of, Chatwal's scheme, federal prosecutors said.
As part of his plea agreement with the government, he agreed to forfeit one million dollars to the US.
"Chatwal went to great lengths to undermine both election laws and our system of justice. Today's guilty plea shows our vigilance and determination to prosecute those who damage the integrity of elections by masking the true sources of campaign contributions," O'Neil said.
"Chatwal's scheme sought to subvert the very purpose of the Election Act. Chatwal then rolled the dice to stymie the government's investigation, thinking he could corruptly convince witnesses to his federal election crimes to stay silent. That gamble did not pay off," said US Attorney Loretta Lynch.
The Washington Post said Chatwal faces a maximum of nearly six years in prison when he is sentenced on July 31. He is free on a $750,000 bond secured by property in Manhattan.
A spokesman for Chatwal said he "deeply regrets his actions and accepts full responsibility for the consequences."
Chatwal was awarded Padma Bhushan in 2010 for his role in the historic India-US civilian nuclear deal. He heads the chain of the upscale Hampshire Hotels.
Chatwal orchestrated a scheme to make approximately $180,000 in campaign contributions to three candidates for federal office via straw donors, and he often arranged for the straw donors to be reimbursed through the Chatwal Associates, ultimately paying for the reimbursed contributions with funds belonging to Chatwal or one of Chatwal's companies, federal prosecutors alleged.
The evidence against Chatwal includes an October 2010 recorded conversation between Chatwal and a business associate who became an informant, in which Chatwal underscored his view as to the importance of political campaign contributions, stating that without campaign contributions, "nobody will even talk to you...That's the only way to buy them, get into the system… What, what else is there? That's the only thing".