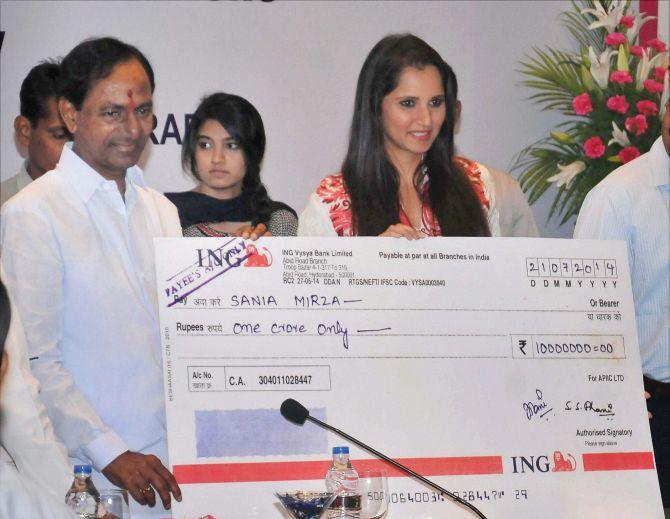 'She is a daughter-in-law of Pakistan and this is not something that can be overlooked.'
'So many have contributed towards the Telangana cause and many have laid down their lives for the same. Why are their names not considered?'
BJP leader Dr K Laxman defends himself in this exclusive interview with Vicky Nanjappa/Rediff.com
On Thursday, July 24, morning, Telangana MLA Dr K Laxman (in the photograph below) slammed the Telangana government's decision to appoint tennis star Sania Mirza as the state's brand ambassador.
Dr Laxman dubbed Sania -- who has played tennis for India all her life -- a daughter-in-law of Pakistan.
Other political parties slammed the Bharatiya Janata Party leader who remains defiant, saying there are others more deserving of the honour.
Speaking to Rediff.com, Dr Laxman said, "Leave aside the daughter-in-law comment for a while. Talk about the issue of nativity. As per the rules, people born in or before 1956 are residents of Telangana. Where was Sania born? Which year did she come to Hyderabad? She wasn't born in the state. Should these aspects have not been looked into before selecting an ambassador?"
"The fact that she is married to Pakistan cricketer Shoaib Malik should also be a factor," says the BJP's floor leader in the Telangana assembly. "She is a daughter-in-law of Pakistan and this is something that can't be overlooked."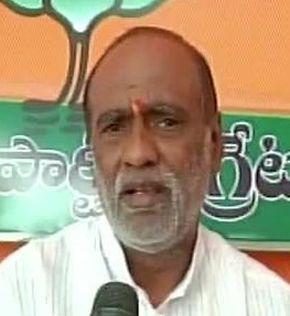 Explaining his opposition to Sania being appointed, Dr Laxman questions her contribution to Telangana. "People speak of her contribution. All I want to ask is was there no one else deserving? So many people have contributed toward the cause of Telangana and have laid down their lives for the same. Why weren't their names considered?"
"Before you question why I am targeting someone from a particular community, you should ask K Chandrashekar Rao, the chief minister of Telangana, why he is hell-bent on appeasing the Muslims. It is a known fact that the Greater Hyderabad Municipal Corporation elections are round the corner and Muslim votes matter to KCR. Sania's appointment was done keeping that in mind. KCR has gone too far in appeasing Muslims."
Dr Laxman also questioned the Telangana chief minister's decision to introduce 12 per cent reservation for Muslims. "Doesn't that amount to appeasement and that too by overriding the provisions of the Constitution?" he asked.
"I think this need to appease is going too far and hence, I felt the need to speak about it. Further, you celebrate Nawab Ali Jung's (a reputed engineer of Hyderabad who is the main force behind buildings like Hyderabad House in New Delhi, the Unani Hospital near Charminar and the Central Library in Hyderabad) birthday as Engineers Day."
"The MIM (Majlis-e-Ittehadul Muslimeen party) has pressured KCR to such an extent that he has gone ahead and included the Charminar in the logo of Telangana. According to KCR, the MIM will bring him the Muslim votes and that is all he is eyeing. Otherwise, there is no logic behind all this," Dr Laxman said, adding, "Decisions are being taken one after another to appease a certain section of people. Other communities need to be considered too or they will feel hurt, especially when they have contributed to the cause of Telangana."
Image: Telangana Chief Minister K Chandrashekhar Rao presents a cheque for Rs 1 crore (Rs 10 million) to Sania Mirza after appointing her as brand ambassador for the new state. Photograph: PTI photo
Also read: Sania Mirza condemns BJP leader's Pakistan's daughter-in-law barb: I'm an Indian, will remain one always, says 'hurt' Sania