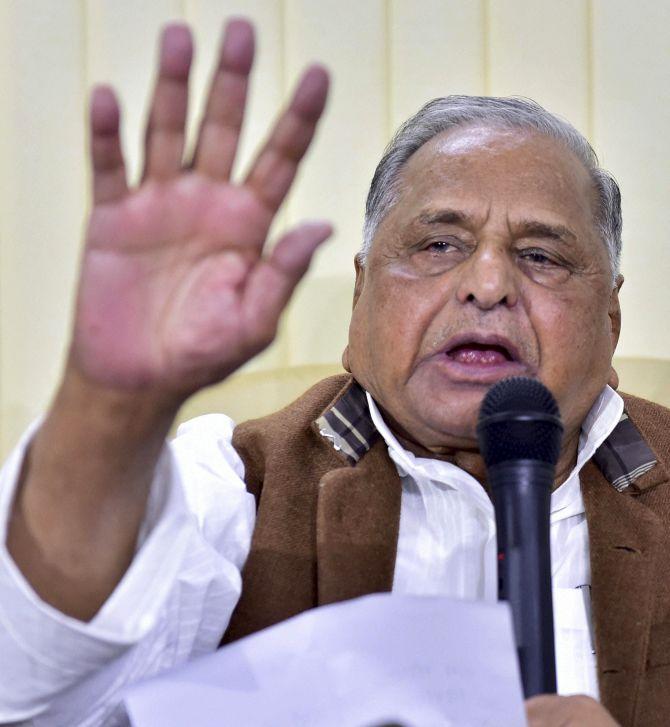 The factional war in the Samajwadi Party escalated on Monday with the Akhilesh camp seeking an early decision on the disputed party symbol while the embattled Mulayam Singh Yadav asserted that he is still the party chief and has no differences with his son.
Parallelly, Mulayam urged Rajya Sabha Chairman to derecognise his cousin Ramgopal Yadav as leader of the party group following his expulsion from the party on Dec 30.
He also urged Chairman Hamid Ansari to shift Ramgopal's seat to the back benches following his expulsion.
On his part, stepping on the gas Ramgopal approached the Election Commission and urged it to take an early decision on the disputed symbol "cycle" because the nomination process for the Uttar Pradesh elections will commence from January 17.
Ramgopal was accompanied by party MPs Naresh Agarwal and Neeraj Shekhar. Chief Minister Akhilesh Yadav was to himself lead his camp to the commission but decided against coming to Delhi at the last moment.
Earlier, Mulayam Singh and his close confidantes Amar Singh and Shivpal Singh reached Nirvachan Sadan to meet top EC officials.
Though the Mulayam camp did not submit any fresh documents, it claimed that Mulayam is still the SP chief and has legal claim over the party and its symbol.
Mulayam also told the commission that the convention called by Akhilesh Yadav camp on January 1 was unconstitutional" as Ramgopal Yadav, who had convened the meet, was expelled from the party on December 30, 2016.
Mulayam also contested the affidavits of party leaders submitted by the party faction owing allegiance to his son and Uttar Pradesh chief minister, alleging they were forged and asked the EC to get them verified.
He also said that while there was a resolution appointing Akhilesh as party president and another one appointing him as its mentor, there was no resolution removing him from the party chief's post.
Talking to reporters outside his residence in New Delhi, Mulayam said there were "no differences" between him and his son Akhilesh.
In an apparent reference to Ramgopal, Mulayam Singh said "one person has influenced his son" which has led to "problems in the party".
"I will sign Form A and B (relating to party affiliation and party symbol for contesting candidates). Now the EC has to decide on the cycle symbol," he said.
When asked about Mulayam's remarks that "one person" is behind the feud in the SP, Ramgopal refused to say anything.
Photograph: Kamal Kishore/PTI Photo