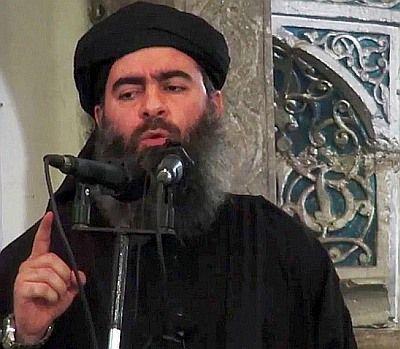 Russia on Friday said it was verifying whether the elusive Islamic State terror group chief Abu Bakr al-Baghdadi had been killed in a targeted Russian air strike in strife-torn Syria last month.
The air strike on May 28 was carried out on the outskirts of the dreaded terrorist group's de facto capital Raqqa, on a command post where IS leaders were meeting, according to Russian state media reports.
'According to information, which is being verified via different channels, the meeting was also attended by the (IS) leader Ibrahim Abu Bakr al-Baghdadi, who was eliminated in the strike,' the ministry said, according to the TASS news agency.
The leaders were discussing their exit from the city through the so-called southern corridor, the ministry said.
The airstrike was carried out following drone footage confirmation of the council's meeting location, state-run Sputnik reported.
Other state media reported that more than 300 'terrorists' were killed in the strike.
There have been a number of previous reports of Baghdadi's death.
This is the first time, however, that Russia has said it may have killed the IS leader. Other media reports have previously claimed he had been killed or critically injured by United States-led coalition air strikes.
Reacting to the report, Russian Foreign Minister Sergey Lavrov told journalists that there is no one-hundred-per cent confirmation yet that leader of the Islamic State terror group outlawed in Russia, al-Baghdadi, has been killed,
"So far, I have no one-hundred-percent confirmation of this information," Lavrov said.
US defence officials said they were unable to confirm the reports.
Colonel Ryan Dillon, a spokesman for the US-led coalition's operation against the IS in Syria and Iraq, said the coalition 'cannot confirm these reports at this time'.
There has been no official comment from Syria's government, the BBC reported.
So far, there has been minimal reaction from online supporters of IS to news of the reported death of the group's leader, it said.
IS sympathisers typically ignore reports from unofficial IS sources or ridicule them, especially given that Baghdadi's death has been reported several times in the past.
One high-profile IS supporter on the messaging app Telegram shared a post denying the news and saying that when an IS leadership figure is killed, the group does not hide it.
He expected Baghdadi to come out soon with a message to prove he was still alive.
The IS has earned global notoriety for imposing a hardline form of Islam that has included stoning, beheadings and amputations.
Earlier, the The Russian army, in a statement, said Sukhoi warplanes carried out a 10-minute night-time strike on May 28 at a location near Raqa, where IS leaders had gathered to plan a pullout by terrorists from the group's stronghold.
'Senior commanders of the military groups of the so-called IS military council, 30 mid ranking field commanders and up to 300 militants who provided security for them were eliminated,' it said.
'According to information which is being checked through various channels, the leader of ISIL (another acronym for IS) Ibrahim Abu-Bakr al-Baghdadi was also present at the meeting and was eliminated by the strike,' it said.
The US has been informed about the attack, the statement added.
Abu Bakr al-Baghdadi, which is a nom de guerre, was born Ibrahim Awwad Ibrahim Ali al-Badri al Samarrai.
Baghdadi has not been seen in public since proclaiming himself 'caliph' in the Iraqi city of Mosul three years ago.
In October 2011, the US officially designated Baghdadi as a 'terrorist'.
It has offered a reward of up to $25 million for information leading to his capture or death.
The IS seized Mosul, Iraq's second-biggest city, in June 2014 before claiming swathes of territory and launching deadly attacks on Western cities, including Paris and London.