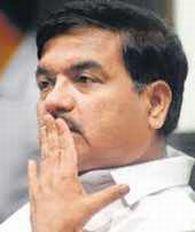 Maharashtra government Friday ordered a high-level probe into the attack on gangster Abu Salem inside Taloja Central Jail in Navi Mumbai with Maharashtra Home Minister R R Patil saying officials responsible for the lapse will face action.
"An inquiry by Additional Director General of Jails has been ordered. Police and jail officials behind the lapse would face action," Patil said.
"We have taken this matter seriously. Action will be taken as soon as the inquiry report is received," he said, adding "Responsibility for the incident will be fixed and stringent action, including dismissal from service, will be taken against those found guilty."
The inquiry would also ascertain the reason behind the attack, Patil said.
Abu Salem, an accused in the 1993 Mumbai blasts case, received injury to his hand after he was shot at by Devendra Jagtap, an accused in the advocate Shahid Azmi murder case, Thursday. Azmi represented an accused in the 26/11 Mumbai terror attack case Feheem Ansari.
Jagtap, alias JD, is a member of the Bharat Nepali gang and police has begun a probe how he got hold of the fire arm inside the jail.