Urging people of Uttar Pradesh to rise above caste considerations in the upcoming assembly polls, Prime Minister Narendra Modi on Monday attacked rival parties, saying those preoccupied with saving blackmoney and their families cannot bring development.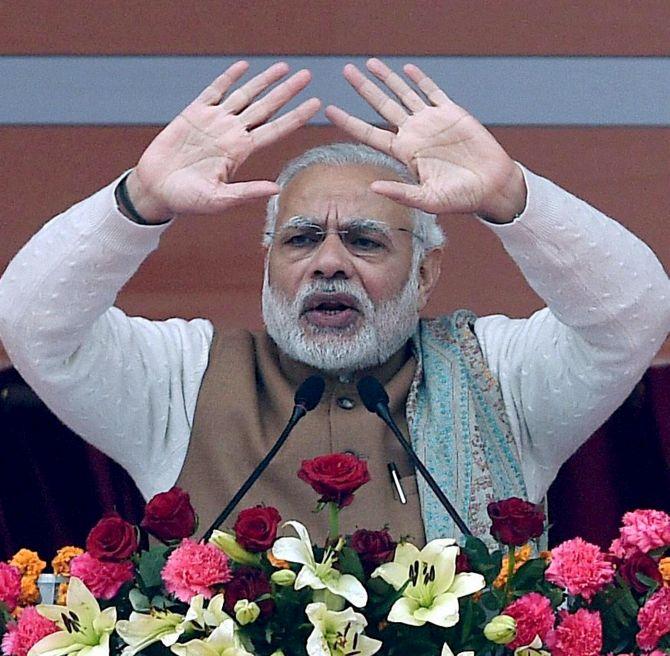 IMAGE: Prime Minister Narendra Modi addresses the BJP Parivartan Rally in Lucknow on Monday.. Photographs: Nand Kumar/PTI Photo
Targeting the Bahujan Samaj Party and the Samajwadi Party, the PM said the two never see eye-to-eye on any issue but are now together demanding his removal as he is working to root out blackmoney.
"Have you ever seen the SP and the BSP together. If the SP says it is sunrise, the BSP will say it is sunset. After so many years both have come together on an issue and are saying 'Modi ko badlo' (change Modi), 'Modi ko hatao' (remove Modi) but Modi is saying change your notes, remove blackmoney," he said at party's mahaparivartan rally in Lucknow.
The prime minister also took a swipe at the Congress saying, "There are some parties which are nowhere in picture. There is one party which has been trying in vain for the last 15 years to establish the son."
There is another party "whose worry is where to keep money. It is looking for banks far and wide," the PM said in an apparent swipe at Mayawati-led BSP, which has come under scanner for alleged huge bank deposits post demonetisation.
"There is this third party which is using all its strength to focus on the family's fate," he said referring to the feud in Mulayam Singh Yadav's clan.
"People of UP have to decide if a party whose leaders are busing saving their money will be able to save UP. Or the party which is completely occupied in family (infighting) will be able to save UP.
"Somebody has to save money, somebody has to save family but it is only us who are here to save UP," the prime minister said.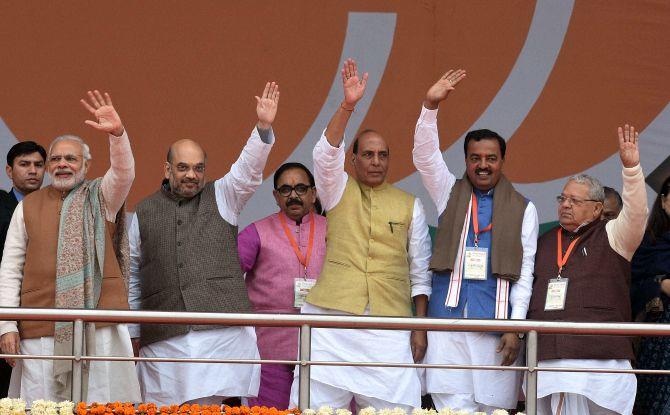 IMAGE: Prime Minister Modi with BJP president Amit Shah, party leaders Rajnath Singh, Keshav Prasad Maurya and Kalraj Msihra waves at crowd during the rally.
He also came down heavily on the Samajwadi Party government in the state, alleging that it was doing politics at the cost of development and has no time to procure paddy from farmers despite the Centre's support.
Elated over the turnout at the rally, he said not just the BJP, but the state's development had been "exiled" for 14 years and the situation will change soon.
"People of the state have already seen politics of caste and family... For once rise above caste and vote only for development in the elections and see whether UP changes or not," Modi said.
Starting his speech by eulogising former prime minister Atal Bihari Vajpayee who represented Lucknow in the Lok Sabha, Modi said that the BJP patriarch will be very satisfied to see people's response here.
Invoking Bhimrao Ambedkar, the prime minister claimed that some people were troubled when his government launched Bhim mobile app named after the dalit icon.
"Will politics stoop so low..... we launched Bhim mobile app a couple of days ago and named it after Bhimrao Ambedkar who was an expert in economy...if dealings in the future business is named after Bhim why is it troubling some people."
"I want that we go to villages to all those carrying mobile phone and ask them to download the app and remember Bhim everywhere...this will be the biggest tribute to Bhimrao Ambedkar," he said.
Referring to his New Year eve address when he launched schemes for the poor, he said some people were troubled by it also.
IMAGE: Prime Minister Modi with Union minister Uma Bharti during the rally.
"They are troubled when Modi takes money and also when gives it (to the poor). Their problem is that their chairs are shaking.
"They have become irrelevant and are looking for lost ground by indulging in politics of opposing," he said ,adding that he has taken a resolve to return what has been snatched away from the deprived and middle class.
The fight against corruption will continue till it is fully uprooted and "so we want the blessings of the people of Uttar Pradesh," he said urging the voters to give a majority to the BJP in the state polls.
"The central government now takes decisions on its own. The country has got a prime minister, a government whose high command is only people. It has happened for the first time in 30 years that there is a government whose high command is the 125 crore people of India," Modi said.
The PM said since he is an MP from the state he has experienced how government is run here.
Modi said he was appalled to know that in his own Varanasi constituency works are decided after seeing who has made the recommendation for construction of roads or pathways.
"My MPs have been complaining day and night that their works were not being done by the UP government," he said.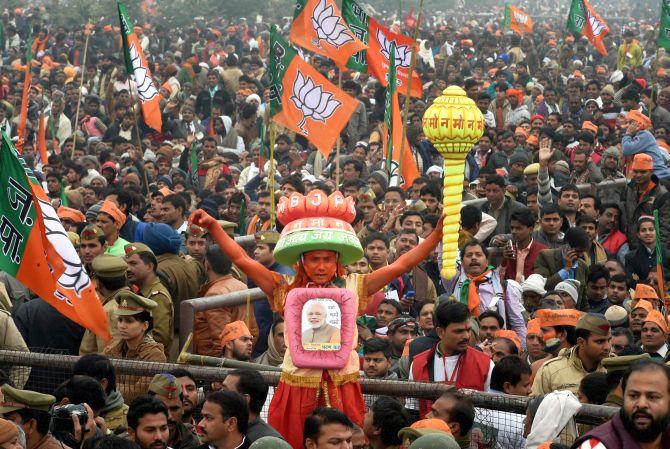 IMAGE: A PM Modi supporter at the rally.

"Ever since our government came to power in Delhi every year Rs 1 lakh crore more had been given to the state through the finance commission...had that been used properly a lot of difference would have been made here.... development is not a priority of the state government," he said.
Referring to schemes launched for farmers, he said, "The UP government is not ready to take responsibility. They instigate farmers but politics should not be played with the people and it needs to remain confined among political parties."
"There should not be any politics in development. People have to bear its brunt. Farmers work hard but when central government sets MSP, I have to say with pain that despite all help from the Government of India, the UP government has no time to purchase paddy from farmers," he said.
He said "the massive turnout" at the sprawling Ramabai Ambedkar rally sthal showed which way the wind is blowing.
In times when people do not have a long memory, Modi said, people still remember the BJP governments 14 years ago headed by Kalyan Singh, Ram Prakash and Rajnath Singh.
"The issue is not of BJP's exile... the issue is that development had been exiled in the state for 14 years and today I am seeing an opportunity here for development of the state which was necessary for the development of the country," he said.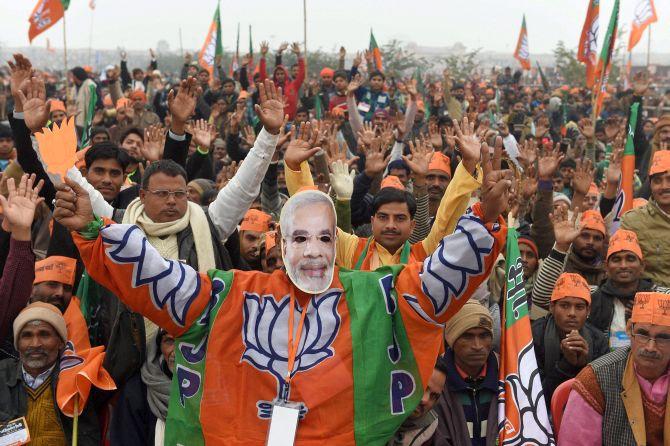 IMAGE: A BJP supporter wears a mask of PM Modi during the rally.
Seeking full majority in the coming elections, Modi said, "I have to tell people that they should not bring a change which is half-baked and ensure a government with full majority so that there is no impediment in development."
Questioning the law and order situation in the state, Modi said honest citizens have to worry about criminals, land grabbers and safety of their daughters and sisters.
"BJP governments have shown before and if given a chance my party promises to provide a peaceful life and rule of law in the state," he stressed.
These elections could be an issue of who becomes CM or MLA for other parties, but for the BJP the coming elections are not about winning or losing, Modi said.
"I want to tell BJP workers that the UP elections are not an issue of victory or defeat but an election which will assign you responsibility for which we have to become capable and move ahead.
"We are going to get this big responsibility," Modi said adding parytmen will have to move ahead with the motto of 'sabka saath, sabka vikas'.
WATCH: Absence of the BJP kept Uttar Pradesh away from the development for 14 years, says PM Modi