International pop star Rihanna extended her support to farmers protesting on the borders of India's capital against the three agriculture laws introduced by the Central government last year and asked why people were not talking about it.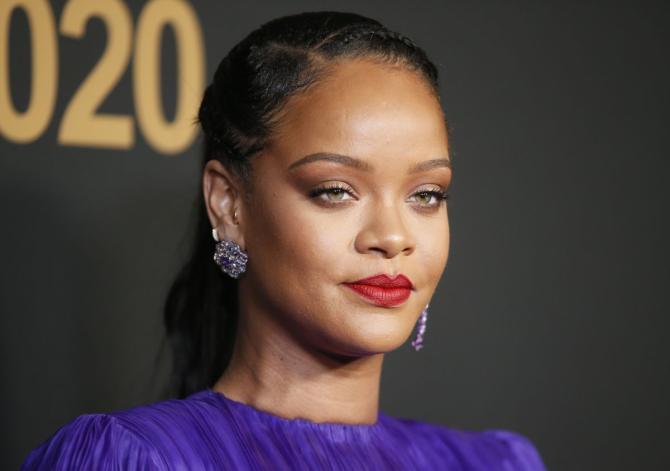 Taking to Twitter, the 32-year-old pop star shared a news story by CNN on the internet shutdown in several districts of Delhi's neighbouring state Haryana after protestors broke barricades to enter New Delhi and clashed with police in several parts of the national capital during the January 26 'tractor rally' protest organised by farmers. The protestors also entered the iconic Mughal Era monument Red Fort and unfurled their flags from its ramparts.
"Why aren't we talking about this?!", wrote Rihanna, as she added the hashtag #FarmersProtest along with the post on the micro-blogging site.
The singer's tweet evoked reactions from fans and celebrity followers and caused her to trend on the microblogging platform. With over 241,000 tweets, Rihanna was trending at Number 1 spot in India on the site. Till 11:10 pm (local time), her tweet garnered 144,000 likes and over 70,000 retweets.
Actor Kangana Ranaut, who has supported farm laws called Rihanna a "fool" and said that the protesters were not farmers but "terrorists who are trying to divide India".
"No one is talking about it because they are not farmers they are terrorists who are trying to divide India, so that China can take over our vulnerable broken nation and make it a Chinese colony much like USA... Sit down you fool, we are not selling our nation like you dummies," the actor tweeted.
Others like Priyanka Chopra Jonas and Diljit Dosanjh have earlier come out in support of the farmers on Twitter. Diljit also had a Twitter spat with Kangana following their contrasting views on the protesting farmers.
"Yes! Thank you so much Rihanna. This is a humanity issue! #IStandWithFarmers and this narrative is TIRED," Canadian YouTuber, comedian, talk show host, and actress Lily Singh tweeted.
Meanwhile, the Haryana government has extended the suspension of mobile internet services in several districts of the state till 5 pm on February 3.
Farmers have been protesting on the different borders of the national capital since November 26 last year against the three newly enacted farm laws: Farmers' Produce Trade and Commerce (Promotion and Facilitation) Act, 2020; the Farmers Empowerment and Protection) Agreement on Price Assurance and farm Services Act 2020 and the Essential Commodities (Amendment) Act, 2020.
Other foreign celebs extend their support
Several international personalities, including singers Jay Sean, Dr Zeus and former adult star Mia Khalifa, have joined pop star Rihanna in supporting Indian farmers who have been protesting for over two months against the three contentious agri laws.
Hollywood star John Cusack, who previously voiced support to anti-Citizenship Amendment Act protestors in February 2020, retweeted a post by Vanessa Nakate, a Ugandan climate activist, reading, "Let us talk about what is happening in India right now #FarmersProtest."
The Hollywood star had previously posted in support of the agitation on January 30 with the tweet, "Sikhs farmers are amazing."
Kamaljit Singh Jhooti, popularly known by his international stage name Jay Sean, took to Instagram and wrote that despite the farmers agitation being one of the largest protests "ever in history", there has not been enough mainstream coverage of the event.
"I live in the US and I've barely seen it on the news or mainstream media. I don't know what needs to be done to raise more awareness and have more eyes on this but I've seen videos that are far too graphic and heartbreaking to post.
"People that are old enough to be my grandparents being trampled over with no remorse or regard. Please go to my story where I will post a petition link and something actionable," the Indian-origin British artiste wrote.
Baljit Singh Padam aka rapper Dr Zeus retweeted Rihanna's tweet and wrote that "everyone with sense" across the world are wondering about the lack of spotlight on the protests.
"World media needs to wake up. #FarmersProtest," the Indian-origin British singer said.
Mia Khalifa took to Twitter and criticised the treatment being meted out to the protesting farmers. "What in the human rights violations is going on?! They cut the internet around New Delhi?! #FarmersProtest," she wrote.
In a subsequent tweet, the 27-year-old Lebanese American took on those who called farmers "paid actors" as she reiterated her support to them.
"'Paid actors' huh? Quite the casting director, I hope they're not overlooked during awards season. I stand with the farmers. #FarmersProtest."
US-based Indian filmamker Ritesh Batra, known for films like "The Lunchbox" and "Photograph", tweeted that the "whole world is watching the farmer agitation in India."
-- With inputs from PTI