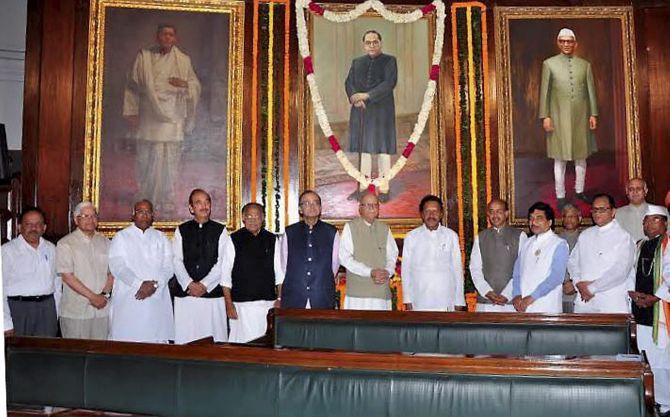 Senior Parliamentarians pay tributes to Dr BR Ambedkar in Parliament House in New Delhi. Photograph: PTI Photo
The 124th birth anniversary of Dr Bhimrao Ramji Ambedkar on Tuesday was observed with traditional fervour across Maharashtra.
In Mumbai, Governor C Vidyasagar Rao visited Chaitya Bhoomi, the memorial of Bharat Ratna Dr Ambedkar and offered floral tributes on the occasion.
On the day, memorial speeches were delivered at special functions held in various parts of the state and prayers were offered to Babasaheb.
Chief Minister Devendra Fadnavis took to micro blogging website Twitter to pay tributes to the dalit icon.
"Salutations to the Father of Indian Constitution, A Visionary, Bharat Ratna Dr Babasaheb Ambedkar on His Birth Anniversary!" Fadnavis tweeted.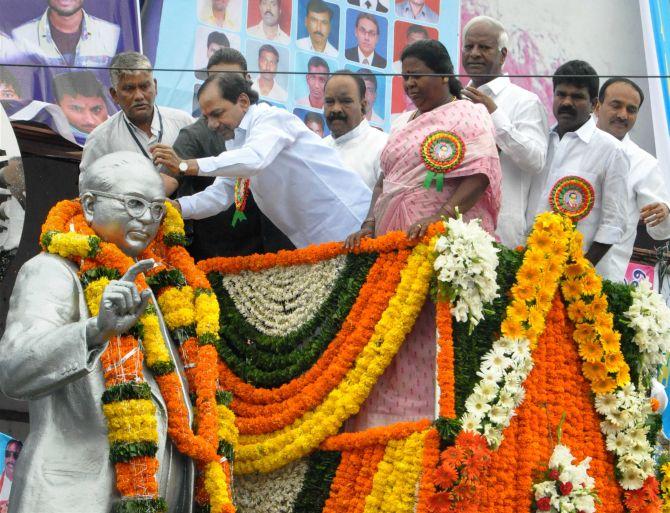 Telangana Chief Minister K Chandershekhar Rao pays tributes to Dr B R Ambedker during his 124th birth anniversary celebrations at Tank Bund, Hyderabad. Photograph: PTI Photo
Dr Bhimrao Ramji Ambedkar also known as B R Ambedkar or 'Babasaheb' was born on April 14, 1891 at Mhow (Military Headquarter of War) in Madhya Pradesh's Indore district. He is known as the 'Father of Indian Constitution', the architect of Indian Constitution.
In Nashik, Mayor Ashok Murtadak and others paid tributes at city Municipal Corporation office by garlanding to Ambedkar's portrait.
In Amravati, Minister of State Industries and district guardian minister Pravin Pote, leaders of various parties and workers garlanded Ambedkar statues across the city.
At a function at Irwin Square, Pote announced a plan of beautification of Amravati Municipal Corporation with a budget of Rs 2.52 crore.
He also expressed pleasure that a memorial of the Dalit leader will come up at Indu Mills premises in Mumbai and also lauded the state government's move to purchase and convert the London-based house of Ambedkar into a monument.
The minister also inaugurated a photo exhibition on the times and life of Ambedkar.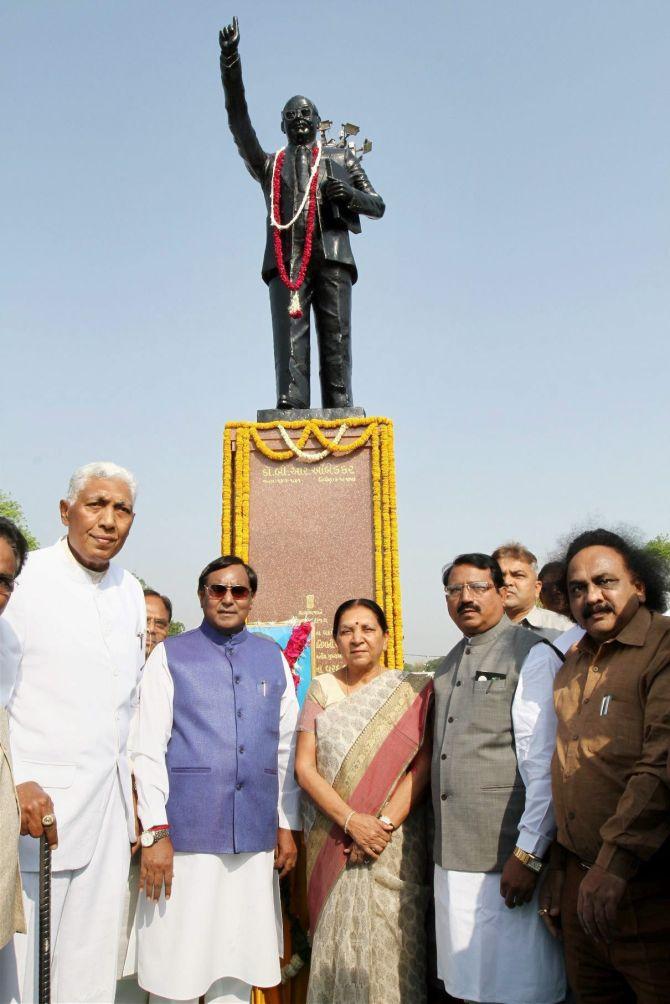 Anandiben Patel at an event to mark 124th birth anniversary of B R Ambedkar in Gandhinagar. Photograph: PTI Photo
In Gondia, Congress MLA Gopal Das Agrawal, NCP MLC Rajendra Jain and Zilla Parishad president Vijay Shivankar also paid floral tributes.
At a programme in Gondia on Monday, Maharashtra social justice minister Rajkumar Badole said the government has allocated a fund of Rs 3.5 crore and appointed a solicitor for purchasing the house of Ambedkar in London.
"We are going to London on April 22 to complete the modalities. We are also trying to have Dr Ambedkar chair in London School of Economics," he said.
Prime Minister Narendra Modi paid tributes to B R Ambedkar on his 125th birth anniversary, and asked the countrymen to dedicate themselves to creating India that he dreamt of.
"I bow to Dr Babasaheb Ambedkar on his birth anniversary - Jai Bhim," the prime minister said in his message.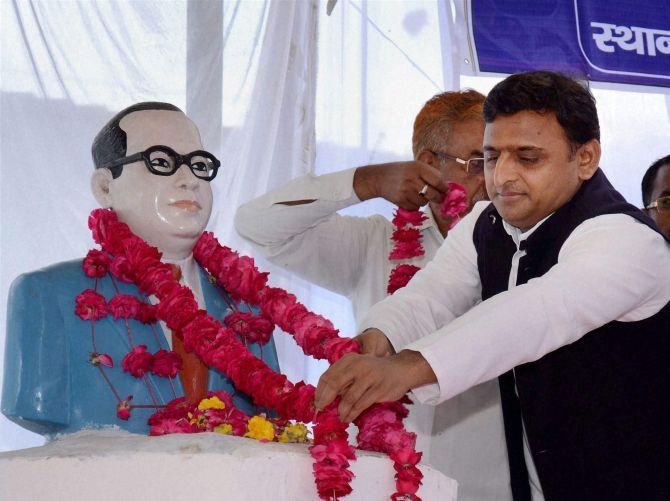 UP CM Akhilesh Yadav garlanding the statue of Bhimrao Ambedkar on the occasion of his anniversary in Lucknow. Photograph: Nand Kumar/PTI Photo
"Dr Babasaheb Ambedkar is a yug purush (man of the era) who lives in the hearts and minds of crores of Indians. His life is characterised by unmatched determination and a firm commitment towards social justice. He made a mark as a bright lawyer, scholar, writer and intellectual who always spoke his mind," Modi said.
"Who can forget Dr Ambedkar's contribution in the making of our Constitution? He served the nation and the people tirelessly and selflessly."
"Let us pledge to dedicate ourselves to creating the India that Dr Ambedkar dreamt of...an India that will make him proud," Modi said.