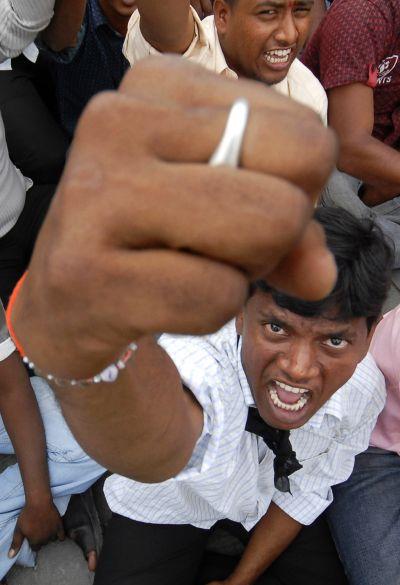 The Hyderabad Union Cabinet's surprise and sudden move to take up the Telangana note for consideration has inflamed the passions of people in Seema-Andhra regions and several organisations have called for a 72-hour strike in 13 districts of two regions from Friday.
The United Andhra Pradesh Protection Committee, Vishalandhra Mahasabha, United Andhra Pradesh joint Action Committee, students unions and Road Transport Corporation employees JAC were among the organisations who called for the general strike.
In view of the heightening tension, the state government has put the security forces on alert. Director General of police B Prasad Rao held a video conference with the commissioners of Vijaywada and Visakhapatanam cities, SPs of 13 districts and inspectors general of different regions to discuss the situation
The decision to declare an alert was taken after the Union Home ministry sounded a warning to the state government that trouble was likely to break out over Union Cabinet's decision to go ahead with the bifurcation of the state.
Protest demonstrations have already broken out at many places and protestors were specially targeting the residences of the union ministers and members of Parliament. Agitators forced the closure of shops and business establishments in Kadapa, Vijaywada and other places.