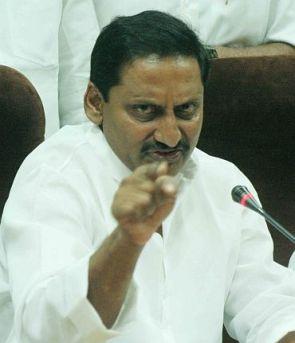 Even as the Union Cabinet on Thursday took up the note on Telangana state for discussion, the Seemandhra leaders fighting to keep the state united, met Andhra Pradesh Chief Minister N Kiran Kumar Reddy to discuss their counter strategy.
The leaders including 13 ministers, 30 MLAs and nearly a dozen MLCs and three MPs met the CM after holding their separate meeting to discuss the situation.
According to the sources the chief minister advised the Seemadnhra MLAs against tendering resignations in a huff and urged them to remain united so that they could defeat the Telangana resolution on the floor of the assembly.
"You should be ready to defeat the resolution on Telangana", Kiran Kumar Reddy told the group, sources said.
Earlier minister S Sailajanath and T Venkatesh told the media after their meeting at the ministers' quarters that their single point agenda now was to reject the resolution if it comes up before the assembly.
The session of the state assembly was likely to be held before the end of October. Those in the know said that the chief minister was likely to lead an attack against the resolution and instead of ensuring its adoption was likely to announce his resignation on the floor of the House to emerge as a champion of United AP cause.
Significantly, Thursday's meeting of Seemandhra leaders gave a clear indication that their rank had suffered a split. Many senior state ministers, reportedly unhappy with the CM's confrontation with party high command, stayed away from the meeting. They include state finance minster Anam Ramnarayan Reddy, Botsa Satyanrayana, Kanna Lakshmi Narayana, Mahidhar Reddy, Pitani satyanarayana, S Vijayarama Raju and Balaraju.
Meanwhile Botsa Satyanarayana, who was also trying to emerge as a champion of united Andhra Pradesh and counter the chief minister, said that all efforts will be made to defeat the Telangana resolution in the assembly.
Such a situation was a foregone conclusion as all the political parties of Andhra Pradesh were divided along regional lines. In the House of 294, Telangana has only 119 seats and they are vastly outnumbered by Seemandhra MLAs with 175 seats.
But the opinion of assembly, even if it was expressed through voting, was not binding on the Centre, and it can still go ahead with putting Telangana bill in Parliament and form a separate state by dividing Andhra Pradesh.
Image: Andhra Pradesh CM N Kiran Kumar Reddy
Photograph: SnapsIndia