"I have experienced earthquakes in the past but the tremors this time were strong and long enough to make me rush out of my apartment with my children...I am scared to sleep now," Vidhya Bhalla, a resident of Delhi's New Friends Colony, said Tuesday night.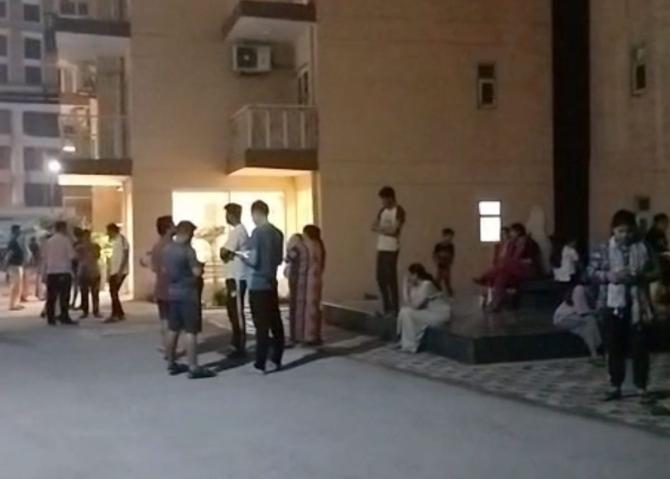 Bhalla's account was echoed by a cross-section of residents of Delhi-NCR after a 6.6 magnitude temblor on Tuesday night was felt across large swathes of northern India as the earthquake struck the Hindukush region in Afghanistan.
Panic gripped as strong tremors jolted the national capital and the adjoining Noida.
People in residential colonies and apartments rushed out of their homes as their buildings started started shaking.
Jyoti, a resident of Lajpat Nagar, said she was watching television when she suddenly saw the TV and sofa shaking.
Initially, she ignored it but when her husband alerted her, she and her family members rushed out of their home.
"I ignored it initially but as soon as my husband alerted, I felt the tremors too. This time it was strong and the sofa I was sitting on started shaking a bit. We rushed outside our home. Thankfully, we are on the ground floor, so in such situations, we have an easy escape," she said.
Meanwhile, relatives also started flooding residents of the national capital with phone calls as soon as the news of earthquake broke out.
Standing outside their residences, many of them were busy informing their relatives that they were safe and sound.
"I immediately got a call from my uncle based in Ambala asking if we were safe. Since he heard in news about the strong tremors, he was worried and called us to check if we were safe," said Deeksha, another resident of Lajpat Nagar.
Vidhya Bhalla said she got scared when she noticed her fan shaking and felt dizzy.
"I was on the third floor of the building and rushed out with my children immediately. Tremors were felt even before but this time it was strong and lasted for enough duration so that we could sense it. Now, I'm scared to sleep. What if there's another strong tremor like the one we just experienced," she said.
The tremors were felt around 10.20 pm.
Hundreds of residents rushed out of their homes in Noida -- that houses scores of high-rise apartments -- in the wake of the strong tremors.
Among those who rushed in panic were also elderly, women and young children while some residents also carried their pets with them.
"I was watching a TV serial when I felt the earthquake. It was scary and I counted till 10 in my mind," Rajesh Kumar, a senior citizen who lives on the first floor of Supertech Capetown in Sector 74, told PTI moments after his family and he reached outside their building.
Several people opted for staircases and avoided lifts during the rush.
"Those living on the upper floors are the ones who suffer the most in emergency situations," said Mansi, who accompanied a sick friend of hers as they climbed down from the 15th floor of a residential tower.
Once on the ground outside the towers, many people were seen calling up their contacts and checking on them for their safety while some even took to video calls to show the crowds that surrounded them.
"I can still feel as if I am shaking," a Noida youth said as he was rushing out of home.
While adults were gripped by panic and anxiety, several children had a few moments of fun as they played with their friends in parks where their parents had assembled.
"In logon ke maze hain (They are having fun)," the father of a boy told PTI, gesturing towards his son and his friend, both around 4-5 years, who were busy playing on a slide.
Similar scenes of crowds rushing out of their homes were reported from high-rise societies in other areas of Noida like Sector 75, 76, 77, 78, 120 and 137, 142.
Strong tremors jolted parts of north India, including Delhi-NCR, on Tuesday night as an earthquake of magnitude 6.6 struck the Hindu Kush region in Afghanistan.
There was no immediate report of any loss of life or property.