The Republican Hindu Coalition, which hosted Donald Trump's desi rally in New Jersey last month, has branded Huma Abedin 'pro-terrorist.
George Joseph reports from New York.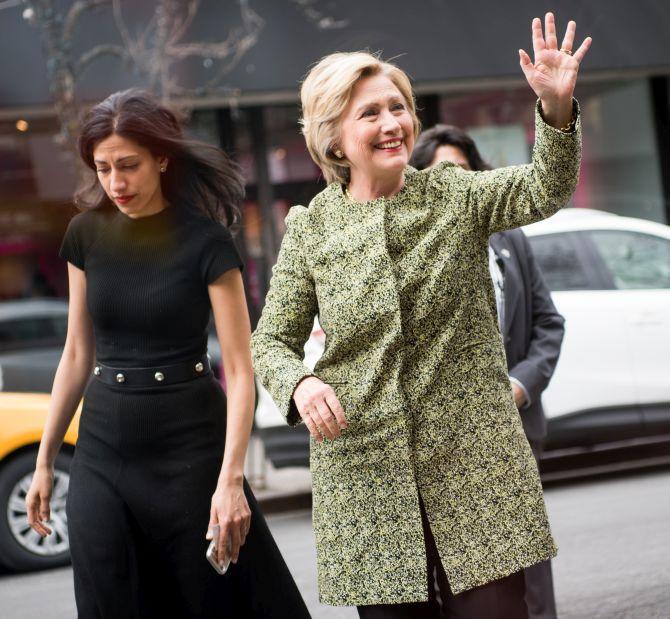 IMAGE: Democratic US presidential candidate Hillary Clinton with Huma Abedin in New York. Photograph: Andrew Theodorakis/Getty Images
As the race to the White House enters its final days, the accusations are getting nastier, the advertisements even more dirtier.
Democratic nominee Hillary Clinton's embattled aide Huma Abedin is again under fire -- not over the e-mails she exchanged with her boss on her estranged husband Antony Weiner's laptop -- but for her heritage.
The Republican Hindu Coalition, headed by Chicago businessman Shalabh 'Shalli' Kumar, has taken aim at Abedin, branding her 'pro-terrorist.'
A 30-second television ad, beamed on desi channels in the US, questions her 'Pakistani and Saudi background.'
The ad begins by attacking Clinton, alleging she is sympathetic towards Pakistan. It goes on to say, 'Hillary gave billions of dollars in aid and military equipment used against India. Huma Abedin is of Pakistani origin and will become chief of staff if she wins.'
Huma's parents were born in undivided India. Her father, in fact, was born in Delhi.
The Abedins lived in Saudi Arabia for many years where the parents taught at universities in the kingdom. Huma's mother still teaches at Jeddah university, her father passed away in 1993.
Kumar, founder of the Republican Hindu Coalition, says there is nothing wrong in the advertisements he has funded against Abedin.
"We have to point out the elephant in the room. I don't know why Hillary Clinton relies on her this much. It is mind-boggling. Why couldn't she find another intern?" Kumar, who organised and funded the October 15 desi rally in Edison, New Jersey for Republican presidential nominee Donald Trump, asks.
Abedin's mother, Kumar alleges, writes for a magazine in Saudi Arabia with connections to the Muslim Brotherhood, an organisation banned in the United States.
"Why is the daughter of such a person a top aide to Clinton?" Kumar asks.
A spokesperson for the Republican Hindu Coalition said the advertisements have been received well, adding that the ads would unite Indian Americans to rally for Trump.
The Coalition is sending 60,000 direct mailers to Hindu-American voters in Florida, North Carolina and Ohio that state: 'Chief of Staff in Clinton White House will be Huma Abedin, of Pakistani and Saudi background.'
There is no certainty that Huma Abedin will be chief of staff in a Hillary administration. Or whether she will have an official position if Hillary is elected to the American presidency.
Kumar claims he has spent $4 million (about Rs 26.6 crore/Rs 266 million) of his own money to help elect Trump.
He says he could spend a "couple million" dollars more to help Trump's candidacy.
"Huma in general is as pro-terrorist as you could be..." Kumar alleged.
"She's got a really dark background," he alleged. "I don't understand why Hillary will associate herself with Huma."