From shy bride to passionate campaigner, the story of Princess Diana was more often than not told through photographs.
On her 20th death anniversary, August 31, a walk down memory lane to remember the iconic 'People's Princess'.
Who can forget this iconic moment -- Lady Diana Spencer showing up in her gown for the first time ahead of her wedding to Prince Charles back in 1981?
The 20 year old shot into the limelight at this very moment.
Her gown designed by David Emanuel went down as one of the most fashionable wedding dresses of all time.
The ivory silk taffeta and antique lace gown had a 25-foot train and cost around 9,000 pounds then.
Photograph: Mal Langsdon/Reuters
Kate vs Diana: Vote for the better gown!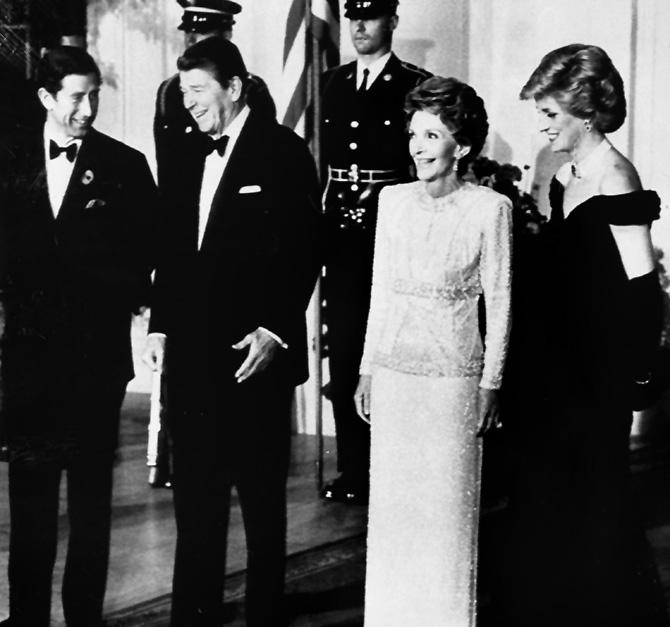 Charles and Diana made their way across the pond in 1986 and called on United States President Ronald Reagan and his wife Nancy.
The frenzy around the visit was on a different plane.
As the Los Angeles Times wrote: 'This officially democratic capital is suddenly mad about monarchy'.
Photograph: Joe Marquette/Reuters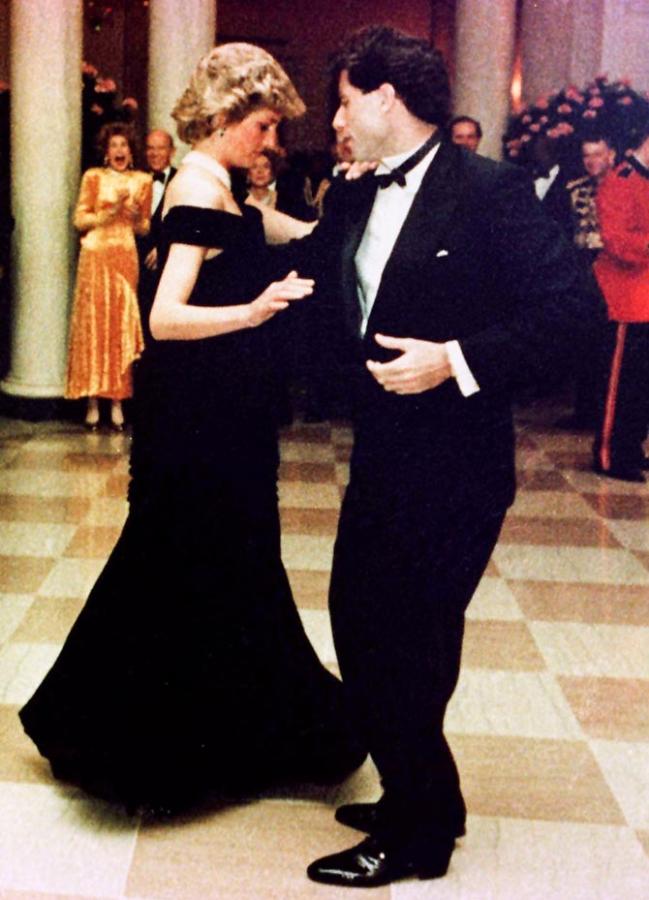 At a gala hosted at the White House, Diana showed her dancing skills when she matched steps with Saturday Night Fever star John Travolta.
While Travolta described the moment as one of the best in his life, Paul Burrell, Diana's former butler, later revealed that she wanted to be twirled by Mikhail Baryshnikov, one of the greatest ballet dancers.
Di looked radiant in an ink-blue Edelstein gown which later sold for $222,500 at an auction.
It was the highest price paid for any one of her 79 gowns she auctioned to raise funds for AIDS and cancer charities in Britain and the US.
Photograph: Reuters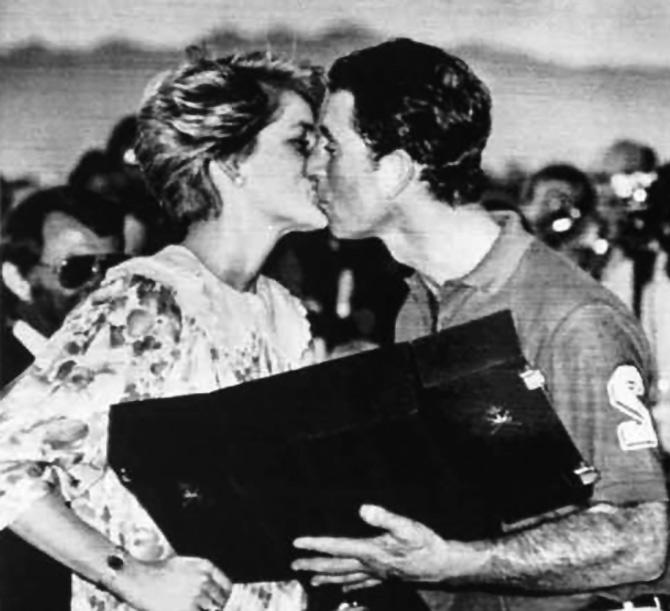 Diana and Charles after he won the runner's up prize at a polo match at the Royal Oman Polo Ground in 1986.
In 1995, the BBC aired Diana's first solo media interview in which she addressed the tensions within her marriage, her struggles with postpartum depression and bulimia and the fact that she had been intimately involved with a man other than her husband.
Diana told the interviewer Martin Bashir, 'There were three of us in this marriage, so it was a bit crowded,' a reference to Charles' affair with his girlfriend (and now his wife) Camilla Parker Bowles.
Photograph: Nick Didlick/Reuters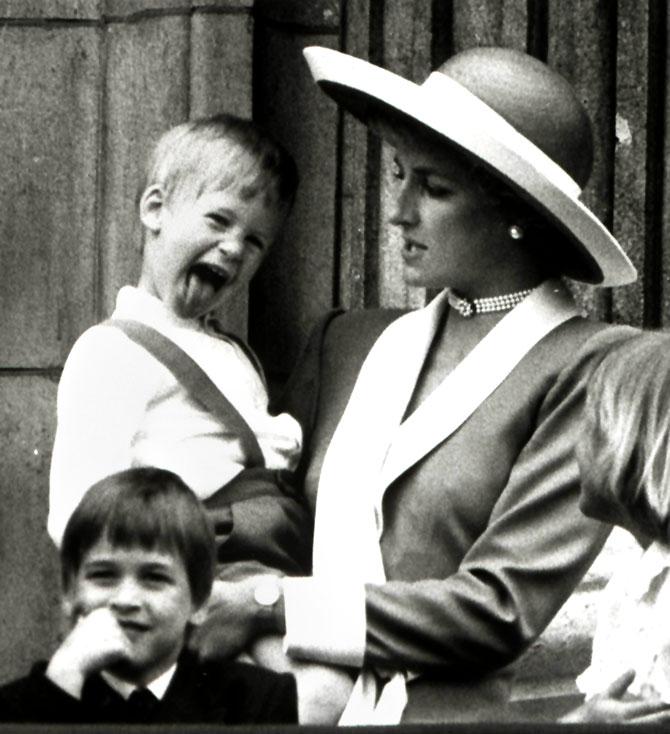 Diana with Harry as her older son William looks out over the balcony at Buckingham Palace, June 11, 1988 after attending the Trooping the Colour ceremony.
William and Harry, in a documentary to honour their mother this year, said she will always be their mischievous mother whose love of life and fun was infectious.
'This is the first time that the two of us have ever spoken about her as a mother,' Harry said.
'She was our mum. She still is our mum. And, of course, as a son I would say this, she was the best mum in the world.'
'She smothered us with love, that's for sure.'
'She really enjoyed the laughter and the fun,' William remembered.
'She understood that there was a real life outside palace walls.'
Photograph: Reuters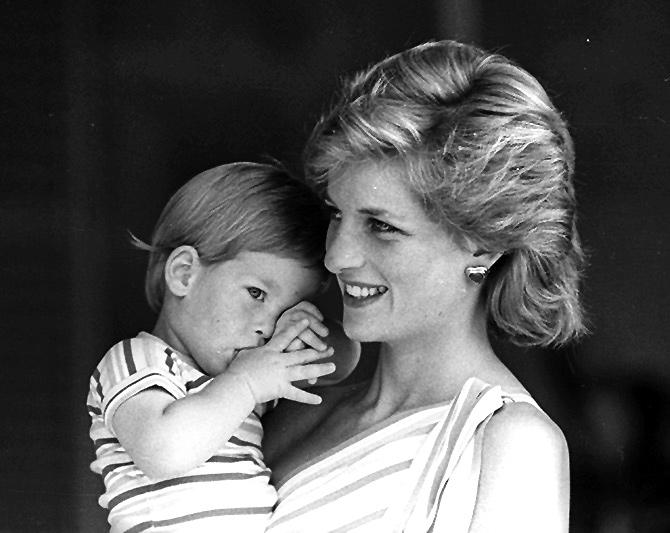 Harry tries to hide behind his mother during a morning picture session at the Marivent Palace, August 9, 1988.
Charles and Diana were guests of Spain's King Juan Carlos and Queen Sofia.
Harry revealed he was 'very close to a complete breakdown' after his mum's tragic death and sought counselling four years ago to deal with the 'total chaos'.
Photograph: Hugh Peralta/Reuters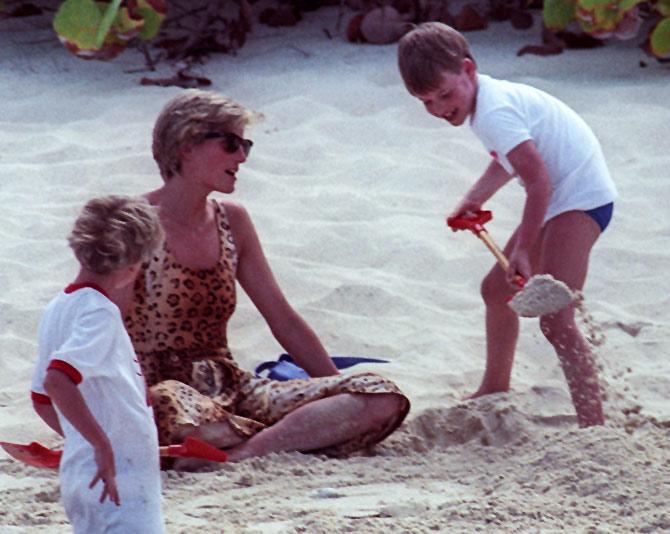 William covers his mother in sand during a holiday on Necker Island in the British Virgin Islands in 1990.
Photograph: Rob Taggart/Reuters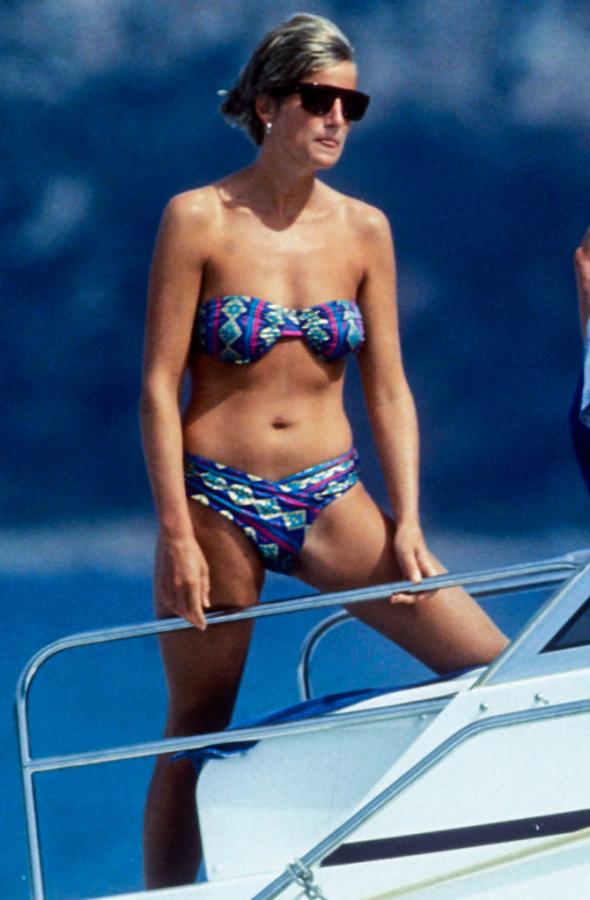 Diana didn't conform to the stuffiness of royalty and perhaps, that's why she was so loved by the public.
Here she is, looking stunning in a vibrant, two piece on the deck of a yacht near the Cape of Coda Cavallo in Sardinia, Italy.
Photograph: Reuters
In February 1992, Diana made her way to India.
During her six day visit, she was famously pictured alone on a bench in front of the Taj Mahal.
This image signalled the end of her love story.
At that time, unknown to the world, Charles and Diana were already spending much of their time apart.
Diana was based at Kensington Palace; Charles preferred Highgrove in Gloucestershire.
Ten months after the photograph was taken, the couple announced their formal separation.
Photograph: Ulli Michel/Reuters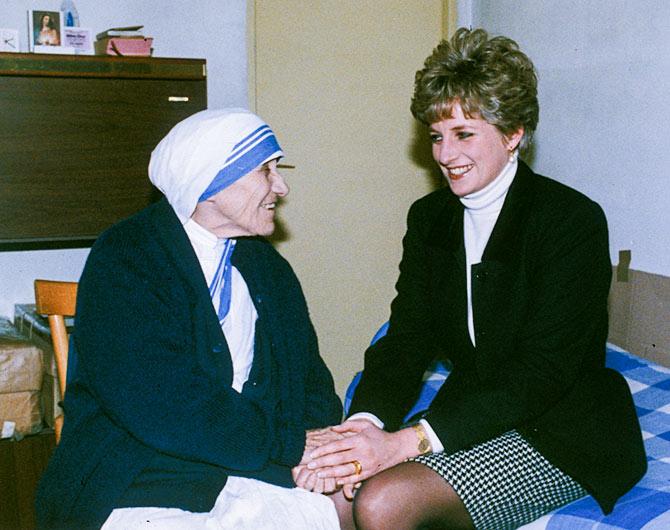 Diana sought out more social work after she met Mother Teresa in 1992.
In letters, which have now surfaced, she wrote, 'Today, something very profound touched my life. I went to Mother Teresa's home and found the direction I've been searching for all these years.'
'The sisters sang to me, a deeply spiritual experience and I soared to such heights in my spirit.'
'The light shone from within these ladies, saints for want of a better word, such love came from their eyes and their touch was full of warmth.'
Photograph: Domenico Stinelus/Reuters
Just like Mother Teresa, Diana brought the plight of leprosy-affected people to the world's attention and dispelled one of the myths surrounding it -- that it can be passed on by touch -- by visiting hospitals and touching patients.
In March 1993, she visited Anandaban hospital in Nepal and spent time with leprosy patients.
Photograph: Reuters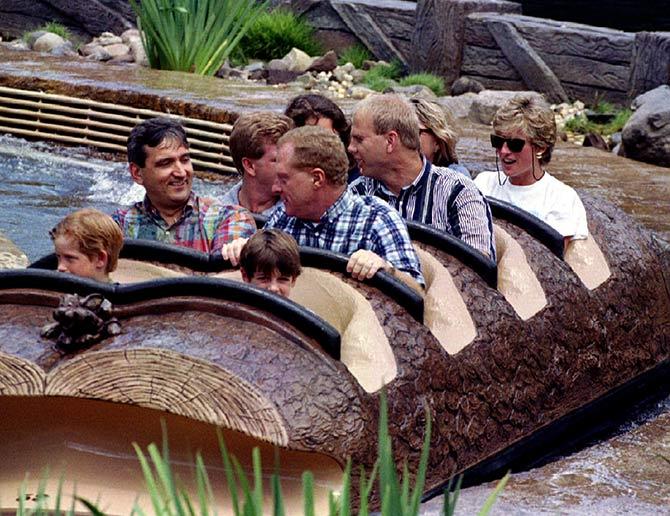 Diana was an attentive, loving, mother who wanted to expose her sons to the world outside their princely life of privilege.
Nine months after her divorce, she whisked Will and Harry to Florida, to Disney World.
Here they are, enjoying a ride on the famous Splash Mountain.
Photograph: Reuters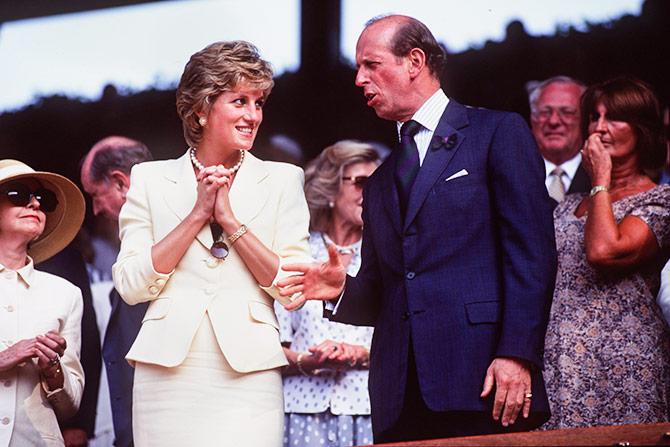 Diana was a huge fan of tennis and in 1995 was seen at the men's singles final at Wimbledon.
And for those wondering who won the final -- it was Pete Sampras who defeated Boris Becker.
Photograph: Clive Brunskill/ALLSPORT/Reuters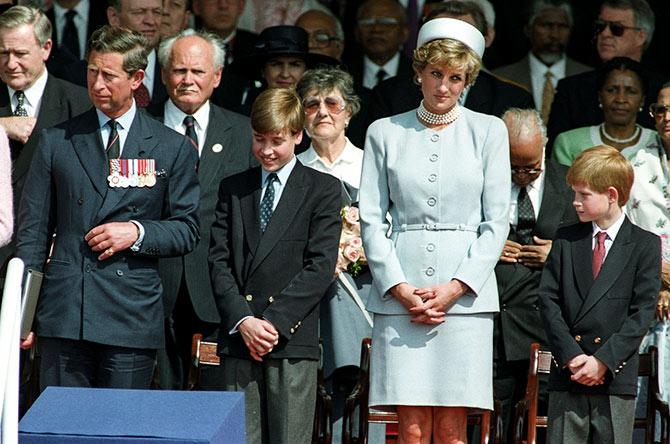 Charles, William, Diana and Harry attend the ceremony in Hyde Park to commemorate the 50th anniversary of VE (Victory in Europe) Day, May 7, 1995.
Photograph: Dylan Martinez/Reuters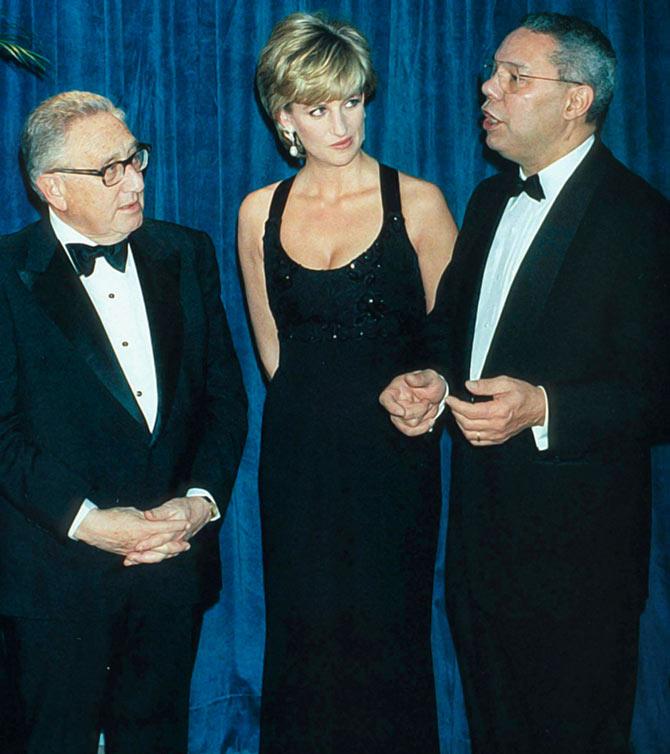 Diana with Dr Henry Kissinger and General Colin Powell at the United Cerebral Palsy Awards gala in Decembe ,1995 in New York City.
She received the UCP Humanitarian Award that evening.
Photograph: Pool/Liaison/Getty Images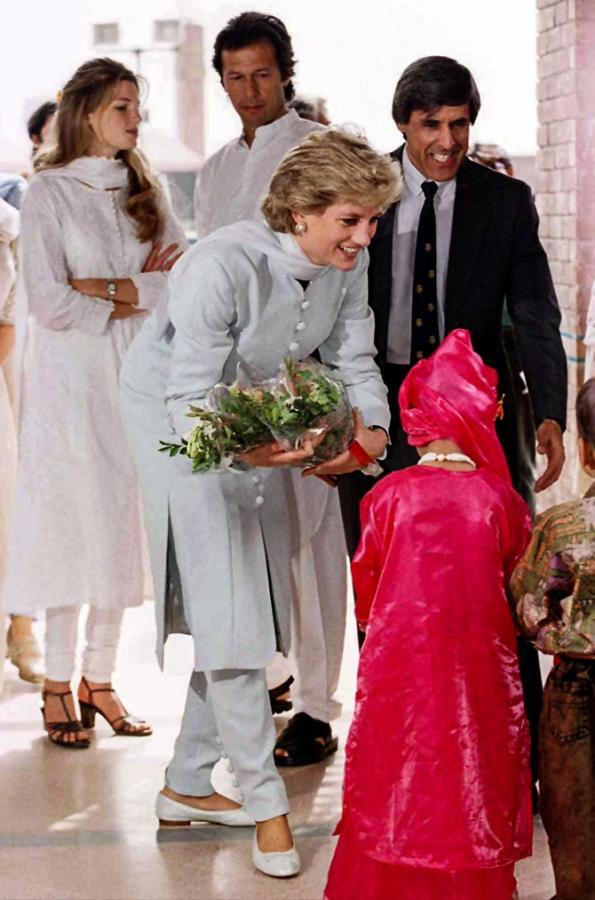 Diana accepts flowers as she arrives at Imran Khan's Shaukat Khanum memorial cancer hospital in Lahore, February 22, 1996.
Jemima Khan, who at the time was married to Imran Khan, is also seen.
In a Vanity Fair interview titled, 'The Grandmother Prince George Never Knew', Jemima revealed that Diana has sought her advice on her romance with Pakistan-born heart surgeon Dr Hasnat Khan, who the princess dated from 1995 until 1997.
Diana, Jemima said, 'wanted to know how hard it had been for me to adapt to life in Pakistan.'
'(She) came to visit me twice in Pakistan to help fundraise for Imran's hospital, but both times she also went to meet his family secretly to discuss the possibility of marriage to Hasnat,' Jemima disclosed.
Diana's relationship with Hasnat, who friends called the 'love of her life', was at the heart of the film Diana, starring Naomi Watts.
Photograph: John Pryke/Reuters
Diana wanted to marry Hasnat, not Dodi: Imran Khan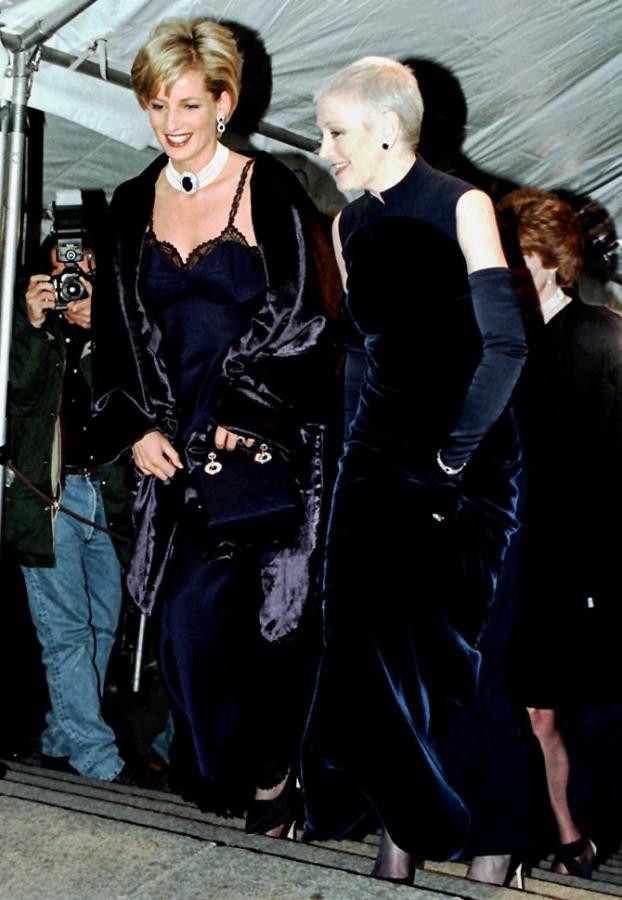 At the Met Gala in 1996, Diana solidified her fashionista credentials when she wore a navy silk slip dress with black lace detailing from John Galliano's debut couture collection as the creative director of Dior.
She finished the boudoir-inspired design with a matching silk robe-like topper and her famous pearl-and-sapphire choker necklace.
This dress is often listed in the best dresses at the Met Gala and sealed Diana's contribution to fashion.
Photograph: Mike Segar/Reuters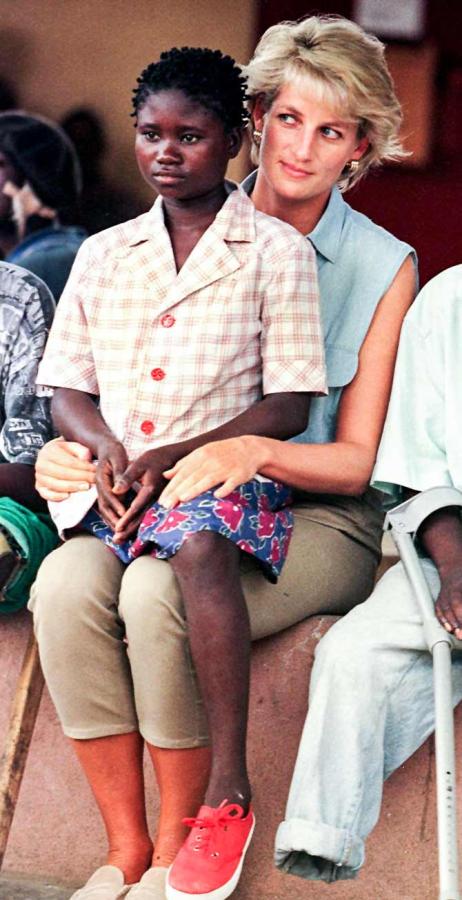 One of the causes dearest to Diana was the removal of landmines.
In January 1997, she visited the Neves Bendinha orthopaedic centre outside the Angolan capital Luanda to spend time with the victims of landmines.
It is here that she met 11-year-old Sandra Tigica whose left leg had been blown off by a landmine three years earlier as she fled from fighting in her country's civil war.
In 2013, a now married Sandra was quoted as saying, 'She brought hope to Angola. With the humanitarian support from foreign countries, the mines are disappearing little by little. But since she's been gone, people have started to forget.'
Photograph: Juda Ngwenya/Reuters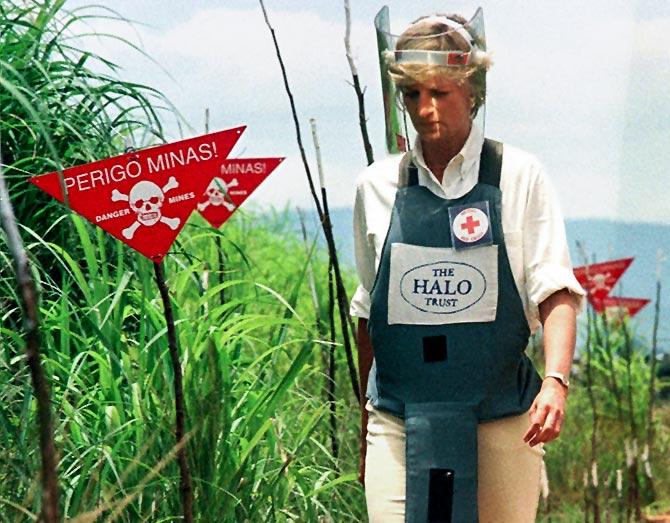 During that same visit to Angola, Diana walked through a safety corridor in a landmine field in Huambo to help increase awareness of the landmines problem worldwide.
In April 2017, Harry took up his mother's cause and urged the world to rid itself of landmines.
Photograph: Jose Manuel Ribeiro/Reuters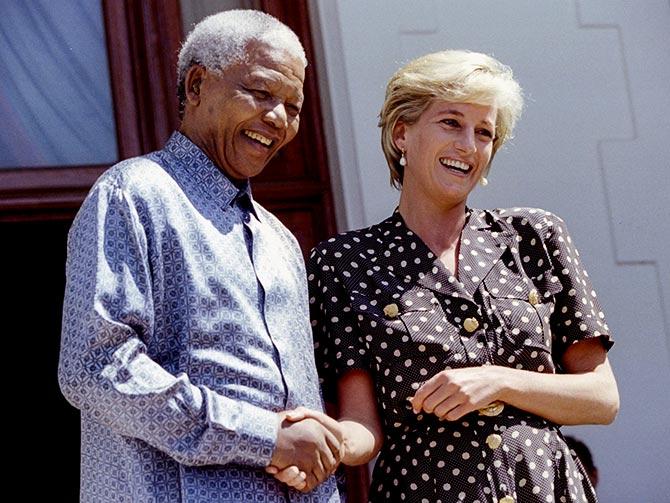 Months before her untimely death, in March 1997, Diana visited Cape Town and met then South African president Nelson Mandela.
Diana said she was 'absolutely thrilled' to meet Mandela.
Madiba said he had 'trembled' at meeting Diana.
'I didn't know that I would meet a British princess.'
Asked by photographers to give her a kiss, he demurred, saying: 'That would be treason.'
Photograph: Juda Ngwenya/Reuters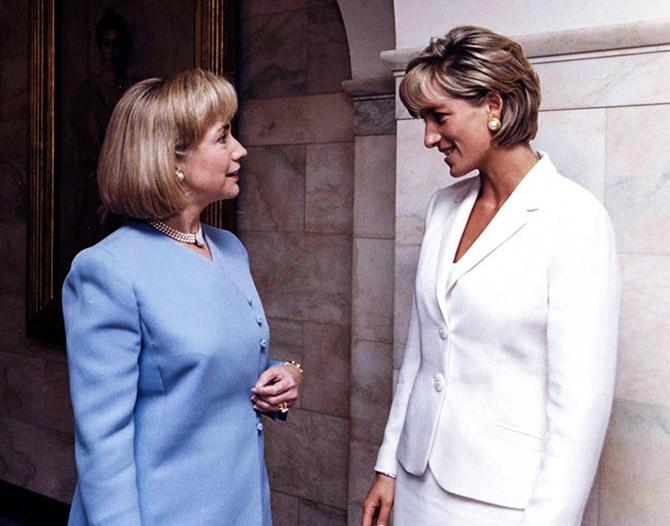 Diana meets then US first lady Hillary Rodham Clinton in the White House in June 1997, a couple of months before she died in a car crash in a Paris tunnel.
Diana was in Washington to attend Red Cross activities.
Photograph: Reuters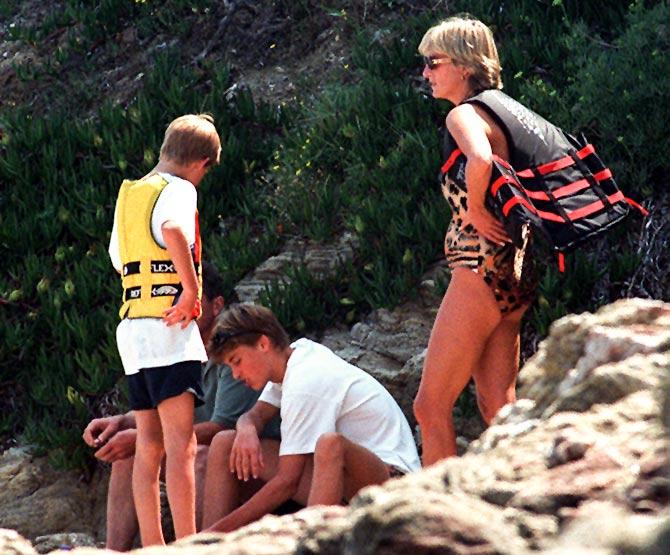 In July 1997, Diana took William and Harry to Saint Tropez in the south of France.
This was Diana's last holiday and she enjoyed it with her sons and her new love -- Egyptian business tycoon and the then owner of the department store Harrods -- Dodi Al Fayed.
Photograph: Reuters
William opens up on Diana's death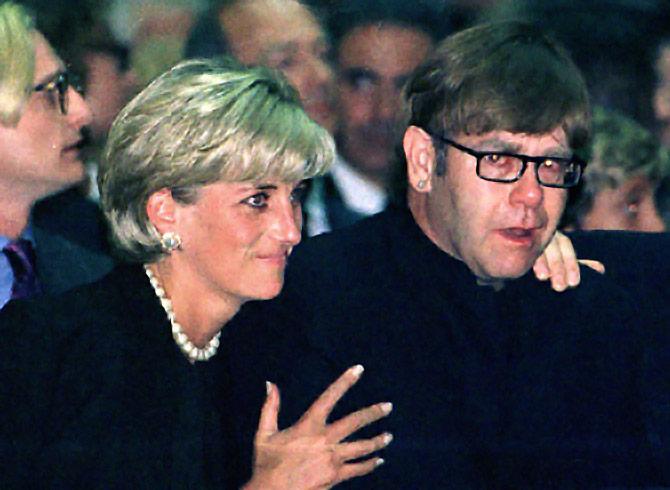 Heartbreak struck Diana again in July 1997 when her friend designer Gianni Versace was murdered.
Versace had bridged the gap between fashion and celebrity, just as Diana had bridged the gap between royalty and celebrity.
At Versace's funeral on July 22, 1997, she made up with Elton John.
Diana and Elton had become estranged after a dispute over Versace's book Rock and Royalty.
A picture of Diana and her sons appeared amid a portfolio of semi-nude male models and Diana feared it would upset the queen.
Royalties from the book benefited Elton's AIDS foundation.
Photograph: Stefano Rellandini/Reuters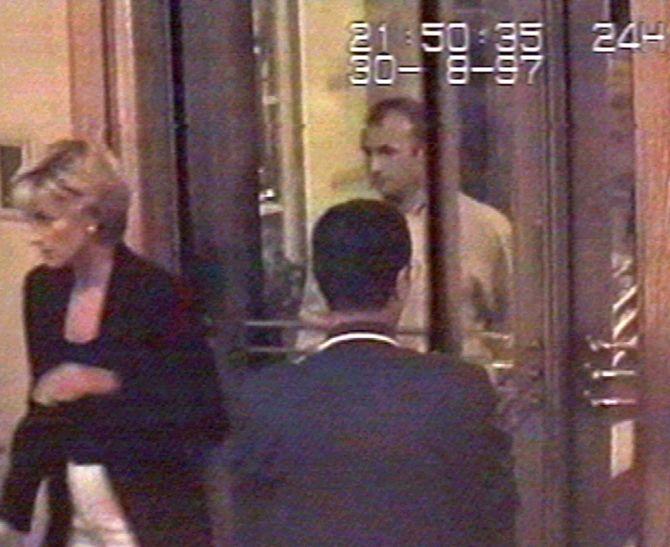 The last time we see Diana alive.
August 30, she was caught on security video footage entering the Ritz hotel in Paris prior to a dinner with Dodi.
The next night, chased by the paparazzi through the Pont de l'Alma tunnel in Paris, she died in a car crash along with Dodi and the driver, Henri Paul.
Photograph: Reuters TV