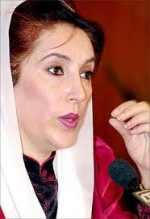 Pakistan Interior Minister Rehman Malik has claimed that he would reveal the names of the killers of former premier Benazir Bhutto and other little-known details of her 2007 assassination in his forthcoming book, according to media reports.
Malik reportedly made the claim while addressing workers of the ruling-Pakistan Peoples Party at Chitral in Khyber-Pakhtunkhwa province on Monday, TV news channels reported.
Two-time premier Bhutto was killed by a suicide attacker shortly after addressing an election rally in Rawalpindi on December 27, 200.
Slain former Tehrik-e-Taliban Pakistan chief Baitullah Mehsud was blamed for the assassination by the government of then President Pervez Musharraf.
Shortly after the media reported his claims, Malik took to Twitter to deny he had made any such remarks.
In one post, he wrote that he had "never said (he would) reveal some facts of (Bhutto's) assassination in my book" and that he would instead "reveal conspiracies" against the Pakistan Peoples Party -led government.
In another post, Malik wrote, "I stated more facts about (Bhutto's) case will be revealed on 27th of Dec.(Please) do not misquote my statements to show (your) venom against me".
Several PPP leaders, including Malik and President Asif Ali Zardari, have said in the past that they have information about Bhutto's killers but have never shared details with the public.