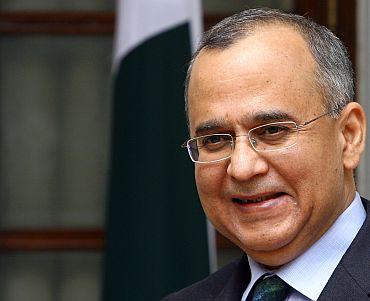 A change of government in India would not come in the way of bilateral ties, Pakistan High Commissioner Salman Bashir said on Monday.
"I don't think that regime change really matters. The relations between states are state relations. They are no personal or party specific. It is the considered policy of Pakistan to forge friendly and cooperative relations with India," the outgoing envoy said when asked whether Pakistan had any apprehensions about possible change of government in India which will face general elections in a few months.
"So your question remains relevant in terms of reciprocation and it is my sense that people of India are desirous to see better relations with Pakistan as in their own interest. That's my sense," Bashir told a media conference in Kolkata.
Asked about the Bharatiya Janata Party's prime ministerial candidate Narendra Modi, Bashir said, "We respect every leader of every political party. You said it rightly it is your internal matter.
"We don't have any opinion on that. But of course, every leader of every political party, which represents the people of India. Therefore, our reach out is to the people of India and in democracy whatever democracy delivers is something that is good. We believe in that."
"I think it is not fair for me to make any comment on any particular person or leader in the political process," said Bashir refraining to directly comment on Modi.
Bashir said Pakistan is desirous to establish ties with West Bengal and to reach out to the people in the state, "It is the sincere desire of Pakistan's prime minister and the president and people of his country to reach out to West Bengal in a cooperative endeavour so that the bonds of culture and friendship be revived and reconstructed," Bashir told a meet-the-press programme organised by the Kolkota Press Club.
He said "Kolkata was always on the radar and West Bengal was special to the Pakistani people and there were lots of shared history and culture and closely bonded, If I can say so."
"Pakistan and India, particularly West Bengal, has serious challenges and opportunities to learn from each other's experiences whether in the areas of industry, trade or governance," he said.
Bashir also had a word of praise for Chief Minister Mamata Banerjee for 'her wonderful job in transforming the lives of people of the state'.
"It is truly worth applauding," he said. Bashir, who met Banerjee during the day, said "I express my gratitude for receiving me warmly, and was touched and impressed by her commitment for better bilateral relations.
She also expressed a desire to visit Pakistan which we welcome."
He said the Pakistani minister of trade would visit the city soon to boost trade ties.