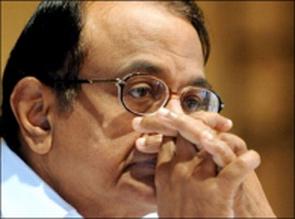 The Congress party should project its prime ministerial candidate for the general elections next year, Finance Minister P Chidambaram said on Monday.
"In my view, the party (Congress) should project a person as the leader of the party who will become prime minister if the party forms the government. That is my view, but it is for the party to decide," he said in an interview to a television channel.
He said that in today's parliamentary as well as state elections, voters tend to ask who the leader is.
"That is something that I have observed over the last 15-20 years," the minister said, adding that in many state elections, there had been a direct contest between "chief minister candidates of party A or party B".
"We have seen this for nearly 30 years or more in Tamil Nadu," he added.
While the Bharatiya Janata Party had named Narendra Modi as its PM candidate in September, there has been criticism that Congress has been reticent about naming its nominee.
On the day the assembly poll results were announced, party chief Sonia Gandhi said that the party would announce its prime ministerial candidate at an opportune time.
There are speculations that the Congress, in a meeting of the All India Congress Committee on January 17, will declare its Vice-President Rahul Gandhi the party's prime ministerial candidate.