The Central Bureau of Investigation has arrested a Reserve Bank of India official and a JDS leader K C Veerendra, who is also a casino owner, in connection with separate cases relating to alleged illegal conversion of currency post-demonetisation.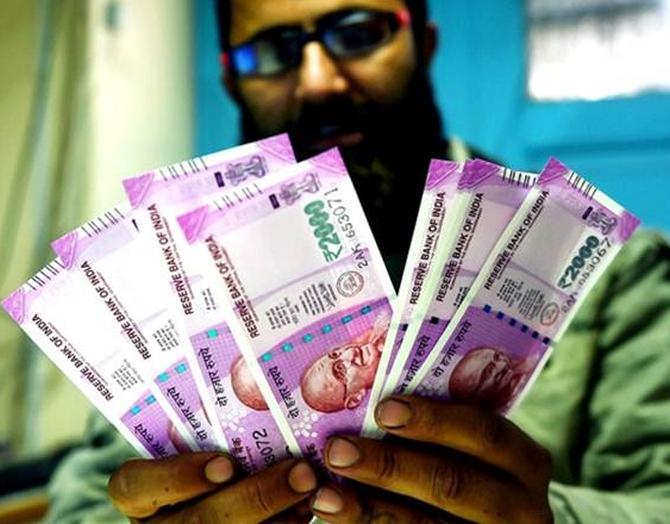 Reserve Bank of India official K Michael, posted in Bengaluru, was arrested by CBI while he was allegedly trying to convert Rs 1.51 crore of old currency notes.
CBI sources said Michael, a senior special assistant at RBI, was arrested last week.
The agency has also arrested Veerendra in a separate case relating to seizure of Rs 5.7 crore of new currency from the bathroom of the casino owner by the Income Tax department.
"We have arrested K C Veerendra. He was arrested in Hubballi on December 10 and brought to Bengaluru the following day and produced before the CBI court. He is in our custody for six days," a top CBI official said.
Besides Veerendra, midddlemen Thipeswamy and Venkatesh, residents of Chitradurga districts of Karnataka, and unknown officials of four banks -- State Bank of India, State Bank of Mysore, ICICI Bank and Kotak Mahindra have also been named in the FIR in this case.
The bank officials in a criminal conspiracy with Veerendra exchanged Rs 5.76 crore of demonetised notes with the new currency of Rs 2000 and Rs 500 denomination during November and Decemeber 2016, the CBI FIR alleged.
The FIR alleged that the agency received a source information that officials of SBI, SBM, ICICI, Kotak Mahindra and other banks in and around Challekere in Chitradurga district had entered into criminal conspiracy with Veerendra, Thipeswamy and Venkatesh and other middlemen to "dishonestly and fraudulently" facilitate exchange of Rs 5.76 crore of old currency notes which ceased to be legal tender on November 8.
It was alleged that the bank officials falsified the accounts of their bank on the basis of forged and fabricated documents of identity and address proof in the names of several individuals to misrepresent that the new currency notes have been exchanged with the general public through the bank counters and and ATMs of the banks.
The CBI has also alleged that Veerendra used services of Thipeswamy and Venkatesh to manage the exchange of Rs 5.76 crore of currency which he had stacked at this residence illegally.
During the Income Tax Department searches, the currency was seized from hidden vaults in a bathroom in Veerendra's house, the agency said.
On December 10, IT officials had raided 15 premises, including Veerendra's house in Challakere and a casino owned by him in Goa. The officials seized Rs 5.7 crore in Rs 2,000 currency notes, besides Rs 90 lakh in Rs 100 and Rs 20 denominations in Hubballi district and in Challakere.
CBI sources said Veerendra allegedly connived with some bankers and middlemen to exchange demonetised currency with Rs 2,000 notes.
Earlier, Veerendra's name had figured in a cricket betting case, the sources said. He was running a chit fund business and later forayed into casino and other ventures, they said.
Veerendra, also a businessman from Challakere in Chitradurga district, is a former chairman of Primary Land Development Bank.
The sources said during preliminary probe names of several persons have been taken by Veerendra and CBI is trying to gather material evidence linking the alleged hawala operator with them.
They said during the questioning CBI will confront him with documents recovered from his premises and will try to get the source of these funds which may unravel alleged involvement of senior bank officials in the case.
The CBI also lodged a case against a Bank of Baroda official in Kolkata for converting old currency in violation of rules, taking the number of such cases to 10 with 16 arrests and Rs 19 crore as currency in question.
Cashier of Bank of Baroda, Behala branch, Ranjit Kumar Bhattacharya has been booked by the CBI for allegedly converting currency worth Rs 50 lakh using fraudulent means in violation of laid down rules post demonetisation of Rs 1,000 and Rs 500 notes on November 8.
Under its countrywide operation continuing for a few weeks, the agency has so far registered four such cases in Karnataka, four in Hyderabad, one in Rajasthan and one in Kolkata.
The CBI sources said so far it was probing currency conversion of Rs 19 crore, which might increase as the probe progresses and more FIRs are registered by it.
The agency sources said it has made 16 arrests across the country, which include public servants, middlemen and private persons.
A case has been registered against an ATM servicing company and officials of Karnakata Bank and Dhanluxmi Bank.
Another case has been registered against Central Bank of India officials and private persons for allegedly facilitating exchange of demonetised notes by issuing 149 Demand Drafts of Rs 70 lakh in the name of a private loan company.
In Hyderabad, CBI had registered four cases related to conversion of currency by postal department officials with prime suspect named in the FIR being K Sudheer Reddy, an Indian Postal Service Officer.
The agency has also registered an FIR against officials of State Bank of Bikaner and Jaipur, Dausa branch on similar charges.
In Jaipur, police recovered Rs 4 lakh, including one lakh in new Rs 2,000 currency, from three persons in Churu district while one of their accomplices managed to flee with another bag carrying approximately same amount of money, officials said.
In Thane, the cops seized more than Rs 1 crore in the new currency notes and detained three persons.
Senior police inspector Nitin Thackeray who led the team which seized the notes from near Thane Civil Hospital said that three men, Chintan Rambhia, Govrav Pichar and Harish Raut, were detained.
Joint Commissioner of Police Ashutosh Dumbre siad that three persons were going to exchange the new Rs 2,000 notes totalling Rs one crore for the defunct Rs 500 and Rs 1,000 notes totalling Rs 1.20 crore, thus charging 20 per cent commission.
"We are questioning them and have also informed the Income Tax authorities," he said.