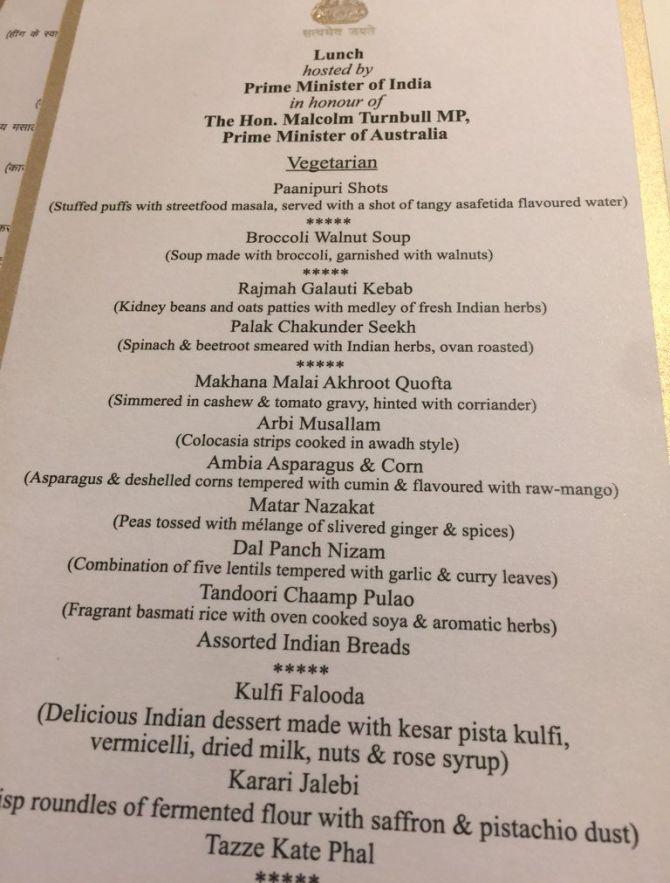 It was an entirely vegetarian fare at the lunch hosted by Prime Minister Narendra Modi for his Australian counterpart Malcolm Turnbull on Monday.
The lunch held at Hyderabad House was a 14-course meal with a starter, soup, kebabs, main course and three desserts.
The meal began with Paanipuri shots described as stuffed puffs with street food masala served with a shot of tangy asfetida flavoured water, moved on to a Broccoli Walnut Soup, two kinds of kababs -- Rajmah Galauti kabab and a spinach and beetroot seekh kabab.
Koftas, dals, Arbi Musallams, pulao comprised the main course.
The Australian delegation lunched to a violin, keyboard and tabla concert and ended the meal with a three-course dessert of kulfi falooda, crisp jalebis and fresh fruits.
Turnbull arrived in New Delhi on Sunday on a four-day visit, his first to the country after assuming office in 2015.
India and Australia inked six pacts including one aimed at boosting counter-terrorism cooperation after talks between Modi and Turnbull.
The two leaders held comprehensive discussions on bilateral, regional and international issues of mutual interest and concern.
On Tuesday, Turnbull will visit Mumbai where he will attend several events, including an interaction with key business leaders and an energy round-table.
Photograph: Amitabh Mattoo/Twitter