The Delhi CM's principal secretary has been described as quick, decisive, and quite unlike a 'babu', reports Kavita Chowdhury.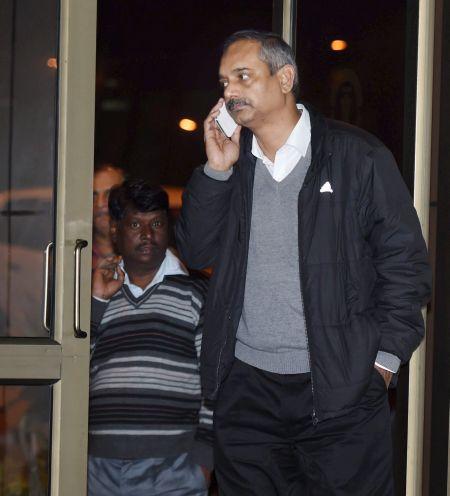 Rajender Kumar, a principal secretary with the Delhi government, is in the midst of a political storm that threatens to embroil Union Finance Minister Arun Jaitley. The Delhi bureaucrat has Chief Minister Arvind Kejriwal backing him even as the Central Bureau of Investigation has levelled corruption charges against him.
After the day-long CBI raid on the chief minister's offices early this week ostensibly in connection with the investigation against Kumar, Kejriwal refuted the charges against his secretary and instead trained guns on Jaitley for his alleged role in corruption at the Delhi District Cricket Association when he was its head.

In the midst of this melee, Transparency International opened a new front when it said it had written to the chief minister urging him to investigate Kumar for possessing disproportionate assets but those complaints went unheard.

From all that has unspooled in the media so far after the CBI raids at his office, Kumar will face allegations of rampant wrongdoing.

Interestingly, his colleagues, even those who have had a bone to pick with him, describe him as "an extremely efficient officer who any political executive would want to have." One former colleague praised him for being "quick, decisive, with a clarity of thought, someone who can get things done," and "quite unlike the conventional image of a 'babu'."

Kumar's image as an upright officer was bolstered further in 2008 when he was awarded the prime minister's award for excellence in public administration.

Kumar and Kejriwal were batchmates at IIT Kharagpur and they both graduated in 1989. The same year, Kumar joined the Indian Administrative Services and his longest stint since has been with the Delhi government. He has served both under Congress Chief Minister Sheila Dikshit and under Kejriwal. He was the principal secretary even during Aam Aadmi Party's brief 49-day first stint in power.

Even as many have been sympathetic to Kejriwal's claims of "political vendetta", his robust defence of Kumar has raised eyebrows.

AAP founding member Prashant Bhushan has publicly questioned why Kejriwal was going all-out to defend his "trusted man". Significantly, Kumar was on the verge of being chargesheeted by the Centre last year for defying its orders and continuing to hold on to the post of home secretary in accordance with Kejriwal's wishes.

This led to a strange drama being played out at the Delhi secretariat with both Kumar and Dharam Pal, who had been appointed by the Centre to replace Kumar, acting as home secretary for a few days.

The tussle highlighted Kumar's proximity to Kejriwal with many calling him a 'close confidant' of the chief minister. Kejriwal too had insisted on having Kumar in his staff.

When the Congress government was in power in Delhi, Kumar served as joint chief electoral officer, special secretary (Commonwealth Games) and the chairman and managing director of Delhi Transco.

In the ongoing investigation against him, CBI has alleged Kumar set up several companies to award government contracts without going through the process of tendering during his stint as director of education from May 2002 to February 2005.

He is alleged to have similarly caused financial loss to the Delhi government in his role as secretary (information technology), secretary (health) and commissioner (value added taxes).

It was on the basis of a complaint by Ashish Joshi, a former Delhi Dialogue Commission member secretary, that an investigation was finally initiated against Kumar. But this certainly wasn't the first complaint against him. According to an RTI query, seven other complaints against Kumar are pending before the Delhi government's Anti-Corruption Bureau .

But even as Kumar was quizzed for nine hours by the CBI on the eve of his 50th birthday this week, Kejriwal was steadfast in his support for his batchmate. "Rajender Kumar bahana hai, Kejriwal nishana hai (Rajender Kumar is an excuse, the real target is Kejriwal)," he quipped when reporters asked him for his reaction.