The Enforcement Directorate has issued summons to Maharashtra Navnirman Sena chief Raj Thackeray in connection with a money laundering probe, evoking a sharp reaction from the party, which termed the action as political vendetta.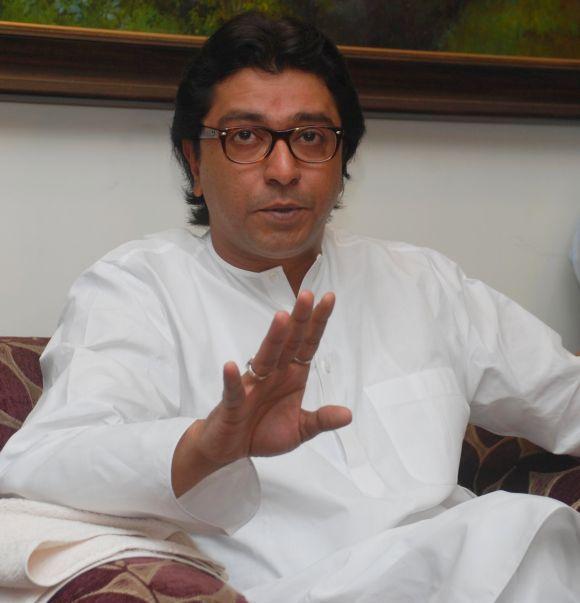 The development comes days after the MNS chief's meetings with opposition leaders like Sonia Gandhi and Mamata Banerjee on his demand for replacing electronic voting machines (EVMs) with ballot papers.
The MNS has convened a meeting of party office-bearers on Tuesday in Mumbai to discuss the issue.
The ED has summoned Raj and Unmesh Joshi, son of former chief minister and senior Shiv Sena leader Manohar Joshi, in the ongoing Infrastructure Leasing & Financial Services (IL&FS) scam.
The agency is probing alleged irregularities relating to loans and equity investment worth over Rs 450 crore by IL&FS in Kohinoor CTNL Infrastructure Co, which is developing Kohinoor Square tower in Mumbais Dadar area.
Kohinoor CTNLs shareholding pattern too is under EDs investigation. The company was formed by a team comprising Joshi, Thackeray and a close aide, and real estate builder Rajan Shriodakar to purchase Kohinoor Mill No 3 for Rs 421 crore.
IL&FS had infused Rs 225 crore via equity in 2003. In 2008, it sold its shares back to the company for only Rs 90 crore, thus booking a loss of Rs 135 crore.
In the same year, Thackeray exited the team after selling his stake.
Later, IL&FS disseminated loans worth of Rs 135 crore to Kohinoor CTNL, which the latter failed to repay, a media report said.
Making light of the ED notice, Raj Thackeray's wife Sharmila said, "We are used to such 'love letters'."
Maharashtra CM Devendra Fadnavis said, "ED works independently and we have nothing to do with it (notices to Raj). If nothing wrong has been done, tnen there should be no need for Raj to be afraid."
MNS leader Sandeep Deshpande said political vendetta was behind the ED notice.
"The Bharatiya Janata Party was nervous as Raj Thackeray was unifying the opposition parties against the 'New Hitler of New India'," he said.
Neither MNS nor Raj Thackeray will succumb to such pressure politics and will continue the fight against the 'dictatorship', he said.
State BJP minister Girish Mahajan said, "If Raj has done nothing wrong in his Kohinoor deal, he should not worry about it. The notice has not been issued for any political reasons. The ED is an autonomous body. We have no say in its functioning."
Unmesh Joshi on Monday appeared before ED officials in Mumbai. Raj has been asked to appear on August 22.
"I got a notice and have come to meet ED officials," he told media while entering the ED office.
"The ED did not send me any questionnaire. I will cooperate with them," he said, adding he wasn't aware if similar notice was sent to Raj Thackeray.
Meanwhile, the MNS chief's supporters took to social media to vent their anger over the ED notice to their leader.
The hashtag #isupportRajThackeray was full of posts condemning the 'vendetta' by the BJP-led regime. 'Hunting a tiger is not a dog's work,' one of the posts said.