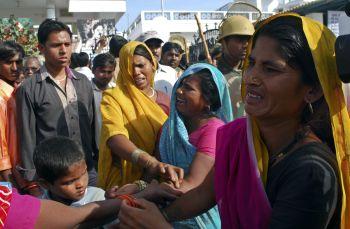 A day after 63 women and children were killed in a stampede in an ashram, a criminal case has been registered against its management for allegedly causing death due to negligence.
"A case has been registered under Section 304 (A) (causing death by negligence) against Kripaluji Parishad, under the banner of which yesterday's (Thursday) function was organised," Pratapgarh Superintendent of Police Mahesh Kumar Mishra said on Friday.
He said there was no further rise in the toll and all the deceased had been identified and their bodies handed over to family members after postmortem.
The stampede had taken place at the ashram of Kripaluji Maharaj in Mangarh village, about 60 km from Pratapgarh, where a feast had been organised for poor villagers in the memory of the Maharaj's late wife.
Free meals were to be distributed at the ashram and every visitor was to receive a gift of a stainless steel plate, Rs 10 in cash, a 'laddoo' and a handkerchief.
The stampede has also left more than 100 injured, 40 of them seriously.
Those seriously injured were admitted to the SRN hospital in Allahabad. Doctors said their condition continues to be critical.
Meanwhile, a heavy deployment of police continued to be in place around the sprawling ashram "as a precautionary measure", police sources said.
The Uttar Pradesh government has ordered an inquiry into the stampede and asked the divisional commissioner of Allahabad to submit his report.
No compensation has so far been announced for the victims by the state government even as the ashram has announced a solatium of Rs 50,000 to each of the families of those who have lost their lives and Rs 10,000 to every injured person.
The state government had blamed the ashram's management for the tragedy on Thursday, saying the local administration was never informed about the holding of such a huge function.
However, local Member of Legislative Assembly Raghuraj Pratap Singh alias Raja Bhaiya, who had visited the site of the incident on Thursday, rubbished the claim saying "everybody in Pratapgarh is aware that a gathering of this magnitude takes place here on this day".
The matter was also raised in the Lok Sabha on Thursday, where Samajwadi Party supremo Mulayam Singh Yadav, whose party is in the opposition in the state, demanded that the Centre should seek a report from the Uttar Pradesh government in connection with this tragedy and make a statement in the House.
Congress Member of Parliament from Pratapgarh, Rajkumari Ratna Singh, also demanded that a compensation of Rs 5 lakh be given to the next of the kin of the deceased.
Image: Relatives of the victims of a stampede weep in Kunda village | Photograph: Jitendra Prasad/ Reuters