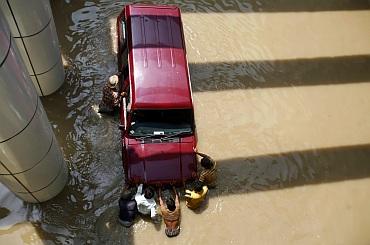 Heavy rains lashed the capital again on Friday, leading to waterlogging in several parts of the city and throwing traffic out of gear besides leaving people stranded on the roads during the morning rush hours.
Rain gauges measured 34.6 mm of showers for the past 24 hours ending till 8:30 AM this morning, leading to utter chaos on waterlogged roads. The city received another 4.8 mm of rains during the day till 5:30 pm.
Streets and roads in areas like Laxmi Nagar, Model Town, Preet Vihar, R K Puram and Janakpuri were full of water and vehicles were seen wading through it. As traffic went haywire, some commuters parked their vehicles at nearby Metro stations and boarded trains to their destinations.
"I started from home at 9pm and it took me over an hour to reach my office in Connaught Place. It usually takes 15 minutes for me to reach my office," Anupam, a software professional, said.
The minimum temperature was recorded at 25.6 degree Celsius, normal for this time of the year. The maximum was recorded at 32.8 degree celsius, down from Thursday's 34.6 degrees.
According to the Municipal Corporation of Delhi, its control room received 148 complaints of waterlogging from across the capital.
Traffic movement was slow at Pul Pehladpur, Govind Puri Maha Anand Mayi Marg, from IIT to Adhchini in south Delhi and Khalsa College to University, Kashmere Gate metro station in north Delhi.
The road from Mehram Nagar in south Delhi towards Terminal-3 of the Indira Gandhi International Airport was closed due to waterlogging and traffic was slow near Patparganj and Ghazipur flyover in east Delhi, Jehangirpuri and Tis Hazari in north Delhi.
Mandawali, Filmistan, Timarpur, Wazirabad, Mall road authority, Shanti Van Chowk, Greater Kailsah-I, JLN road, Badarpur flyover and Nigam Bodh Ghat are some other places from where waterlogging was reported.
Heavy rains hit the capital yesterday too leaving its roads waterlogged at a number of places and disrupting traffic.
Image: Men push away a vehicle from a flooded underpass after heavy rains in Noida, in the outskirts of New Delhi
Photograph: Parivartan Sharma/Reuters