In a significant move, the railways on Thursday allowed select reservation counters to open at stations from Friday, nearly two months after they were shut due to the coronavirus lockdown, with Railway Minister Piyush Goyal saying 'we have to take India towards normalcy'.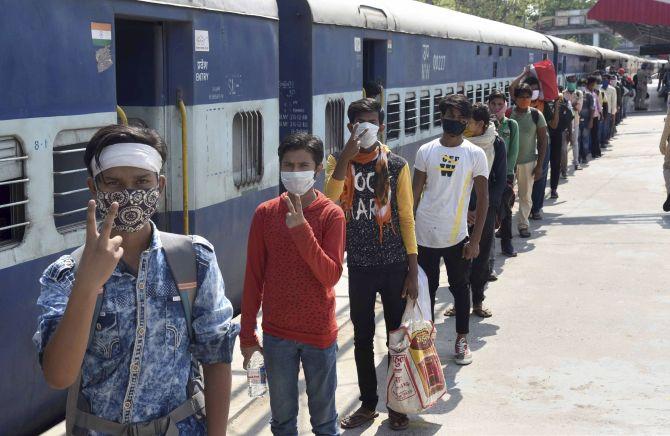 He also said that an announcement on resumption of more trains will be made soon.
In an order, the railway board said that such counters along with the common service centres can open from May 22 for booking reserved tickets and the zonal railways can identify stations on which the ticket counters can open.
In a discussion with party colleague Sambit Patra, Goyal said that booking of train tickets will resume at nearly 1.7 lakh common service centres across the country from Friday, making the service accessible to those in remote locations where the availability of computers and internet is negligible or absent.
He said that the opening of ticket counters at stations will be graded as a protocol needed to be developed to ensure that there is no crowding there.
"We have to take India towards normalcy. We are developing a protocol to identify the stations where counters can be opened.
"We have to ensure that there are no large crowds gathering at counters to book tickets, so we are studying the situation and devising a protocol towards it," Goyal said.
"We will also soon announce the resumption of more trains," he further said during a conversation with his party colleague and Bharatiya Janata Party spokesperson Sambit Patra.
He said the railways which started the Shramik Special trains from May 1 has run 2,050 such trains since then, ferrying around 30 lakh migrants, students and other stranded people.
Goyal also praised Uttar Pradesh Chief Minister Yogi Adityanath and Gujarat Chief Minister Vijay Rupani for their cooperation with the railways in running the Shramik Special trains and criticised West Bengal and Jharkhand for their non-cooperation.
He said till date the railways has been able to run only 27 trains in West Bengal and till May 8-May 9, only two trains could reach there. Jharkhand has allowed only 96 trains while Rajasthan has so far received 35 trains, he said.
"Even if we asked for permission to run the train, the Home Minister wrote a letter, even after that a list of 8 trains was received (by West Bengal)," the railway minister said.
"I expect all states to allow their people to come to their homes and help us reach them by running trains."
Crediting Prime Minister Narendra Modi for conceptualising the railways' isolation coaches for coronavirus patients, Goyal said the prime minister had called him to suggest if these coaches can be converted.
Railways so far has converted around 5,000 coaches into COVID-care centres which will be deployed at 225 stations.
Goyal said the railways has also started bookings for the 100 pairs of special trains with both air conditioned and non-air conditioned services which will begin operations from June 1.
He also said within 2.5 hours of opening bookings for the 100 pairs of special trains on Thursday, four lakh passengers had booked tickets. People have also started reverse bookings to come back to work, he said.
*****
RPF arrests 14 touts, recovers tickets worth over Rs 6 lakh
The Railway Protection Force (RPF) has arrested 14 people, including eight Indian Railway Catering and Tourism Corporation (IRCTC) agents, for allegedly illegally selling e-tickets for special trains running on the Rajdhani route which began operations on May 12.
The arrests gain significance as the railways is currently running only a fraction of its passenger services and thus only limited berths are available for passengers.
The railways, in a statement, said soon after it started the AC Special trains and announced 100 pairs of additional trains which are scheduled to run from June 1, complaints started pouring in regarding touts using multiple personal IDs and cornering reserved berths in these trains.
"It was also apprehended that once the reservation for the 100 pairs of trains started on May 21, the activities of these touts will escalate, adversely affecting the availability of confirmed train reservations to the common man.
"In view of the above, RPF has started concerted nationwide efforts to identify and act against these touts," it said.
A drive was launched on May 20 and 14 touts, including eight agents of the IRCTC, were arrested. Tickets worth Rs 6,36,727 were recovered from them, according to the statement.
"The IRCTC agents were using personal IDs to corner tickets and then sell them unauthorisedly at a premium. Action has been initiated to get them blacklisted. One tout was found using autofill software called Super Tatkal Pro," it said.
Railway Minister Piyush Goyal warned those involved in e-ticket touting of strict action and appealed to passengers to complain against such agents.
'Railways is taking strict action against agents who use software to book tickets.
'If an agent approaches a passenger and offers to book tickets, the passenger is requested to complain against the agent using 138 complaint number or write a letter to complain,' he said in a tweet.
*****
Railways cancels tickets of passengers travelling within Maha after state bans inter-district travel
The railways on Thursday cancelled tickets of all passengers whose originating and terminating stations fall within Maharashtra, after the state government prohibited inter-district travel.
In an order issued on Thursday, the railways said all the tickets of the special trains scheduled to run from June 1 within Maharashtra will be automatically cancelled and full refund will be provided to passengers.
It also said that till further notice, intra-state bookings within Maharashtra should not be permitted.
'Tickets of all passengers whose originating as well as terminating stations fall within the state of Maharashtra be cancelled and full refund to be given without deduction of any cancellation charges,' the order stated.
This, however, does not mean that trains cannot originate from stations in Maharashtra, a railway spokesperson said.
He explained that for instance, if a train from Mumbai to Kanpur goes via Nashik, no passenger who has boarded the train from any station in Maharashtra can deboard within the boundaries of the state.
However, a passenger can board the train from Nashik and travel outside the state, the spokesperson explained.
"Only those who have availed tickets to travel within the state cannot do so now," he added.