Opposition party leaders, while expressing condolences over the deaths of more than 200 passengers in the Odisha train accident, have raised questions about the signalling system of the railways which purportedly led to the crash.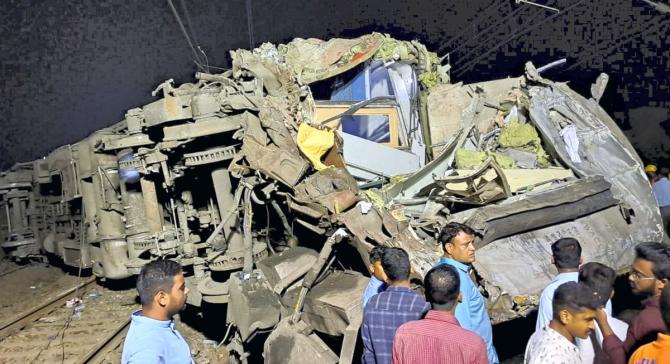 At least 233 people were killed and around 900 injured in the crash involving the Bengaluru-Howrah Superfast Express, the Shalimar-Chennai Central Coromandel Express and a goods train on Friday.
The ruling Trinamool Congress in West Bengal demanded Railway Minister Ashwini Vaishnaw's resignation over the horrific triple train crash in neighbouring Odisha.
TMC's national general secretary Abhishek Banerjee alleged that the Centre was spending crores of rupees on software to spy on opposition leaders while neglecting the installation of anti-collision devices in trains to prevent such accidents.
He said the Narendra Modi government at the Centre was boasting of Vande Bharat trains and newly-constructed railway stations to bolster political support by "misleading the public", but neglecting the safety measures.
Banerjee said it is the impoverished and marginalised people who bear the brunt of "the apathy of the Centre" and their actions, whether it is demonetisation, GST, lockdowns, farm laws or inadequate railway safety measures.
"My heart goes out to the families who lost their loved ones and wishing a speedy recovery to the injured, and if there remains a semblance of conscience, the Railway Minister should resign. NOW!" he wrote on Facebook.
As demands for the resignation of Ashwini Vaishnaw grew stronger, Nationalist Congress Party leader Ajit Pawar said when such accidents used to happen earlier, the railway minister used to resign. "But now no one is ready to speak," Pawar said.
CPI(ML) general secretary Dipankar Bhattacharya too raised the question over signalling system.
"Do we no longer have any signalling and safety system in Indian railways? Or will such terrible tragedies become the new normal for rail travel in India? We owe an answer to the victims and to the families who lost their near and dear ones in this mishap," he said in a tweet.
CPI MP Binoy Viswam has demanded that Railway Minister Ashwini Vaishnaw resign over the incident.
"Government concentrates only on luxury trains. Trains and tracks of common people are neglected.Orissa deaths are the result of it. Rail minister should resign. concentrate only on luxury trains. Trains and tracks of common people are neglected.Orissa deaths are the result of it. Rail minister should resign," Viswam said in a tweet.
President of the ruling Bharatiya Janata Party, JP Nadda, in a tweet said the BJP has has decided to postpone all its programmes to mark the completion of nine years of its government at the Centre in the wake of the accident.
Congress president Mallikarjun Kharge and former party chief Rahul Gandhi had on Friday expressed sadness over the train tragedy in Odisha and urged party workers and leaders to extend all support needed for rescue efforts.