Haryana's home minister Anil Vij on Wednesday said Congress leader Rahul Gandhi violated the security rules by travelling in an unknown truck allegedly without informing the state police.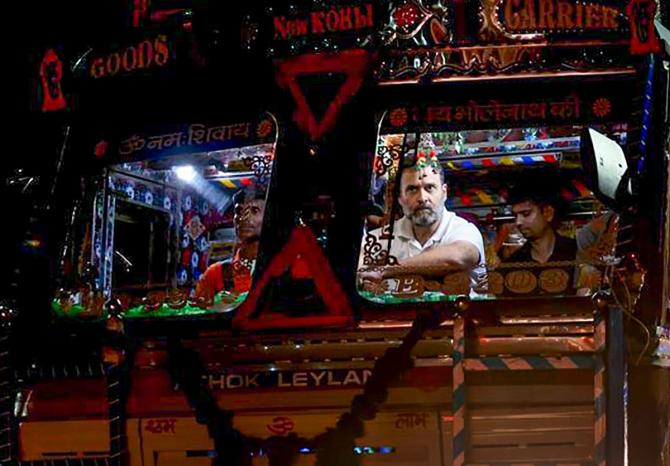 According to his party, Rahul Gandhi travelled in a truck from Delhi to Chandigarh to listen to the problems faced by truck drivers.
"Rahul Gandhi travelled in an unknown truck without informing the Haryana police, which is a big violation of security rules," Vij said.
Vij, according to a statement, said if Gandhi wanted to take a "truck tour", he should have informed the state authorities.
"I would have sent a truck with proper security from here, in which he could have roamed as much as he wanted," the senior BJP leader, who is MLA from Ambala Cantonment, further said.
Gandhi undertook the journey Monday night and in visuals and videos, the former Congress chief, donning his trademark white T-shirt, is seen sitting inside a truck, travelling with a driver and speaking to drivers at a dhaba.
"Leader of the people @RahulGandhi ji reached among the truck drivers to know their problems. Rahul ji travelled with them from Delhi to Chandigarh," the Congress said in a tweet in Hindi.
Gandhi also stopped near a gurdwara in Ambala City along the Ambala-Chandigarh national highway early Tuesday morning and paid obeisance there.