It is clear to any observer that the BJP risks its demolition drive boomeranging on itself.
Except for one unpredictable factor in the works -- Rahul Gandhi himself, observes Shyam G Menon.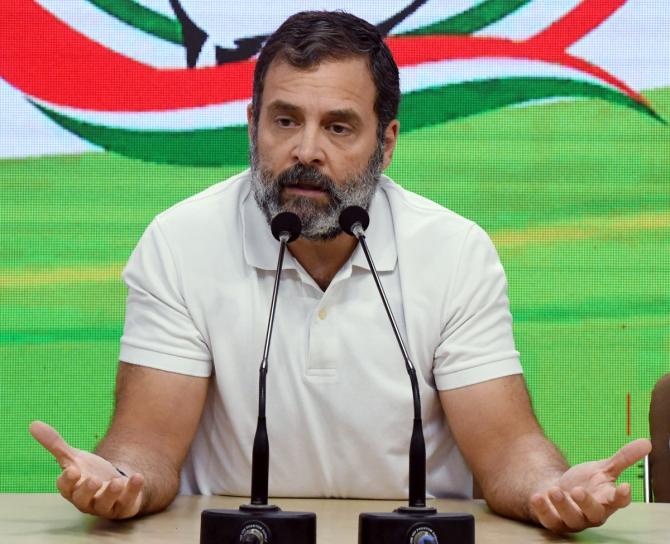 Watching Rahul Gandhi's press conference of March 25, 2023 -- his first one after being convicted by a court in Surat -- was tough.
Just when he had everyone's attention and required to speak well, he ended up offering ammunition to his opponents.
Although his claim of Rs 20,000 crore (Rs 200 billion) arrived in Adani's shell companies remained in one's mind, what resonated equally was Rahul Gandhi saying it made no difference to him whether he was retained in Parliament or not; that he would still continue his crusade.
The man has been hunted like few Indian politicians have been in recent times, by the ruling dispensation.
Most people forced to suffer the personal indignity, ridicule and trolling he faced, would have crumbled long ago.
To his credit, he soldiers on.
It is clear to any observer that the BJP risks its demolition drive boomeranging on itself. Except for one unpredictable factor in the works -- Rahul Gandhi himself.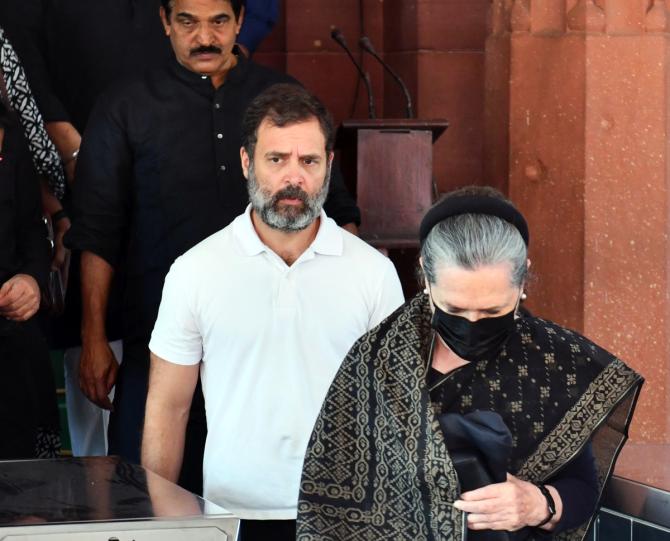 After years of being attacked by the BJP, the few months of the Bharat Jodo Yatra had seen Rahul Gandhi in a pleasant spot.
The yatra must have been a revelation to his political opponents drunk on the belief that India responds to only alpha male-posturing, hardline politics and propaganda.
After their orchestrated rallies designed to project power, it must have shocked to see people curious about a long walk and looking happy there.
Ordinary people joined Rahul Gandhi's walk from Kanyakumari to Kashmir.
It was a season of few caring for the BJP's barbs aimed at him.
The Bharat Jodo Yatra ended on January 30, 2023, six days after the report by Hindenburg Research on Adani was made public.
With the report, Gautam Adani and his proximity to the Indian government became hot topic of discussion.
On February 8, The Wire reported, 'Hours before Prime Minister Narendra Modi gave his speech in the Lok Sabha on Wednesday, the Congress said that portions of Rahul Gandhi's speech that hit out at the prime minister for allegedly facilitating the unencumbered growth of Adani Group have been expunged from the Parliamentary records at Speaker Om Birla's behest.'
Less than a month later, during his early March visit to the UK, Rahul Gandhi had seemed collected and restrained while outlining the emergent reality of Indian democracy to audiences there.
It takes a baiting-artiste like the BJP, perched on the high stool of hyper-nationalism to boot, to see an anti-national angle in what he said.
Ordinary people who listened to the videos of his talks found nothing unduly controversial.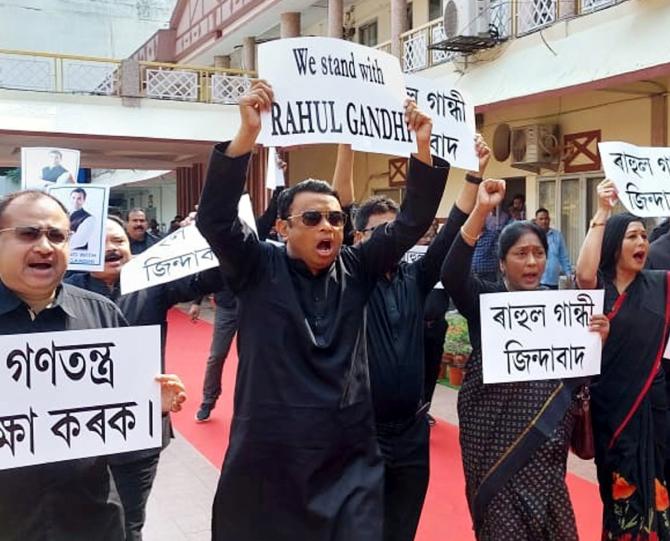 According to media reports, the BJP asked Sonia Gandhi to control her son, even as the UK trip was on.
Once Rahul Gandhi was back in India, the BJP demanded an apology in Parliament for things he had allegedly said overseas.
He was denied chance to speak in Parliament and counter the accusations levelled unless he apologised first.
On March 23, a court in Surat convicted him in a defamation case, following which he was hastily disqualified from Parliament.
The first press conference by the Congress after Rahul Gandhi's disqualification, in which senior Congress leaders Abhishek Singhvi and Jairam Ramesh participated, was to the point and handled respecting the legal viewpoint and the viewpoint of the party.
Things stayed quiet thereafter. Then came Rahul Gandhi's press briefing.
Two slip-ups happened at the press conference, which helped realise the opposite of what Rahul Gandhi continuously sought -- don't distract from the main narrative he considered significant (the relation between Adani and Narendra Modi).
From the beginning, Rahul Gandhi's presser appeared to walk the path of a one man-show when in reality, everything in politics -- even the aftermath of an elected representative's disqualification -- affects many.
People elect their representatives and send them to participate in the process of governance, believing they (the people) will be cared for.
Rahul Gandhi was elected to Parliament from Wayanad. When an elected representative is disqualified, his constituency loses its voice in the Lok Sabha.
Ideally, Wayanad should have featured in Rahul Gandhi's opening remarks.
In fact, it should have been the reason for the press briefing because post-disqualification it is the constituency that matters the most. You owe your voters an explanation.
Wayanad found mention merely as answer to a question posed from the media.
Its elected representative said he planned to write Wayanad a letter. That was it. The collective temporarily overlooked, didn't end there.
The architecture of the collective rests on several underlying treaties.
In November 2022, during the Bharat Jodo Yatra, Rahul Gandhi had ruffled feathers in Maharashtra with his observations on Vinayak Damodar Savarkar.
The tendency returned at the press conference with an ill-timed comparison of the two surnames -- Gandhi and Savarkar.
For most people wishing for an alternative to the BJP (and therefore tracking the fortunes of the Congress) settling whether Savarkar wrote a mercy petition to the British or did not, is not a pressing priority.
Between now and the 2024 elections is too short a period of time to contest every detail in the thinking of the public.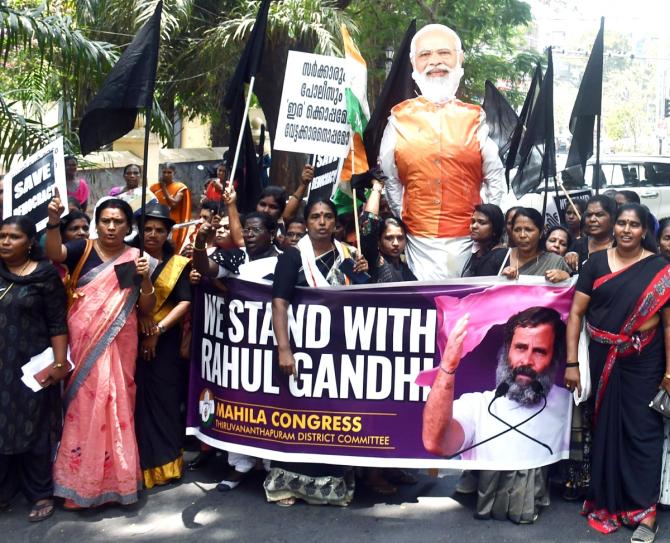 Irrespective of why he instinctively latched on to Savarkar, given general elections due in 2024, criticism of Savarkar comes with the accompanying risk of upsetting critical Opposition alliances.
On March 27, 2023, following Rahul Gandhi's remark that he wasn't Savarkar but a Gandhi and wouldn't therefore apologise, The Indian Express newspaper reported that former Maharashtra chief minister Uddhav Thackeray had cautioned Rahul Gandhi against making statements that could cause a rift between their parties.
Thackeray's share of the Shiv Sena is part of the Maha Vikas Aghadi (along with the Congress and the Nationalist Congress Party), which used to rule the state and is currently the main Opposition in Maharashtra.
By March 28, according to news reports, NCP chief Sharad Pawar had got involved to make sure the issue didn't escalate.
A third slip-up -- one of treating a journalist badly -- lost steam in a day.
At the end of Rahul Gandhi's press conference, one wondered: Couldn't he have just issued a detailed, well-written press statement instead of a one man-show that fragmented into damage-control? It is always easy for another (like this writer) to look back at what happened, question and speculate how things could have been.
Especially when one has been spared the kind of character assassination Rahul Gandhi endured at the hands of the BJP.
Following the press conference, BJP leaders lost no time in leveraging the Savarkar-reference and the journalist issue, to adopt the morally high ground. But the freshly minted saints of the Right-Wing crumbled as fast as the presser had.
Two days after Rahul Gandhi's press conference, Union Minister and former diplomat Hardeep Singh Puri showcased the type of response BJP revels in.
The Mint newspaper quoted him on the subject of the opposition protesting against Rahul Gandhi's disqualification, 'You are getting an ass to run a horse's race... They really deserve to do some serious introspection... People of India would judge them for what they are... Fight Court's action in the Court, you are invoking Mahabharat and Savarkar.'
As some columnists have pointed out, if the same mindset that bore down on Rahul Gandhi as regards the defamation case was applied to those in the BJP, casualties would be several.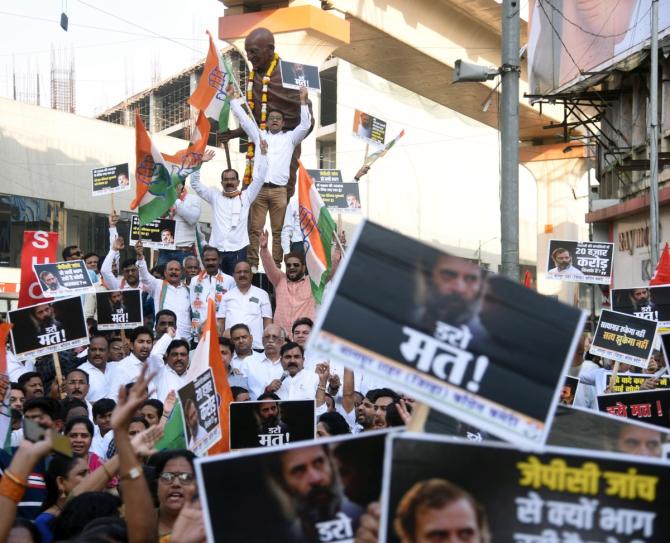 On March 30, The Telegraph newspaper reported that unlike Rahul Gandhi, who was disqualified in less than 24 hours following his conviction, a BJP parliamentarian from Gujarat convicted for assaulting a Dalit doctor in 2016 had been protected from disqualification for 16 days till he got legal relief.
In the case of Rahul Gandhi's disqualification, the BJP had been insisting that the law merely took its course.
As The Telegraph report pointed out, while the Congress politician was battling a defamation case wherein the charge was that he defamed the Modi community, the 16 day-delay in disqualification in the BJP MP's instance was despite him assaulting a Dalit doctor.
The BJP politician not only survived as MP, he secured a ticket to contest polls again in 2019 and is currently in Parliament.
With this and Puri's comment available as most recent proof of BJP mentality, the quality of Rahul Gandhi's presser didn't seem to matter.
What counts is that the Congress and the larger Opposition, keep the political battle alive.
Shyam G Menon is a Mumbai-based columnist.
You can read his earlier columns here.
Feature Presentation: Rajesh Alva/Rediff.com