Congressmen are watching carefully how Rahul positions himself and manages the grand old party, reports Aditi Phadnis.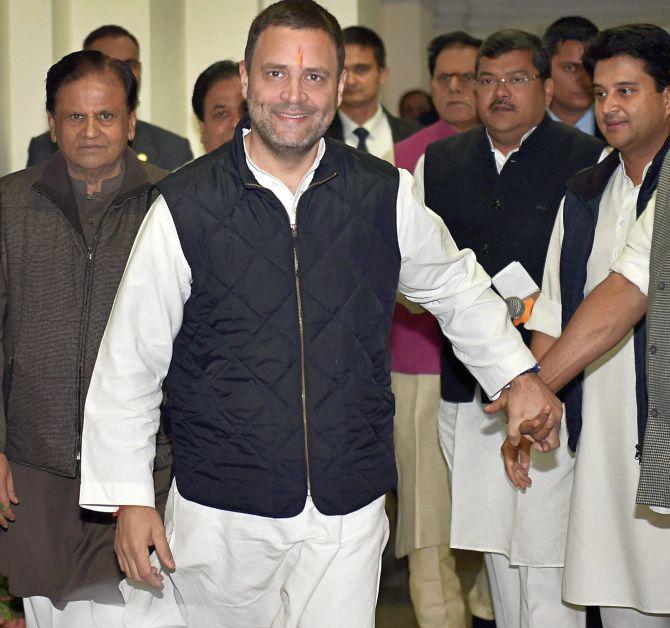 With no other challenger in sight and Shehzad Poonawala, the Congressman who was thought to represent some unidentified interest withdrawing the gauntlet, there is hardly any doubt that on December 11 or 12 Rahul Gandhi will become the new president of the Congress.
There are anxieties, fears and hopes.
"What role will Sonia Gandhi play now?" asked a former chief minister.
For many, the end of one era and the beginning of another would not be the smooth transition they were hoping for.
Congress units in several states -- Karnataka, for instance -- set great store by Sonia who "listened to our voice with patience and understanding". Here, Rahul is a relatively unknown entity. If the Congress loses Karnataka, where elections are due next year, it would have lost the only major state where it is in power, other than Punjab.
If the outgoing Congress president represents one pole of power in the party, another is represented by Priyanka Vadra.
Congressmen said a difference of opinion between the brother and sister was clear during the Uttar Pradesh elections and the line on the Samajwadi Party.
While Priyanka initially disapproved of the alliance that forced her to share the platform with the likes of Jaya Bachchan, it was Rahul who was talked into it, some say, quite easily.
Priyanka then confined herself to her traditional role of campaigning only in the family constituencies of Amethi and Rae Bareli.
"But even she knows she has to secure (her son) Rehan's future," said a Congressman.
As president, Rahul is already placing his team in place, but without pain to the old guard.
Ghulam Nabi Azad, Ashok Gehlot and Meira Kumar are expected to play a senior advisory role.
Former prime minister Manmohan Singh and former finance minister P Chidambaram are also expected to be advisors.
Top Congress sources said the public faces -- the general secretaries -- were likely to be newer and younger: Milind Deora (ex-MP, Mumbai), Meenakshi Natarajan (ex-MP, Mandsaur), Jitendra Singh (Alwar).
Others who would be a key part of Team Rahul include Sushmita Dev (making the feisty MP the Mahila Congress chief helped revive the staid frontal organisation), Randeep Surjewala, Ajay Maken, Madhusudan Mistry, Manish Tewari, K Raju and R P N Singh.
Actress Ramya, who is now in-charge of the party's social media cell, is also thought to have made a significant difference.
But the key would be the recasting of the Congress Working Committee, the party's main ideological core, which has elected and nominated members.
This body would formulate the party line. This is the delicate balance.
If the CWC becomes more powerful than the party president, it could lead to a rebellion. If the party president overrules the CWC, the Congress would revert to being a person-oriented party. There is no indication yet what the composition of the CWC is going to be.
As vice-president, Rahul has indicated that he is buddies with his counterparts in other friendly parties.
He tweeted that he and Tejaswi Yadav had lunch at Delhi's Khan Market. He is in close touch with the Trinamool Congress, and Omar Abdullah of the National Conference has offered heartfelt congratulations at his elevation.
But it is clear that the path of the Congress's revival is going to be through cooperation with regional parties. How Gandhi manages the relationship with other parties could be a test of his mettle as president.
Gandhi will also have to tread carefully around leaders like Amarinder Singh, chief minister of Punjab.
The line of succession to Singh is not clear -- Navjot Sidhu, the new entrant to the Congress, is as visible as Manpreet Badal, estranged member of the Badal family.
Congressmen are watching carefully how Rahul positions himself and whom he has around him.
But one thing is clear to them: An era is over and another is beginning.
IMAGE: Congress vice president Rahul Gandhi, accompanied by senior party leaders, arrives at the AICC office in New Delhi on Monday to file his nomination papers for the post of party president on Monday, December 4. Photograph: Arun Sharma/PTI Photo