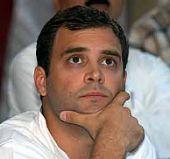 Congress General Secretary Rahul Gandhi on Monday called on President Pranab Mukherjee at the Rashtrapati Bhawan.

The President's Office and the All India Congress Committee sources confirmed that the one-hour meeting did take place, but were reluctant to speculate on the nature of the discussions.

However, the buzz in the power corridors is that the meeting may have centred around the on-going controversy about Congress chief Sonia Gandhi's son-in-law Robert Vadra.

According to sources, the more important aspect is that President Pranab is keeping a close watch on the political developments and on the government's functioning.