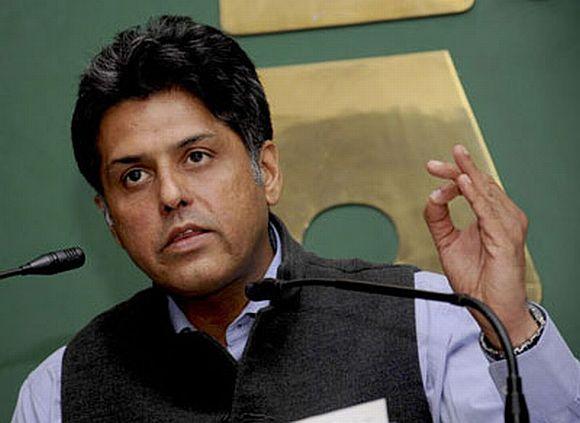 Amid talk of Congress preparing to project Rahul Gandhi as its prime ministerial candidate, Union Minister Manish Tewari on Tuesday said the party vice president is its "natural leader".
He, however, dismissed as "unnecessary speculation" the media reports about the possibility of Prime Minister Manmohan Singh resigning, saying, "I know on December 31 there is little news but this does not mean that absurd, baseless and incorrect news stories should be run."
The information and broadcasting minister said the way news had been running since morning, showed that there was need for responsibility.
"This is absolutely baseless and without facts. I don't want to lend any decorum to such questions by reacting to them," he said. Addressing a press conference here, Tewari said Singh, United Progressive Alliance chairperson Sonia Gandhi and Rahul are the "trinity" of Congress.
He was asked about the possibility of Rahul being projected as the Congress' Prime Ministerial candidate and the timing for the same.
"Rahul is the natural leader of the Congress," Tewari replied. At the same time, he went on to add that "There is no dearth of leaders in the Congress."
Asked about the timing of the possible announcement of a prime ministerial nominee, he noted that Sonia has already said that if there is a need to declare a candidate, it will be done at a proper time and there was no need for any hurry.
His remarks came a day after senior Congress leader and Finance Minister P Chidambaram said the party should declare its prime ministerial candidate.
Tewari also suggested that the recent drubbing suffered by the Congress in four Assembly elections should not be a demoralising factor. "To some extent people seemed to be overawed by the results of the last round of assembly elections. Yes for us as a party, may be as a government they have been disappointing. But if you look at them in perspective, out of 29 states which went to polls in the last five years, the Congress won twelve of those states," Tewari said.
Speaking to reporters at the launch of the Directorate of Advertising and Visual Publicity calendar for 2014, the Minister said that the Bharatiya Janata Party and its allies won nine, others won eight of these 29 elections.
"So far as 2014 is concerned, 2014 (Lok Sabha polls) will come in April or May of 2014 and we are more than ready to go the people on the strength of our achievements," he said.
On media reports speculating about the prime minister's resignation, Tewari said while there have been general complaints from media persons that the prime minister does not
interact enough with the media and when he agreed to do so on January three, there was this kind of unnecessary speculation which is "completely uncalled for".
Tewari was asked about the Aam Admi Party government's decision to provide free water in Delhi. "If they are fulfilling this electoral promises, then congratulations to them. The hope is only that they are giving water to everyone, but water would also be made available to everyone," Tewari said.
To a question about Narendra Modi likening Rahul to 'Akashvani', Tewari said the BJP leader has been saying many things and it was not possible to respond to everything.
The Congress responds whenever Modi says something too "irresponsible or concrete", he said. Tewari also objected to the use of words like "secular tourism" by BJP to describe Rahul's visit to Muzaffarnagar and said it reflects a "narrow mindset".
He said the Congress has always been sensitive towards such situations and does not want to sharpen communal divide unlike the BJP.
Responding to a question on the UPA government's performance, he said that Right to Information had been uniquely empowering and mobile telephony has changed lives. Other measures taken by the government would take time to fructify.
When referred to scam in 2G spectrum allocation, he said the report of the Joint Parliamentary Committee has brought out the facts as they stand as far as "aberrations" are concerned in it.