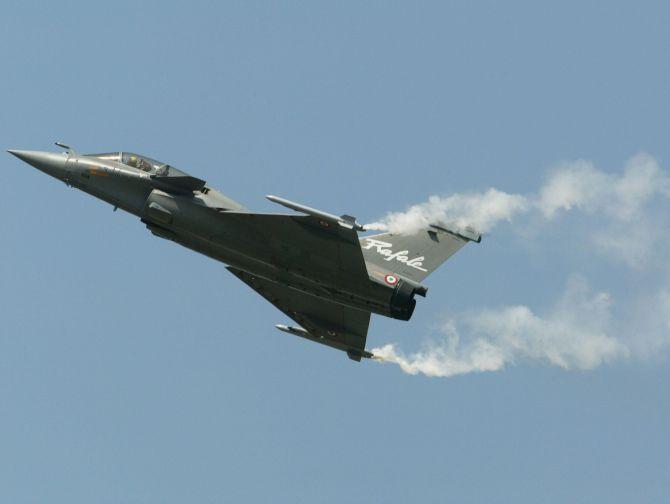 The deal struck with France for purchase of 36 Rafale fighter jets will bring some relief to the Indian Air Force into which they will be inducted within two years, Defence Minister Manohar Parrikar said on Saturday.
He described as 'great' India's decision to buy these fighters after talks between Prime Minister Narendra Modi and French President Francois Hollande in Paris on Friday, saying it will go a long way in strengthening the IAF.
"The Indian Air Force will get minimum oxygen (relief) it required with this deal...In fact we have not purchased any major new generation aircraft in (last) 17 years.
"It's a great decision taken by Prime Minister Narendra Modi on better terms and conditions. Procuring 36 planes for two squadrons is an extremely positive decision which was needed," Parrikar told PTI.
Modi had on Friday said in Paris that India will buy 36 Rafale fighter jets in flyaway condition from France at the earliest by 'keeping in view the critical operational necessity of fighter aircraft in India'.
"The request for proposal procedure for procuring these aircraft had been dragging on for several years. This was started in 2000 and still it was not getting completed because of a lot of confusion so I am very happy that the PM has taken the initiative," Parrikar said.
He said the fighter jets will be inducted into IAF within a span of two years, adding the ice has been finally broken over the deal. Parrikar did not give any reasons why it will take up to a maximum of two years for inducting these much-needed fighters into IAF.
Experts feel that time may be needed for further price negotiations and refitting the aircraft in tune with Indian requirements. While the government-to-governmentnegotiations may have ended, the forces may have to fine-tune the deal with the manufacturers Dassault.
Parrikar said after the initial purchase of 36 Rafale aircraft, the country will have more such planes under 'Make in India initiative or Rafale kind of mechanism'.
The minister said Rafale is the fourth generation aircraft which will add up to the old generation fighter planes like MiG21, MiG27 and Su30 which are currently with India.
"We have old generation aircraft which are upgraded and with limited life. In fact, MiG 21 is at the fag end of its life," he added. The Defence Minister said Rafale's induction into the IAF may take two years "as 'fly away' does not mean we will get them tomorrow".
"It has to be designed as per India's need," Parrikar said, adding negotiations will be held over their pricing, which are currently valued at Rs 700 crore.
"We need some lighter type of single-engine kind of aircraft, but we also need deep penetration double-engine aircraft which has latest technology and other equipment which can give India a decisive edge over its traditional enemies," the minister said.
He said the purchase of 36 aircraft is for filling in the immediate gap.
Noting that Light Combat aircraft Tejas will undergo final flight testing next month, he said, 'Make In India' is a long-term solution for India's Air Force strength. "We have to push the development of Tejas and we have to also ensure that we could build some high grade aircraft," Parrikar said.