Highlights of BJP's prime ministerial candidate Narendra Modi's speech at the Maha Garjana rally in Mumbai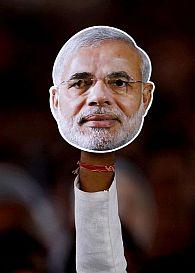 * Before 1960, we were all one. 50 years later we are different. Maharashtra is the elder brother, Gujarat the younger brother. When Gujarat was formed there were questions how Gujarat will develop? That time there was nothing but now, Gujarat has scaled heights of development for good of common people. Both Gujarat and Maharashtra started their journey together. Gujarat saw 14 CMs, Maharashtra saw 26 CMs.
* Root cause of our problems are Congress ruled governments. Solution to our problems is making India free from Congress. This is the same Mumbai where the Lalkaar of 'Quit India' was made and finally British had to leave India. From the same Mumbai let the clarion call come- Congress Free India. Land which gave Quit India is saying Congress Free India
* Divide and Rule has been the speciality of the Congress -- they learnt it well from the British
* Sardar Patel integrated India but Congress divided India in the name of language, they divided villages, cities, brothers
* BJP is dedicated to the Mantra of development and to politics of development. Without development welfare of people not possible. Till we do not free nation from votebank politics and take it towards development politics, nothing will change
* I will not talk about Gujarat. Let me talk about MP. It was once considered a part of BIMARU states. But, Shivraj Singh Chouhan embraced development agenda and took the state ahead
* I heard a senior Congress leader speaking. He was speaking against corruption. What courage? With such innocent faces they talk of corruption. See what happened in Adarsh Scam. On one hand Congress saves those in Adarsh but at same time another leader talks in Delhi on corruption
* Congress says something, does something else. PM selected 90 districts with high Muslim population, gave budget. People felt happy. Someone asked a question on these districts, the Government answered in Parliament not a penny was spent
* In Gujarat we removed octroi a few years ago but Maharashtra added Local Body Tax. Are you not fed up of LBT? It is Loot Baatne Ki Technique.
* Every child in India knows where their Black Money is kept, it is kept in Swiss banks. Should we not bring this money back? Under Advani ji's guidance & leadership all BJP MPs wrote to BJP MP has money in Swiss Banks. We asked, can Congress write that? Congress does not want to do that (act on black money) because they know it will come at their doorstep
* I have been reading Chalwalas have got special passes. This is the start of the change. In coming days every poor will be VIP. For us every poor is a VIP
* TV ke parde par Modi ho ya na ho, Modi janata ke dil me jagah bana chuka hai. You can shut TVs, but Modi jas already found his spot in people's hearts