A multi-layer security cordon has been thrown around the Rohtak district jail where the Central Bureau of Investigation special court judge will be flown to pronounce the quantum of sentence against convicted Dera Sacha Sauda chief Gurmeet Ram Rahim Singh on Monday.
Ahead of the pronouncement of the sentence, police have left nothing to chance and have taken important functionaries of the sect, who could gather followers, into preventive custody.
Sunaria jail lies on outskirts of Rohtak city and several security barricades have been set up along the route leading to the prison complex, police said.
Here are the latest developments.
'Law and order is top priority'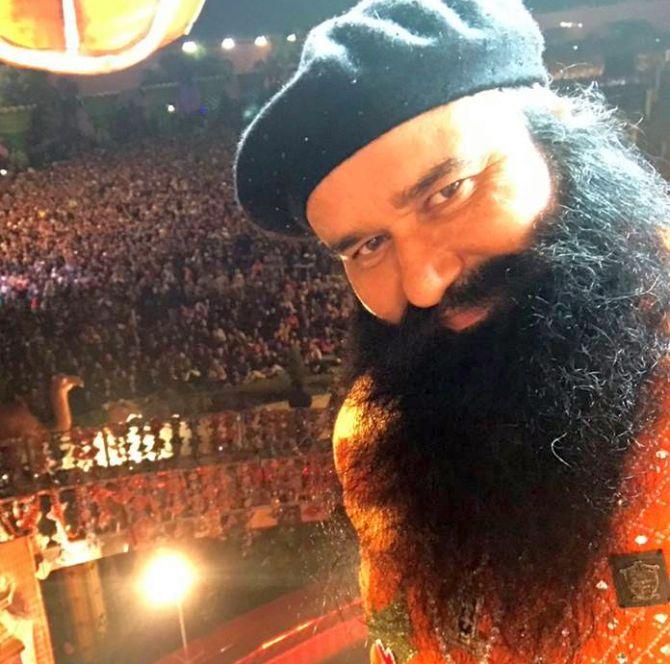 IMAGE: Fifty-year-old Gurmeet Ram Rahim has been lodged in the Sunaira jail after his conviction by the special CBI court in Panchkula on Friday. Photograph: Facebook
Maintaining law and order will be the top priority for the Haryana police on Monday, state Director General of Police B S Sandhu said on Sunday even as the toll in Friday's violence rose to 38.
To ensure there was no repeat of violence that erupted in Panchkula last week when thousands of Dera followers gathered around the Central Bureau of Investigation court that convicted Singh in a rape case, all routes to the Sunaria jail in Rohtak, where the self-styled godman has been lodged, have been sealed.
Addressing a press conference in Chandigarh, DGP Sandhu said that in Haryana, only Sirsa, where the sect is headquartered, was now under curfew.
"The top priority now is to ensure that law and order is maintained when the sentencing of convicted Dera Sacha Sauda chief takes place in Rohtak tomorrow," he said.
The DGP added that the death toll in the violence that broke out in Panchkula and Sirsa after the conviction of the Dera chief on Friday had risen to 38.
While 32 persons died in the violence on Friday at Panchkula, six others died at Sirsa, where curfew was still in place, he said.
In Rohtak, foolproof arrangements have been made and all routes leading to the jail have been sealed, DGP Sandhu said.
Asked about a 35-year-old cameraman of a news channel being attacked on Sunday at Sirsa allegedly by Dera followers, Sandhu said a case has been registered in this regard.
He sought to assure media persons that the police will give them full protection, but urged them to take precautions when they venture out into sensitive areas.
---
Mobile internet services to remain suspended in Haryana, Punjab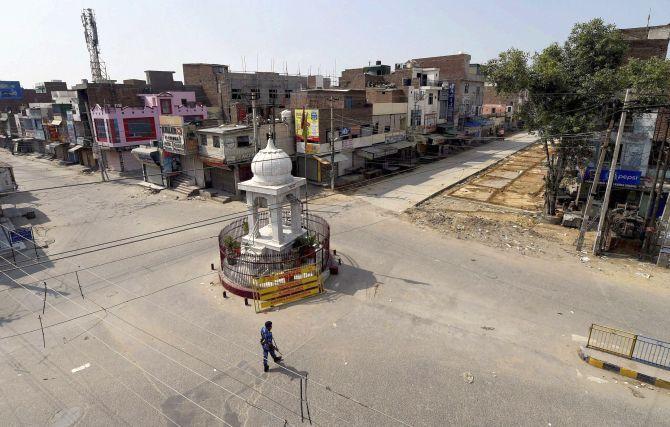 IMAGE: A security official guards a deserted road near Dera Sacha Sauda in Sirsa on Sunday. Photograph: Vijay Verma/PTI Photo
Mobile internet services will remain suspended in Haryana and Punjab till Tuesday, besides internet lease lines on the premises of the Dera Sacha Sauda headquarters at Sirsa have also been suspended for the said period, officials said today.
The authorities had earlier suspended the services to prevent rumours from being spread. Now, the ban has been extended till Tuesday to prevent any disturbance of peace and public order in view of the quantum of punishment to be pronounced on Monday, officials said.
Mobile internet services, which were suspended for 72 hours in Haryana, ahead of Friday's court verdict, would continue to remain suspended in the state till 11.30 am on Tuesday, they added.
Besides, all educational institutions in Panchkula, Rohtak, Kaithal, Ambala, Bhiwani and Fatehabad districts will remain closed on Monday, the officials said.
Mobile internet services, which were suspended in Punjab three days back, would also remain suspended till Tuesday, Chief Minister Amarinder Singh had announced.
The Haryana government said it had extended the period of suspension of mobile Internet services, including 2G, 3G, 4G, CDMA and GPRS, all SMS and dongle services provided on mobile networks, except voice calls, in the state till 11.30 am on August 29.
"Besides, the Internet lease lines on the premises of the Dera Sacha Sauda, Sirsa have been suspended till August 29. Any person found guilty of violating these orders would be liable to face legal action," Additional Chief Secretary, Home Department, Ram Niwas, said.
He added that the orders had been issued under the Temporary Suspension of Telecom Services (Public Emergency or Public Safety) Rules, 2017.
"The orders have been issued considering the critical law-and-order situation, to maintain peace and communal harmony in the state and prevent any loss of life or further damage to property. It has been reported by the IG, CID that the situation is tense and violence may continue for several days, especially on August 28, when the quantum of punishment (against the Dera chief) will be announced," an official release quoted Niwas as saying.
He added that it had been reported by the deputy commissioner and superintendent of police, Sirsa that the devotees might attempt to breach peace and tranquillity and resort to arson, leading to damage of properties.
"Since the environment is tense, rumours of different kinds may be spread through broadband and internet lease lines on the premises of the Dera Sacha Sauda," Niwas said.
Directions had also been issued to the telecom service providers and those providing the internet lease lines on the premises of the Dera Sacha Sauda, Sirsa to ensure compliance of these orders, he added.
---
Haryana, Punjab govts identifying Dera's assets, properties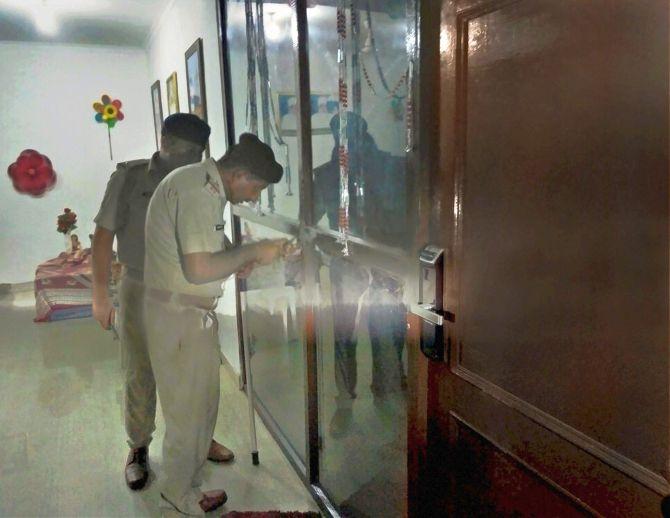 IMAGE: Officials searched an Asharm of Dera Sacha Sauda at Sector 50 in Gurugram on Sunday. Photograph: PTI Photo
Authorities in Punjab and Haryana have started identifying movable and immovable assets of the Sirsa-headquartered Dera Sacha Sauda on the directions of the high court, officials said.
Revenue officials of the two states have been compiling details of properties and assets of the Dera, the quasi-religious sect headed by Gurmeet Ram Rahim Singh, convicted of raping his two followers.
Banks have been asked to provide details of accounts of the Dera.
"A list of the Dera's assets, incomes, bank accounts and properties is being prepared on a war footing," one of the officials connected with the exercise in the twin states of Haryana and Punjab said.
The Punjab and Haryana high court asked the two states to submit by Tuesday a list of the Dera's properties and assets which can be attached "in case it is found that they and their followers are responsible for damaging properties".
After the Dera chief was convicted, his followers went on rampage setting fire to vehicles and railway stations, and damaging public and private properties. Thirty-six people were killed and more than 250 injured in violence in Panchkula and Sirsa.
The high court had refrained the Dera from transferring, selling or leasing out its properties.
The Dera has 'Nam Charcha Ghars' (congregation centres) in many parts of Haryana and Punjab.
While the sect's headquarter is located in Sirsa in Haryana, its biggest congregation centre in Punjab is at Salabtpura in Bathinda.
---
Two key Dera functionaries booked for sedition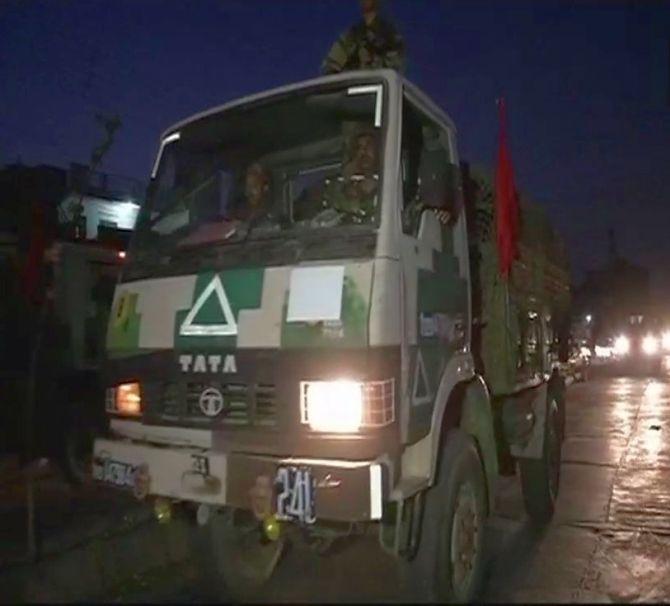 IMAGE: Army conducts flag march in Haryana's Sirsa. Photograph: ANI
Two key Dera functionaries have been booked for sedition on the basis of a news report, Haryana DGP B S Sandhu said.
The top cop said the Punjab and Haryana high court had directed the state police to verify the report carried by a Hindi daily regarding alleged instigation of Dera supporters by its five leaders.
"An FIR has been lodged in Panchkula police station following a statement by a newspaper reporter against two key functionaries of the Dera, namely Aditya Insan and Dhiman Insaan. The duo have been booked for sedition," he said.
The development comes after sedition and attempt to murder charges were slapped against seven persons, including five Haryana police personnel, who were part of the Dera Sacha Sauda chief's security paraphernalia when he had arrived at Panchkula to appear in a CBI court on August 25.
The seven security personnel of Dera Sacha Sauda chief Gurmeet Ram Rahim Singh had allegedly tried to free him when the self-styled godman was brought outside the Panchkula Court complex on Friday, after the special CBI court convicted him in a 15-year-old rape case, police said.
"A case has also been registered against some Dera followers for allegedly attacking employees of a private news channel and snatching their car in Sirsa today. The vehicle has since been recovered," Sandhu said.
A 35-year-old cameraman of a news channel was attacked allegedly by followers of the Dera Sacha Sauda chief after he tried to enter the campus of the sect.