Several leaders of hardline Sikh groups were detained here today ahead of their proposed march to Golden Temple to address Sikhs on Diwali, a day after they had "appointed" Jagtar Singh Hawara, the convict in Beant Singh assassination case, as jathedar of Akal Takht.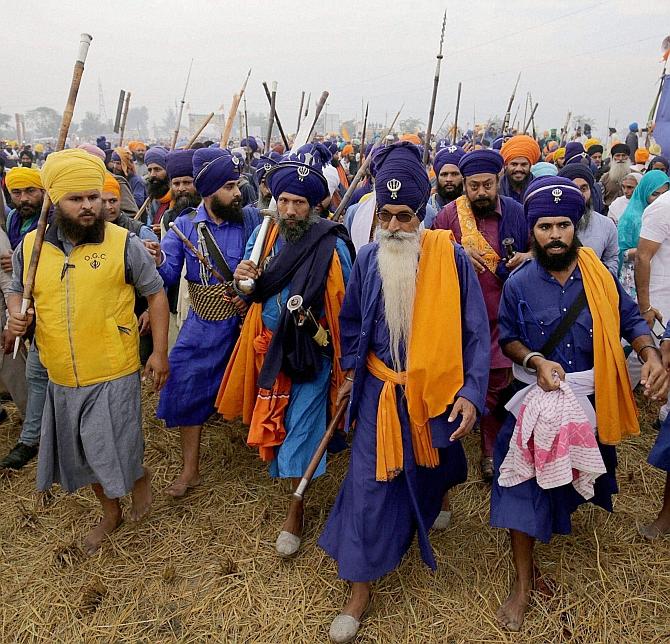 Apart from Akal Takht, which is the supreme temporal seat of the Sikhs, the Tuesday's congregation (Sarbat Khalsa) also "removed" jathedars of two other Takhts-- Takht Kesgarh Sahib and Takht Damdama Sahib.
In a preemptive move, police took into custody Shiromani Akali Dal (Amritsar) president Simranjit Singh Mann and United Akali Dal leader Bhai Mokham Singh. Both of them were the key organisers of 'Sarbat Khalsa'.
They had announced that the newly-appointed jathedars would address the community from the Akal Takht.
Security in Amritsar, especially in and around the Golden Temple complex, had been strengthened in the wake of the announcement.
"Mann and Bhai Mokham Singh have been taken into preventive custody," Amritsar Police Commissioner, J S Aulakh said.
Police also took into preventive custody Amrik Singh Ajnala of Damdami Taksal and Baljit Singh Daduwal of United Akali Dal (UAD) who were "appointed" as head priests of Takht Keshgarh Sahib and Takht Damdama Sahib respectively.
As Hawara is in jail, Dhyan Singh Mand, a former MP of SAD(A), was assigned the duty. Police was unable to trace Mand as he has gone into hiding.
Aulakh said that "the situation in Amritsar was "peaceful and under control."
Tuesday's congregation had accused the incumbent Sikh head priests, appointed by SGPC, of not keeping up the dignity and traditions of Sikh institutions.
The 'Sarbat Khalsa' was organised at Chabba village, about 10 kms from the holy city, to "free" Sikh institutions from political influence.
Those among the forefront of the Sikh congregation were SAD (Amritsar), United Akali Dal (UAD) and a section of Damdami Taksal.
Prominent among those participated in the event included SAD (A) president Simranjit Singh Mann, UAD head Mokham Singh and Damdami Taksal head Harnam Singh Dhuma.
Addressing the congregation, Sikh leaders had blamed the Parkash Singh Badal-led government for the sacrilege incidents across the state.
The Akal Takht -- top temporal seat of Sikhs and SGPC -- has already disapproved the congregation maintaining it holds sanctity only if it is held at Golden Temple premises under the head of Akal Takht.
The state government, which has faced back-to-back protests over loss of crops by farmers; and by locals over alleged desecration incidents of Guru Granth Sahib, had turned the holy city into a fortress with heavy security arrangements.
The Sikh clerics led by Akal Takht head Gurbachan Singh have been in the eye of storm after their pardon to the Dera head.
Many outfits including Sant Samaj, Dal Khalsa, Akhand Kirtni Jatha, Akali Dal Panch Pardani and some Sikh preachers had participated in the congregation.
Image: Nihangs at the Sarbat Khalsa with their traditional weapons at Chaba village near Amritsar on Tuesday. Photograph: PTI Photo