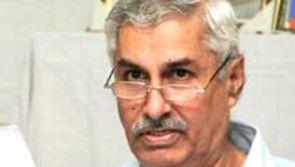 Senior Rashtriya Swayamsevak Sangh leader Jagdish Gagneja, who was shot at in Jalandhar by unidentified assailants in August, died at a hospital in Ludhiana on Thursday morning.
Gagneja, 65, breathed his last at 9.16 am at the Hero DMC Heart Institute, Dr G S Wander, director of the institute, said.
Brigadier Gagneja (retd) was attacked by bike-borne assailants on August 6 in Jalandhar. He was rushed to the Ludhiana hospital in a critical condition the next day.
After police failed to get clues in the murder of the vice president of the Punjab unit of the Sangh, the case was handed over to the Central Bureau of Investigation recently.
Besided family members of the deceased, many senior RSS and Bharatiya Janata Party leaders -- including Phul Chand Jain and Anil Sareen -- Commissioner of Police Jatinder Singh Aulakh and Dr Rishi Pal, assistant district collector, Ludhiana, were present at the hospital to pay their last respects.
Chief Minister Parkash Singh Badal expressed grief over the demise of Gagneja.
'It's a huge loss to the state and the country. Punjab has lost a forceful voice which articulated the concerns of the state and its people while remaining selflessly away from public glare and shunning personal glory,' he said.
All his life, he served the nation in the true traditions of a soldier, maintaining a low profile even while contributing in a most significant way to the welfare of Punjab and Punjabis, he said.
'We have lost a great champion of Hindu Sikh unity and communal harmony but the ideals to which he devoted his life would be upheld by the people,' he said.
The self-effacing and humble manner in which he took up Punjab's causes at various national forums will serve as an example to those who place the interests of the state above their own, said the chief minister in his condolence message.
Badal's Advisor on National Affairs Harcharan Bains told reporters that the chief minister is away to Patna to participate in the International Sikh Conference to mark the 350th Parkash Utsav of Guru Gobind Singh and would visit the bereaved family on his return.
In a statement, Badal said the attack on Gagneja was an attempt to disturb the hard-earned atmosphere of peace and communal harmony in the state for which he worked hard all his life.
'But the designs of those who committed this heinous crime will never be allowed to succeed,' he said.
Deputy Chief Minister Sukhbir Singh Badal also condoled the death of Gagneja.
The CM appealed to the people of Punjab to maintain peace and communal harmony in the state at all costs.
'This will be the best and the greatest tribute to the departed leader,' said Badal.
Gagneja will be cremated in Jalandhar in the evening.
IMAGE: Jagdish Gagneja. Photograph: @RSS_Org/Twitter