President Ram Nath Kovind, Prime Minister Narendra Modi, United Progressive Alliance chairperson Sonia Gandhi, Jammu and Kashmir Governor Satya Pal Malik and leaders across political parties condemned the killing of at least 39 Central Reserve Police Force personnel in a terrorist attack in Pulwama district on Thursday.
Here's what they said: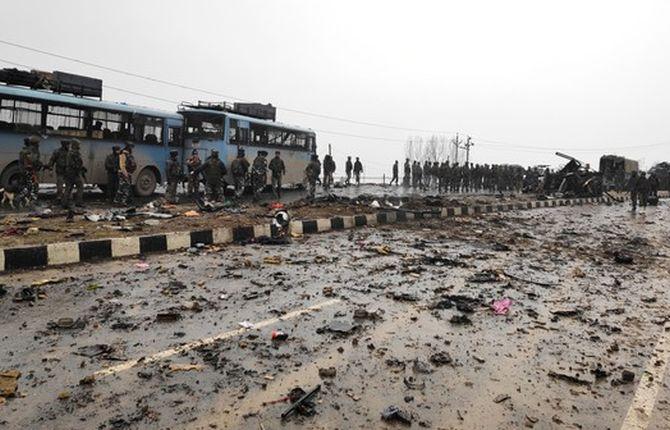 Strongly condemn the terrorist attack in Pulwama, J&K. Thoughts and prayers with the families of martyrs and wishing an early recovery to those injured. The entire nation stands united in the fight against the forces of terror and evil.
-- Ram Nath Kovind, President of India
Attack on CRPF personnel in Pulwama is despicable. I strongly condemn this dastardly attack. Sacrifices of our brave security personnel shall not go in vain. The entire nation stands shoulder to shoulder with the families of the brave martyrs. May the injured recover quickly.
-- Narendra Modi, Prime Minister
I'm shocked, outraged and deeply grieved (sic) by the barbarous attack on CRPF convoy in J&K. Our brave CRPF personnel died serving the nation selflessly, at the hands of cowardly terrorists and their sacrifice will not be forgotten.
My heart goes out to loved ones of each and every victim. I share their pain with all my heart. I sincerely hope that those responsible for this dastardly terror attack will be brought to justice and made to pay for this appalling act, that goes against every tenet of humanity.
-- Sonia Gandhi, United Progressive Alliance chairperson
Forces responsible for the insurgency in Jammu and Kashmir are desperate and frustrated and just want to prove presence. Visibly it seems to be guided from across border as Jaish-e-Mohammad has claimed responsibility.
-- Satyapal Malik, J&K Governor
Today's dastardly attack on CRPF in Pulwama (J&K) is extremely painful and disturbing. I bow to each and every CRPF jawan who has sacrificed his life in service to the nation. I pray for the speedy recovery of the injured.
-- Rajnath Singh, Union home minister
Attack on CRPF in #Pulwama, J&K is cowardice & condemnable act of terrorists. Nation salutes martyrs & we stand united with families of martyrs. We pray for speedy recovery of the injured. Terrorists will be given unforgettable lesson for their heinous act.
-- Arun Jaitley, Union minister
I'm deeply disturbed by the cowardly attack on a CRPF convoy in J&K in which 10 of our brave men have been martyred and many others wounded. My condolences to the families of our martyrs. I pray for the speedy recovery of the injured (sic).
-- Rahul Gandhi, Congress president
Pained beyond words by the terror attack on our soldiers in Pulwama (J&K). It is an act of cowardice. My deepest condolences are with the families of our soldiers who have lost their lives. Our forces will remain firm against such acts of terror and defeat them.
-- Amit Shah, president, Bharatiya Janata Party
Terrible news coming from the valley. A number of CRPF soldiers are reported to have been killed & injured in an IED blast. I condemn this attack in the strongest possible terms. My prayers for the injured & condolences to the families of the bereaved.
-- Omar Abdullah, former J&K chief minister

Disturbing news coming in from #awantipura . Twelve of our security personnel have been martyred and several have been injured. No words are enough to condemn the gruesome terror attack. How many more lives will be snuffed out before this madness ends?
-- Mehbooba Mufti, former J&K CM
We will definitely give befitting response to this cowardly attack. It will not go unpunished. We will avenge in all way possible.
-- Kiren Rijiju, Union minister of state for home
We condemn this cowardly terror attack. This is a crime against humanity. The sacrifice of our jawans will not go in vain. The entire nation should condemn this and support Indian government's fight against terrorism.
-- Yogi Adityanath, Uttar Pradesh chief minister
Saddened that 13 CRPF jawans became martyrs today in Pulwama. We salute our brave jawans and extend our solidarity and condolences to their families. Our prayers for those injured. We wish them a speedy recovery.
-- Mamata Banerjee, West Bengal chief minister
The cowardly attack on a convoy of CRPF and killing of Jawans in Awantipora, Pulwama district in Jammu and Kashmir is a condemnable act. My condolences to the families of the martyrs who have sacrificed their lives for India.
-- Sharad Pawar, Nationalist Congress Party chief
It's a dastardly act done out of desperation. I call to question those who while living in India and describing themselves as mainstream Kashmir politicians tend to be apologetic about these terror activities sponsored from across Indian soil.
-- Jitendra Singh, MoS PMO
I can very well understand the pain and grief of losing a loved one in the family. Not only the Congress party, but the entire country is standing shoulder to shoulder with the families of the brave soldiers. But, we must also reflect and be concerned about the high number of casualties in Kashmir. We demand that this government take concrete steps to ensure such terror attacks don't happen in the future.
-- Priyanka Gandhi Vadra, AICC general secretary
We strongly condemn this cowardly attack, we extend condolences to the kin of the jawans who were martyred. This is the 18th big terror attack in the last 5 years under this Modi Govt. When will the 56-inch chest reply?
-- Randeep Surjewala, Congress leader