British Prime Minister Rishi Sunak and his wife Akshata Murty visited the Akshardham temple in New Delhi on Sunday and offered prayers.
Ahead of the visit of G20 leaders to Rajghat to pay homage to Mahatma Gandhi, Sunak, who was dressed in trousers and a shirt, and his wife, wearing a kurta with palazzo, reached the temple early morning and were accorded a traditional welcome.
Sunak was then greeted by swamis, as well as senior leaders from the Akshardham Mandir, who relayed a special message on behalf of Mahant Swami Maharaj, spiritual leader of the Bochasanwasi Akshar Purushottam Swaminarayan Sanstha (BAPS).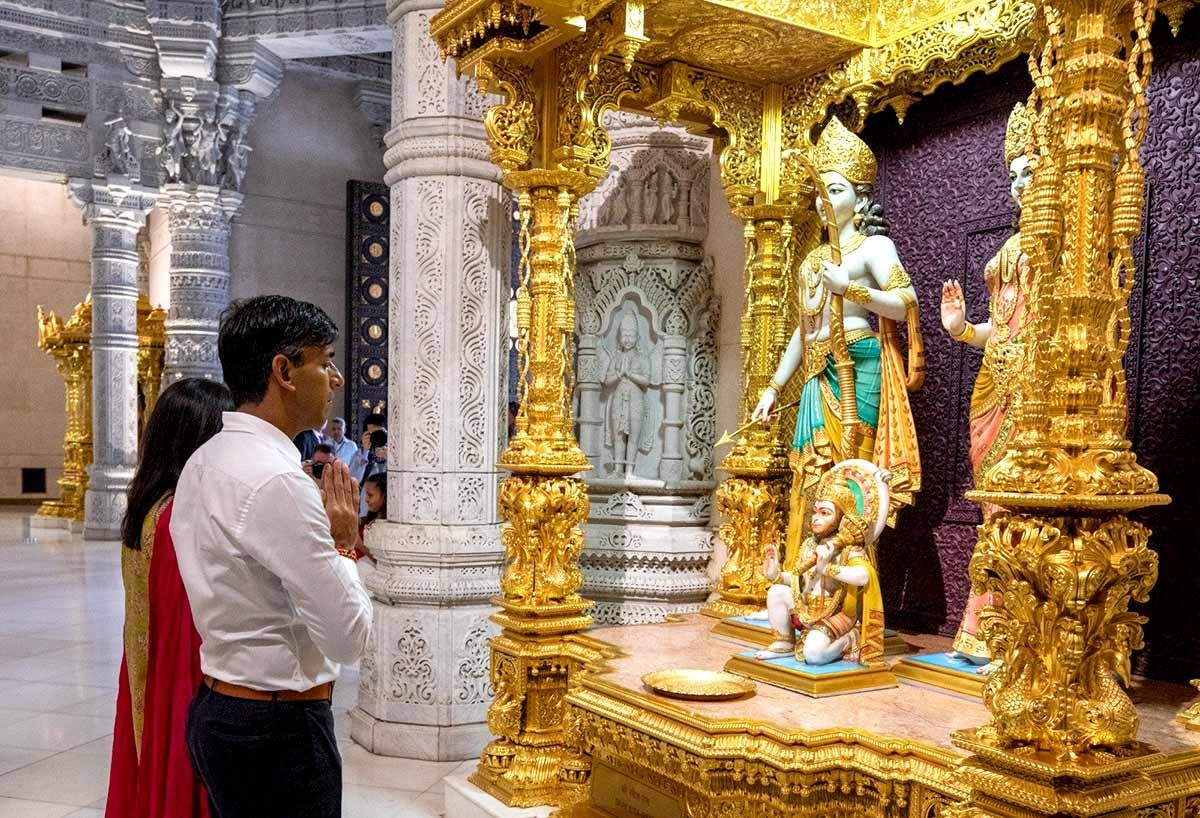 During his visit, the British prime minister was given an overview of Swaminarayan Akshardham, a 100-acre spiritual and cultural complex that portrays the traditions and ancient architecture of India and promotes the timeless Hindu spiritual messages of faith, devotion and harmony, a statement issued by BAPS said.
Inside the main temple complex, Sunak and his wife paid their respects to the sacred images and admired the art and architecture.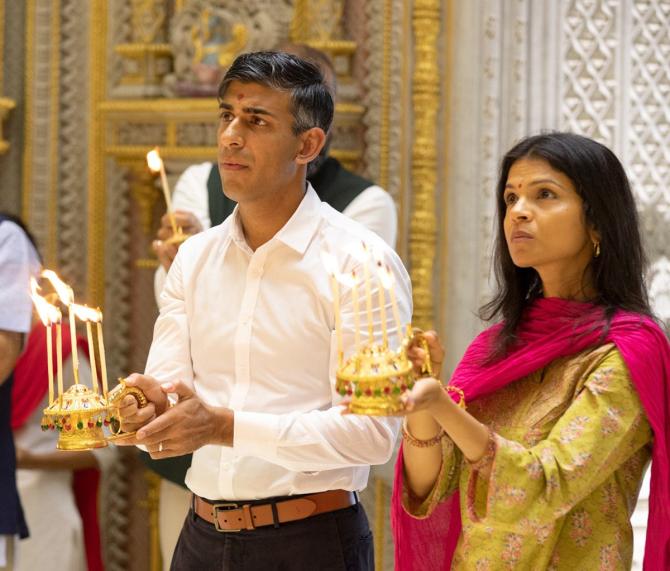 The couple also performed abhishek (ritual pouring of water) on the 'murti' of Shri Nilkanth Varni Maharaj, and offered prayers for world peace, progress and harmony, the statement said.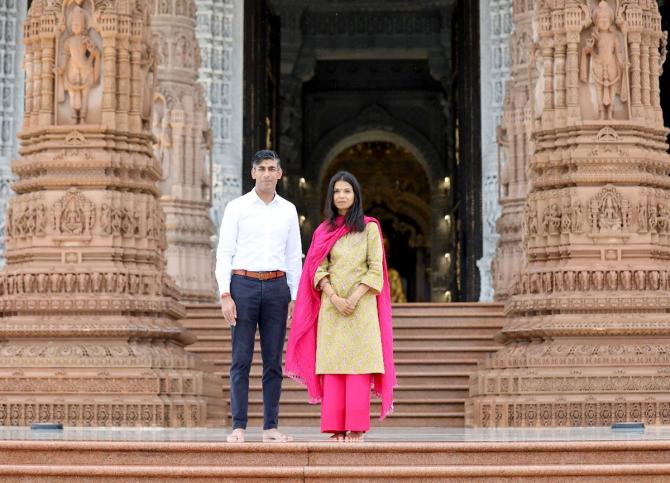 "My wife and I were delighted to visit Swaminarayan Akshardham for darshan and puja this morning. We were amazed and awed by the beauty of this temple and its universal message of peace, harmony, and becoming a better human being. This is not only a place of worship, but a landmark that also portrays India's values, culture and contributions to the world," Sunak was quoted as saying.
"We see today in Britain these very same values and culture through the positive contributions the British Indian community makes to our country," he said.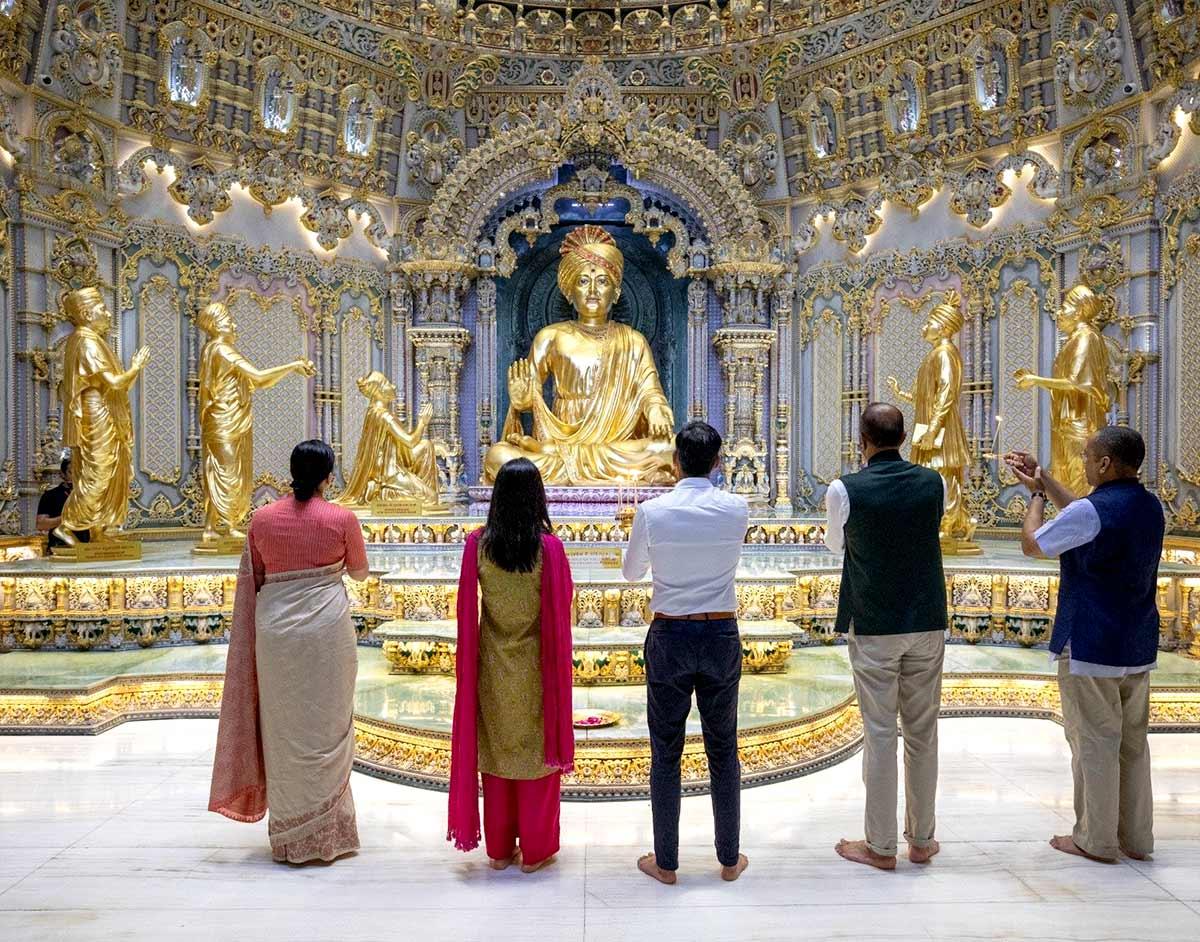 "I was honoured to have received the blessings of His Holiness Mahant Swami Maharaj conveyed to me this morning, and I understand that His Holiness is inaugurating another beautiful Swaminarayan Akshardham temple in Robbinsville, USA very soon. I would like to send my very best wishes to His Holiness and all the devotees of BAPS ahead of the opening," Sunak said.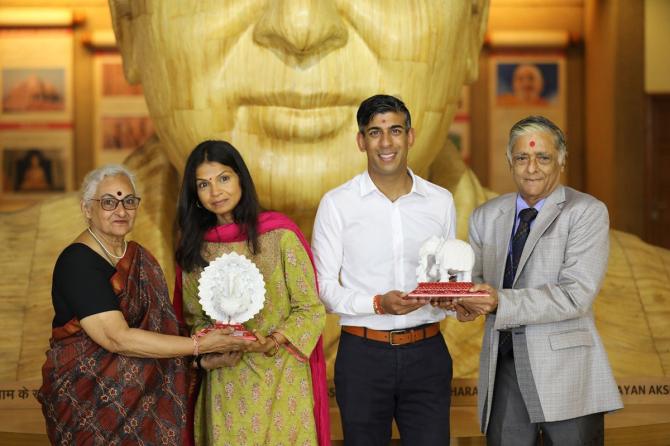 Brahmavihari Swami, the senior swami of the sanstha, said it was an honour to welcome the British prime minister to Swaminarayan Akshardham and share Mahant Swami Maharaj's message of peace, unity and public service.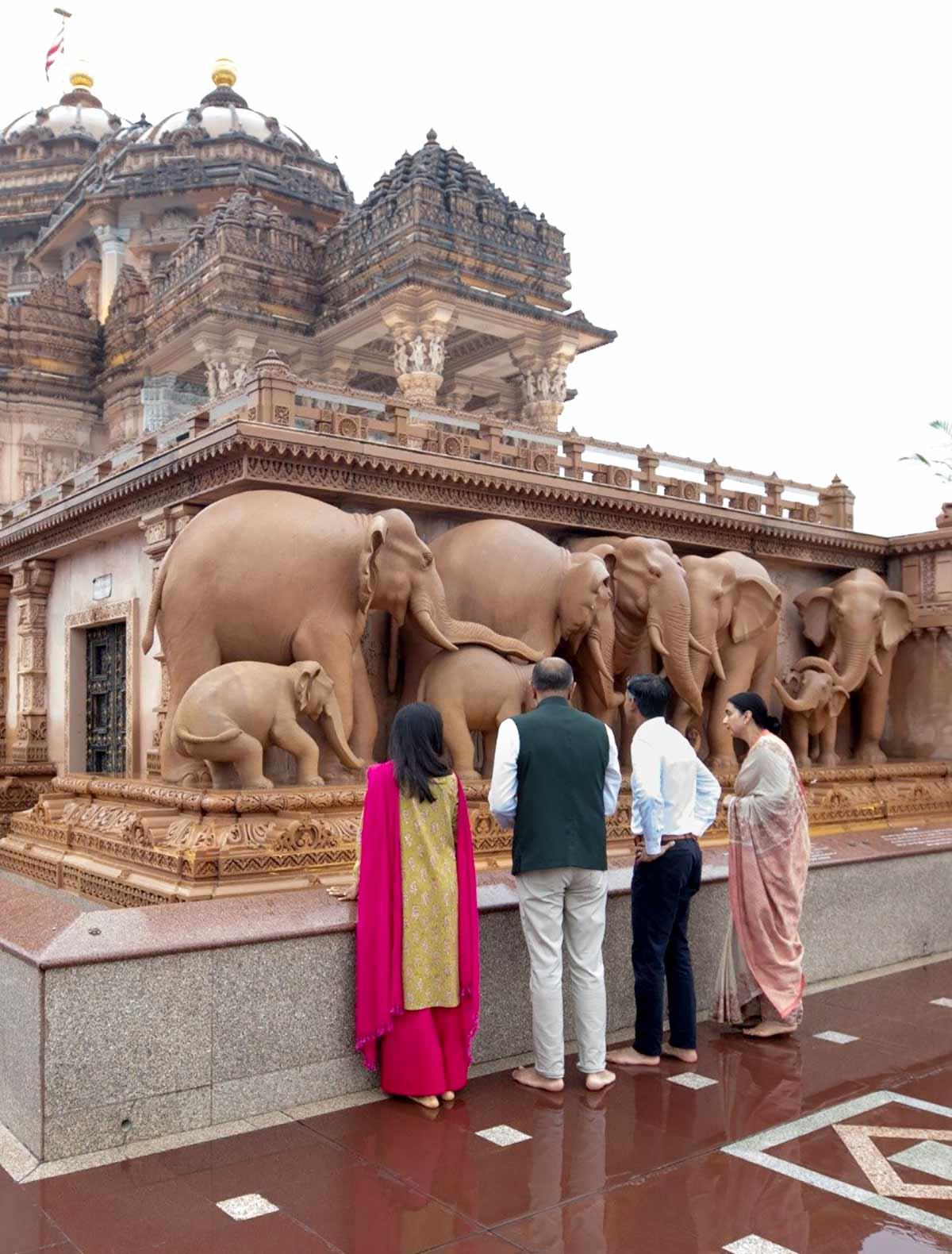 The UK's relationship with India is built on a bond of friendship and fostered by cultural exchanges as well as a vibrant Indian diaspora in the UK, he said.
The British prime minister spent almost one hour at the temple as he performed 'darshan and puja' there.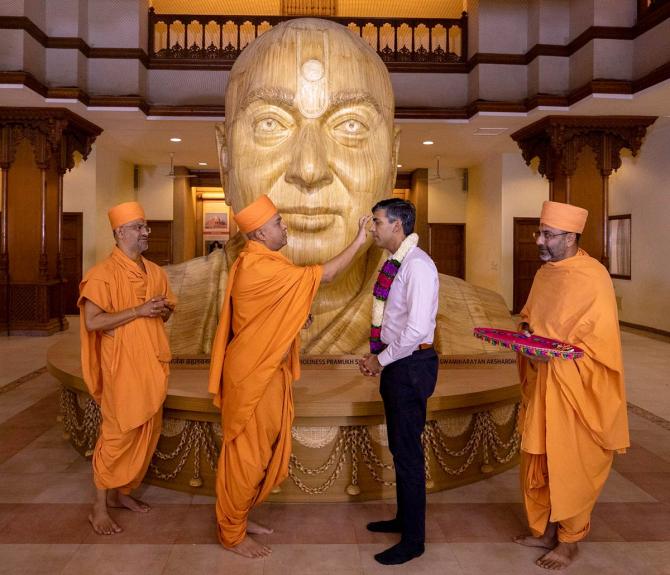 In an interview to PTI ahead of his India visit, Sunak had said, "I am hugely proud of my Indian roots and my connections to India. As you know, my wife is Indian and being a proud Hindu means I will always have a connection to India and the people of India."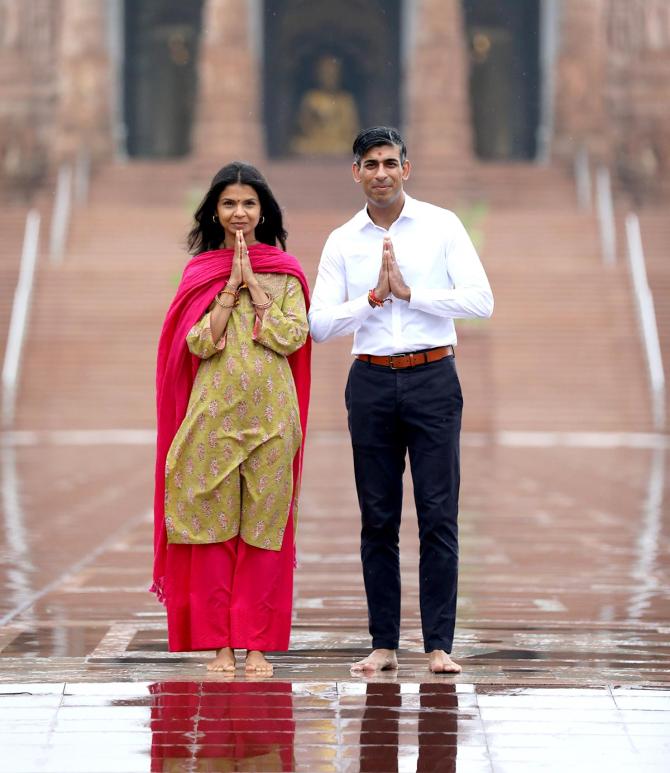 The 43-year-old leader of the Conservative Party was first elected as an MP in 2015. He was made finance minister or chancellor of exchequer in February 2020 by then Prime Minister Boris Johnson. In October last year, he became the first Indian-origin British prime minister, scripting history.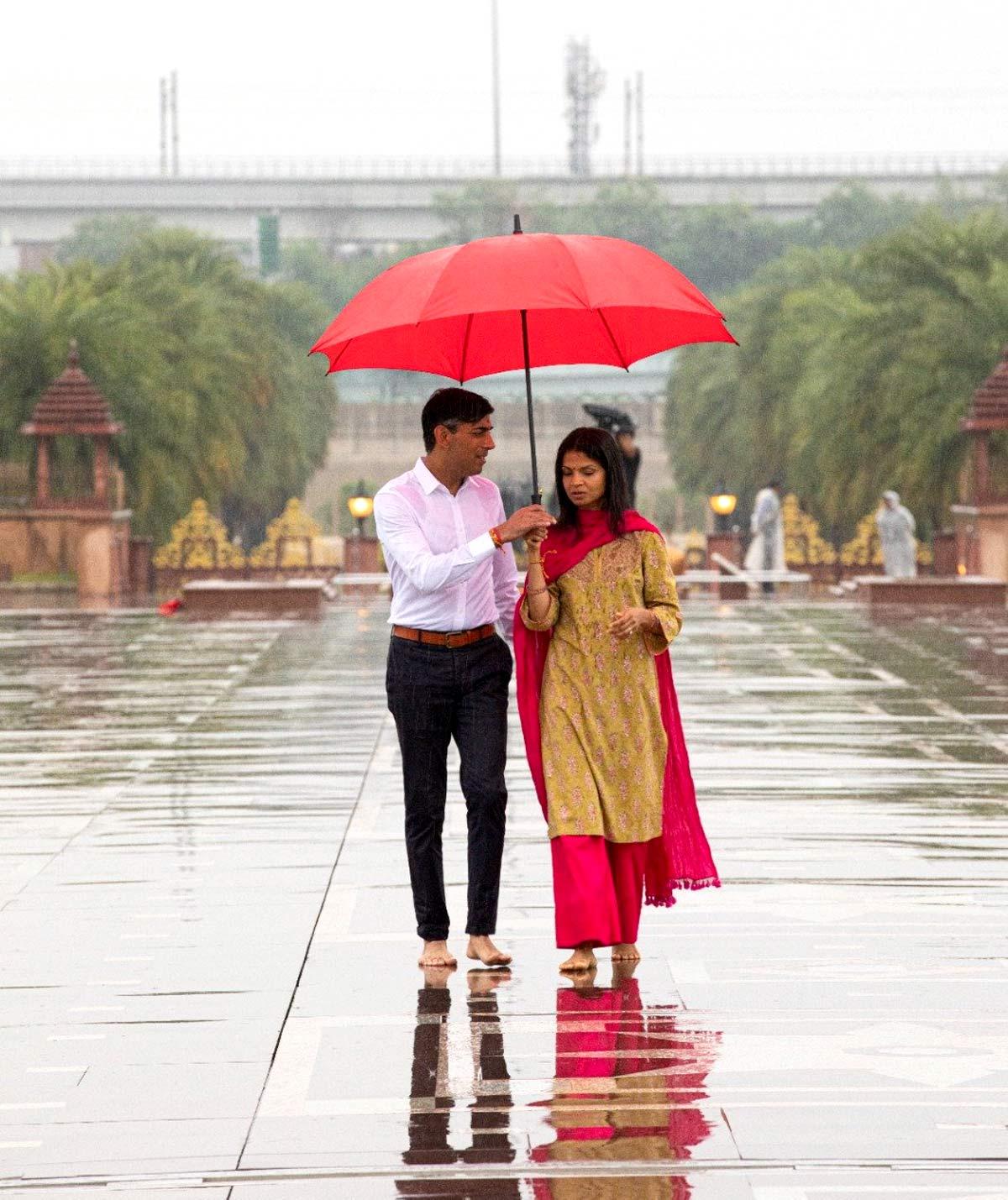 His wife Akshata Murty is the daughter of India's billionaire tech czar Narayana Murthy and philanthropist and educator Sudha Murty.