What does the British Prime Minister discuss at the dinner table with his Indian parents-in-law? Is it Indian politics or the challenges of running Britain?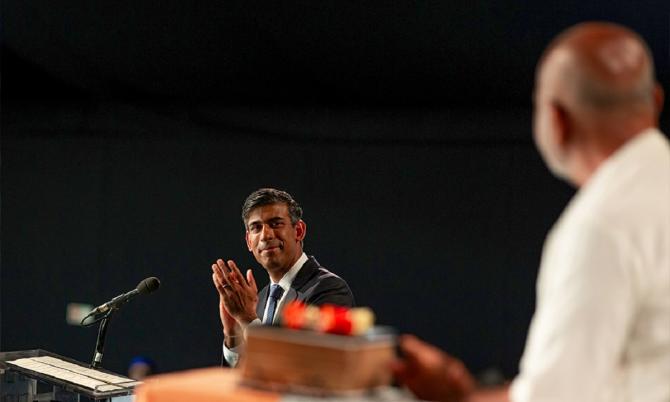 Neither. It's cricket.
"The most political we tend to get is in our discussion of cricket. I've agreed that my daughters can support India when it comes to cricket, as long as they support England when it comes to football!," Prime Minister Rishi Sunak told PTI.
Sunak's parents, both of Indian origin, came to the UK from east Africa.
His wife Akshata Murty is the daughter of India's billionaire tech czar Narayana Murthy and philanthropist and educator Sudha Murty.
In an interview via email days ahead of his visit to New Delhi to attend the G20 summit on September 9 and 10, Sunak said Wednesday the response from the Indian people to his appointment as the prime minister was "overwhelming and humbling."
"I am hugely proud of my Indian roots and my connections to India. As you know, my wife is Indian and being a proud Hindu means I will always have a connection to India and the people of India," he said.
The 43-year-old leader of the Conservative Party was first elected as an MP in 2015. He was made finance minister or chancellor of exchequer in February 2020 by then Prime Minister Boris Johnson.
In October last year, he became the first Indian-origin British prime minister, scripting history.
"One of the first things I did after becoming Prime Minister was to hold a reception for Diwali in Downing Street. Having the opportunity to welcome many British Indians into Number 10 and seeing the building decorated from top to bottom with lights and flowers was an incredibly proud and emotional moment for me," Sunak said.
"Because my story is the story of so many people in Britain with deep and enduring links to India. The strength of our country lies in its diversity, and that's something I have seen first-hand many times since becoming Prime Minister," he said.
Asked whether he discusses Indian politics, technology or problems he faces in running Great Britain when he sits with his in-laws, Sunak said it is important to keep politics separate from family. "It's very important to keep politics separate from family, but of course my wife and two daughters very much guide my values, as do my parents and parents-in-law."
"I am, though, incredibly proud of my parents-in-law and what they have achieved -- going from nothing to building one of the world's largest and most respected companies, which employs thousands of people in both India and in the UK," he said.
"I want to create and lead a country where anyone can emulate the kind of success that they have had," Sunak said.
"It is wonderful to be able to travel to India for the G20 with Akshata, and hopefully we will get a chance to visit some of the places we went to when we were younger – we'll both be very busy the whole trip though!"
Sunak said he is looking forward to meeting Prime Minister Narendra Modi and deliberate on how collaboration between India and the UK helps in dealing with various global challenges.
"My ministerial colleagues who have visited India in the past year have all returned with a renewed enthusiasm for the UK-India partnership," he said.
"Beyond the work of the G20 itself, it has been fantastic for so many people to see the breadth and depth of India by travelling all over the country for meetings and discovering the unique cultures on display all over India," he added.
"When I meet Prime Minister Modi again this week it will be an opportunity to speak about some of the global challenges we face, and the huge role that the UK and India have to play in addressing them," Sunak said.