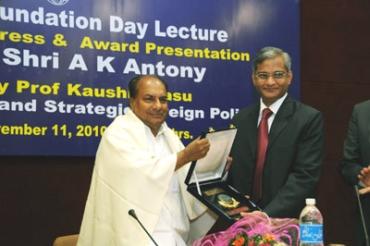 Srikanth Kondapalli, associate professor of Chinese studies at the Jawaharlal Nehru University, on Thursday received the K Subrahmanyam award which was conferred to him by the Institute of Defence Studies and Analysis.
The award was handed over by Defence Minister A K Antony, who said, "I take this opportunity to heartily congratulate Dr Srikanth Kondapalli for winning this year's K Subrahmanyam Award. This is the fourth award in the series and its conferment recognises Dr Kondapalli's outstanding work on China, especially its armed forces. We attach great importance to our relations with China. I hope that this award will provide impetus to other researchers to go in for more intensive research work on China." 
Kondapalli is an unusual scholar who hails from the Telganana region of Andhra Pradesh. He speaks English, Chinese and Telugu fluently. He possesses a unique combination of a sharp brain, scholarly dry humour and a mischievous smile that can floor any Chinese and American scholar when he is arguing a case for India's national interest.
He is always ready to share his tremendous knowledge with his students and New Delhi-based journalists. Kondapalli has no pretensions and no conditions while dispensing his tremendous knowledge of China. Many Delhi-based journalists believe that he is a walking encyclopedia on the history of Sino-Indian relations in the last 60 years.
Along with extensive reading, writing and teaching, Kondapalli also travels a lot. Few Indians in recent times have published as much actual work on China as he has. Kondapalli has also served for 12 years at the IDSA, the institute that conferred the prestigious award on him.
Kondapalli was been educated in Chinese studies in India and China with specialisation in Modern Chinese History at the Osmania University at Hyderabad. He earned his MA and PhD in 1989 and 1995 respectively at the Chinese Studies Division at the School of International Studies, Jawaharlal Nehru University.
He was a post-doctoral visiting fellow at the People's University of China in 1997-98. He learnt Chinese at the Beijing Language and Culture University and was a post-doctoral Visiting Fellow at People's University, Beijing from 1996-98. He was a Visiting Professor at National Chengchi University, Taipei in 2004. He has been relentlessly conducting various research projects on China.
But above all, Srikanth's forte is his knowledge about the People's Liberation Army. He has published many books but he received due recognition after the publication of China's Military: The PLA in Transition and China's Naval Power. With K Santhanam, he co-edited the book Asian Security and China 2000-2010. His monographs on People's Liberation Army: Evolving Dynamics are useful for students and scholars studying China's affairs.
Image: Professor Srikanth Kondapalli receives the K Subrahmanyam award from Defence Minister A K Antony