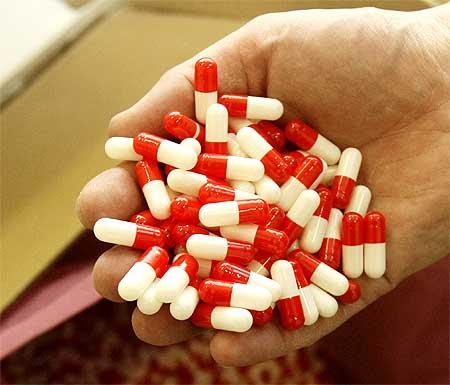 The sudden demise of King of Pop Michael Jackson has reopened a can of worms.
As the investigations to unearth the reasons behind his death are underway, the 'truth' appears more difficult to pinpoint. But one point which cannot be ignored, is the overdose of prescription drugs which MJ was reportedly hooked on to.
The point was first raised by Jackson's 'former family attorney' Brian Oxman, who said 'overmedicated' Jacko had problems with prescription drugs, and had also warned his family about it.
Prescription drugs have time and again been the focus of discussion and speculation, as they have reportedly been the cause of many celebrity deaths (like Elvis Presley, Anna Nicole Smith and even Heath Ledger).
The question remains, just what is a prescription drug?
A prescription drug is a licensed medicine which requires a prescription before it can be obtained. Its terms of usage are regulated by law. Prescription drugs are distinct from 'over the counter' drugs, which can be obtained by anyone, without producing a medical prescription.
Dispensation of prescription drugs often includes instructions about the drug, its dosage, antidote if any etc.
The package insert for a prescription drug contains information about the intended effect of the drug and how it works in the body. It also contains information about its side effects, how a patient should take the drug, and cautions for its use, including warnings about allergies.
Prescription drugs are generally authorised by medical practitioners. Basic level nurses, medical assistants or what we call compounders cannot give out a prescription drug.
Often a drug with lower dosage falls under the category of OTC drugs, but if the patient needs the same drug with a higher dosage, it becomes a prescription drug.
As such, a prescription drug needs to be taken cautiously and compulsorily under supervision by a registered medical practitioner.
Over-usage of prescription drugs is taking its toll round the world, a survey conducted by the US Drug Enforcement Agency stated.
Of the estimated seven million Americans who abuse prescription drugs, the report states, about 5.2 million of them are involved in some kind of improper use of prescription drugs such as painkillers Vicodin or OxyContin.
At least 8,500 deaths in 2005 were attributed to the overuse of painkillers in the United States, the report said. That's a 114 per cent increase in the number of fatalities associated with such abuse since 2001.
What is even more alarming is the fact that such prescription drugs gaining more popularity among teens. 'Pharm parties', and not 'farm parties', which involves an exalted intake of such prohibited drugs among friends, have become a huge hit among youngsters in Western countries.
The world eagerly awaits the cause behind MJ's death. But the growing non-medical use of prescription drugs among youngsters is definitely a ticking time bomb, which we can ignore at our own peril..
Photograph: Reuters