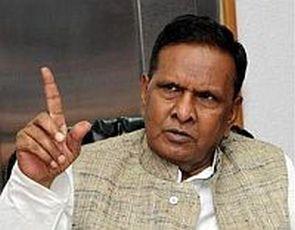 Union Steel Minister Beni Prasad Verma on Monday went about doling out cash and gifts to Congressmen and journalists in Uttar Pradesh to apparently ensure their allegiance to him before the forthcoming Lok Sabha polls.

The minister devised a unique way to justify the use of the state exchequer for his PR exercise.
Invitations were issued on his behalf to nearly a thousand Congress workers and journalists from different parts of the state who were told that they had been nominated as members of the Steel Consumers Committees to be constituted by the Union steel ministry.

A number of prominent journalists and others received formal offers from the minister's office about being nominated as members of the committees, a brainchild of Verma who apparently has found a way to bait scribes in the run-up to the elections.

While several media personnel declined the offer, others lined up for the gift hamper, which included a strolley bag, a cheap mobile phone and cash. While a sum of Rs 3,000 was shelled out for those arriving from Lucknow, a higher amount of Rs 8,000 was earmarked for those coming in from other parts of the state.

Interestingly, everyone was made to sign a receipt for the cash handed over to them.

The move has, understandably, come under heavy criticism from other political parties.
The Samajwadi Party, with which Verma was closely associated for years before he walked out on his one-time friend and party chief Mulayam Singh Yadav, accused Verma of being among the "most corrupt" politicians in the country.
Incidentally, Verma was handpicked by Congress leader Rahul Gandhi and given a key slot in the United Progressive Alliance Cabinet after he parted ways with the SP.

Bharatiya Janata Party leader Lalji Tandon termed Verma's overtures as "gross misuse of government money and blatant indulgence in corruption."