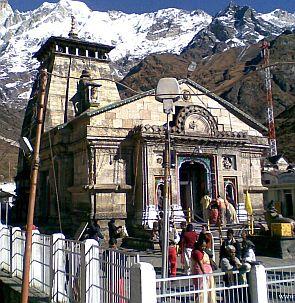 The stage is all set for resumption of prayers at the calamity-hit Kedarnath shrine on Wednesday, 86 days after flash floods in Uttarakhand left hundreds of pilgrims and locals dead.
The sanctum-sanctorum of the Himalayan shrine has been spruced up under the supervision of a team of Kedarnath-Badrinath Committee and administrative officials.
Prayers will resume in the presence of a 24-member team of priests and temple committee officials after a sanctification and atonement ceremony.
The chief priest of Kedarnath shrine, Rawal Bhima Shankar Ling Shivacharya, has left for the temple by chopper to give final touches for the prayers.
Uttarakhand Chief Minister Vijay Bahuguan accompanied by his ministerial colleagues will participate in the prayers.

The combing operation launched on Tuesday last in the upper reaches of Kedar valley to trace bodies has been suspended now with the ritual cremation of 185 skeletal remains recovered from Garurchatti and Rambara areas close to the Himalayan shrine, DGP Satyavrat Bansal said.
The operation will resume again after the prayers.
Swami Hansdevacharya, one of the representatives of the Sankaracharya attending the prayers said, "We will seek forgiveness of Lord Shiva for the prolonged suspension of prayers at the shrine after the unprecedented tragedy, which caused large scale damage to Kedar valley".
Officials here said the prayers are being resumed for the deities, not for the devotees as much of the infrastructure is still damaged.
"Nobody is allowed to visit the shrine via road route as much of the roads are still damaged and we cannot take any chances," said Bansal.
Bansal, who was going to the Kedarnath shrine, had to return to Guptkashi helipad due to bad weather. He is waiting at Guptkashi for the weather to clear up.