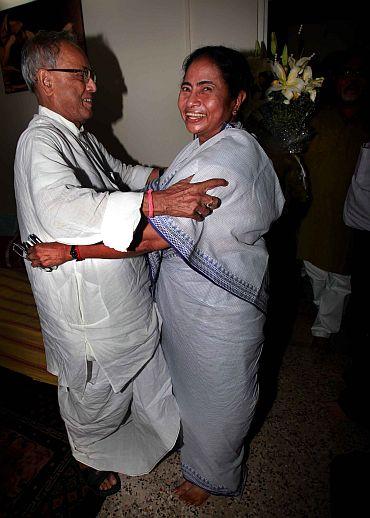 Union Finance Minister Pranab Mukherjee on Sunday assured that West Bengal would be provided all assistance to tide over its financial crisis.
"Whatever short-term assistance is required will be provided and after discussions a long-term plan for the state's financial recovery will be taken," Mukherjee told reporters after a meeting West Bengal Chief Minister Mamata Banerjee at his residence.
Accepting that the situation was 'difficult', Mukherjee said in the presence of Banerjee that it had been agreed at their meeting that long and short-term assistance was necessary for the state.
Stating that his talks with the chief minister were positive, the finance minister said, "All help will be extended to the state government to fulfill the mandate that the people have given to this government."
Banerjee said, "It has been decided to formulate short-term, long-term and mid-term strategies to tide over the crisis, which is worse than the devastating cyclone Aila."
She said officers of the Centre and the
state government would first hold discussions to work out measures to tide over the financial crisis to be followed by a meeting between state finance minister Amit Mitra and Pranab Mukherjee.
"Later, when I go to Delhi for the Plan discussions, I will meet Pranabda and hold further discussions with him to find out how a healthy financial situation can be created for the state," she added.
"As Pranab da belongs to this state, it is our belief that he will provide all help so that the people are benefitted," she said.
Others present at the meeting were state Finance Minister Amit Mitra, Industry and IT Minister Partha Chatterjee, Union Expenditure Secretary Sumit Bose, Chief Secretary Samar Ghosh and state Finance Secretary C M Bachawat.

Image: Finance Minister Pranab Mukherjee meets West Bengal CM Mamata Banerjee at his residence in Kolkata  | Photograph: Jay Mandal/On Assignment