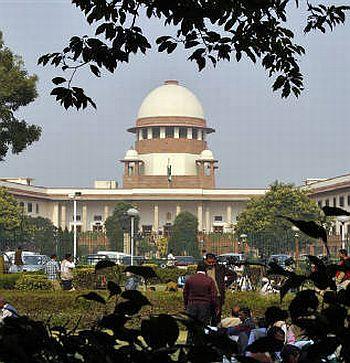 A Public Interest Litigation has been filed in the Supreme Court against Bharatiya Janata Party Members of Parliament Prakash Javdekar and Bhupendra Singh Yadav alleging that they tried to impede investigation in the Tulsiram Prajapati fake encounter case in which former Gujarat Home Minister Amit Shah is the main accused.
The petition, filed by a journalist on the basis of a `sting operation done by him, alleged that attempts were made by the MPs to impede the trial and other judicial proceedings in this regard by "manipulating the complainant with the sole intent to protect Shah".
The two MPs, however, declined to comment on the charges against them. Pushp Kumar Sharma, the petitioner, alleged that he had captured the "criminal conspiracy hatched and executed" by MPs, senior BJP leaders and advocates on concealed cameras as part of his undercover investigation.
He also filed CDs of the video footage along with his petition.
He claimed in his petition that he had caught the two parliamentarians on tape discussing how to get a blank vakalatnamas signed by the mother of Tulsiram Prajapati, who was shot dead in a fake encounter in December 2006.
Senior lawyer Prashant Bhushan, who was present at a press conference addressed by the journalist, asked why the BJP leaders were desperate about getting multiple vakalatnamas of Prajapati's mother Narmada.
Shah, who is the key accused in the killings of Soharabuddin and his wife Kauser Bi, has been named accused number one and the kingpin of the conspiracy in the fake encounter case of Prajapati, who was killed near Chhapri village near Danta in Palanpur on December 28, 2006.