Days after an alleged attempt by two men, including a member of the minority community, to abduct a minor girl was foiled by locals, threatening posters appeared on shops owned by Muslim traders in Purola town here asking them to leave the place immediately.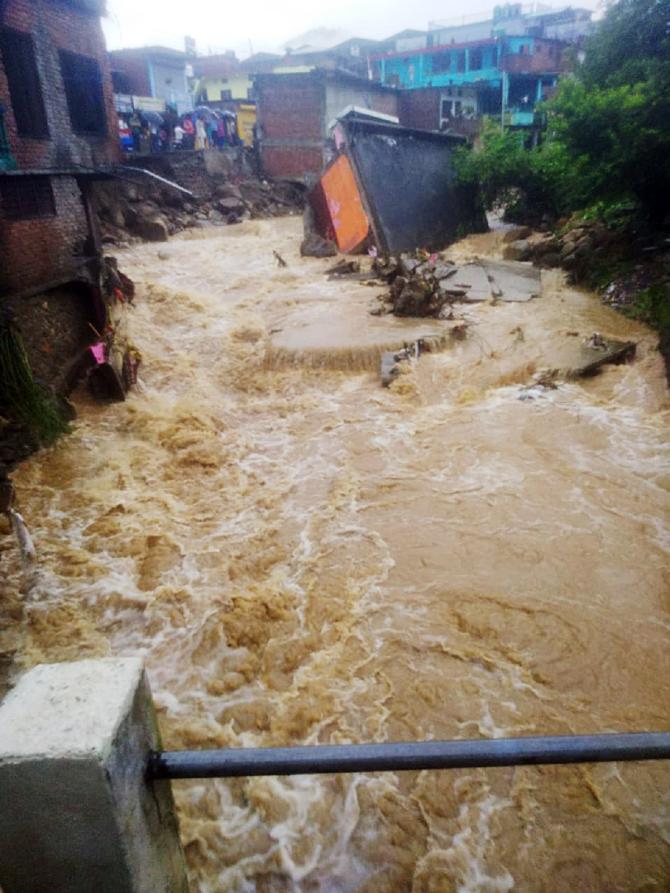 The posters were put up on the shutters of the shops late on Sunday evening, Purola station house officer Khajan Singh Chauhan said.
They asked the shop-owners to leave Purola immediately, he added.
The posters asked Muslim traders to leave Purola by June 15 when a mahapanchayat will be held by 'Devbhoomi Raksha Abhiyan'
"Love jihadis are informed that they should vacate the shops ahead of the mahapanchayat to be held on June 15. If you don't do this, only time will tell what will happen," the posters read.
Muslim traders said they are scared to open their shops and some of them have even left the town.
"We have removed the posters and anti-social elements who pasted them are being identified," Uttarkashi Superintendent of Police Arpan Yaduvanshi said.
There are 650-700 shops in Purola main market, of which 30-40 are owned by Muslims.
Right-wing Vishva Hindu Parishad leader Virendra Rana said the posters were put up by locals.
"The posters were pasted by locals who want members of a particular community to leave the town to maintain peace and social amity. They came here from outside to do business but are now targetting Hindu girls and women," Rana said.
Taking serious note of the situation, the police on Monday held meetings with the local Vyapar Mandal and public representatives appealing to them to maintain peace and law and order.
A case was also registered against unidentified people of 'Devbhoomi Raksha Abhiyan', who allegedly pasted the posters, on charges of conspiring to disrupt peace of the town and provoke the religious sentiments of a particular community, Chauhan said.
Investigations into the pasting of posters has begun and people bearing allegiance to Devbhoomi Raksha Abhiyan are being interrogated, he added.
Reacting to the development, senior Congress leader Shashi Tharoor termed it as "horrifying" and said Mahatma Gandhi would be "ashamed of the India we have created".
Tagging a tweet over a media report on the incident, Tharoor tweeted, "Horrifying. This cannot be what we have reduced ourselves to. Gandhiji would be ashamed of the India we have created."
A group of Muslims also met Purola sub-divisional magistrate Devanand Sharma and SHO Chauhan to submit a memorandum to them demanding stern action against dubious and criminal elements who were out to disrupt peace and social amity in the town.
Credentials of elements who have created a situation like this in the town must be examined and verified, they said.
Muslim families have been living peacefully with locals and doing business for years but for the past few years criminal-minded people are coming from outside and vitiating the social atmosphere in the town in the name of doing business, the memorandum alleged.
They also expressed solidarity with Vyapar Mandal for their demand to take action against criminal elements.
"As far the demand for action against criminal elements is concerned, we are with the Vyapar Mandal," cloth merchants Ashraf and Raees said.
Thirty-five-year-old Salim, who runs a garment shop in Purola, said he had to escape to his brother's place in Dehradun out of fear.
"We are living in fear. We can't return to Purola in a situation like this. If they want us to leave the hills, authorities should give us compensation for the properties we own in Purola," he said.
In a memorandum submitted to Purola SDM on Monday, the Muslim families said they were facing financial problems.
They demanded security from the administration to reopen their shops.
They also said the administration will be responsible if anything untoward happens with them.
Purola SDM Sharma said the law and order situation is under control.
"We are keeping an eye on all activities to maintain peace in the town," he said.
Communal tension broke out in Purola on May 26 when two men, including one from the Muslim community, were caught by locals while trying to abduct and elope with a minor Hindu girl.
The girl was rescued and the accused were arrested the next day from Hudoli village.
The tension is now spilling to other towns of Uttarkashi district.
Uttarkashi district Vyapar Mandal, its affiliated bodies and 'Hindu Jagriti Sangathan' on Tuesday observed a bazar bandh in Chinyalisaur and held a procession from taxi stand to the tehsil office via Pipalmandi bazar, Shyampur Devi Mandir and Sulithag.
Zilla panchayat president Dipak Bijalwan said hawkers will not be issued a slip that they require to run their business.
"We should not give space on rent to outsiders to run their businesses," he added.
Vyapar mandal zilla vice president Amit Saklani said, "There are many places in Garhwal which look like mini-Pakistan because people let out spaces to people from outside for money. It is these people who commit such crimes."