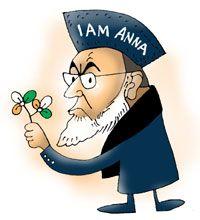 The Imam of Delhi's Jama Masjid thinks Didi's rally didn't bring in the crowds because Anna Hazare let her down. Illustration: Uttam Ghosh/Rediff.com
The Imam of Delhi's Jama Masjid, Syed Ahmed Bukhari, is livid.

Bukhari, now on the side of two leading ladies -- Mamata Banerjee and Mayawati -- thinks Anna Hazare ditched the Bengal chief minister, resulting in the poor turnout at Didi's Delhi rally on Wednesday.

Didi is unfazed by the damp enthusiasm in Delhi for the Trinamool-Anna alliance. Mamata's man Friday Mukul Roy has already converted an apartment on Delhi's South Avenue into an office for ticket-seekers.
The Trinamool Congress plans to put up 250 candidates outside Bengal, and Roy thinks the party has a chance in as many as 100 seats.

The ticket-seekers are a curious mix of wannabes, activists, moneybags and discards from other political parties.
For many aspirants, the big question is: How much will the Trinamool shell out for campaign expenses?

Going by the Mamata-Anna comfort level, Bukhari needn't lose sleep or as yet.
Yesterday, Sheela said: All the Prime-Minister-in-Waiting's Men
Yesterday's Gupshup: Will it be Diggy Raja for Varanasi?